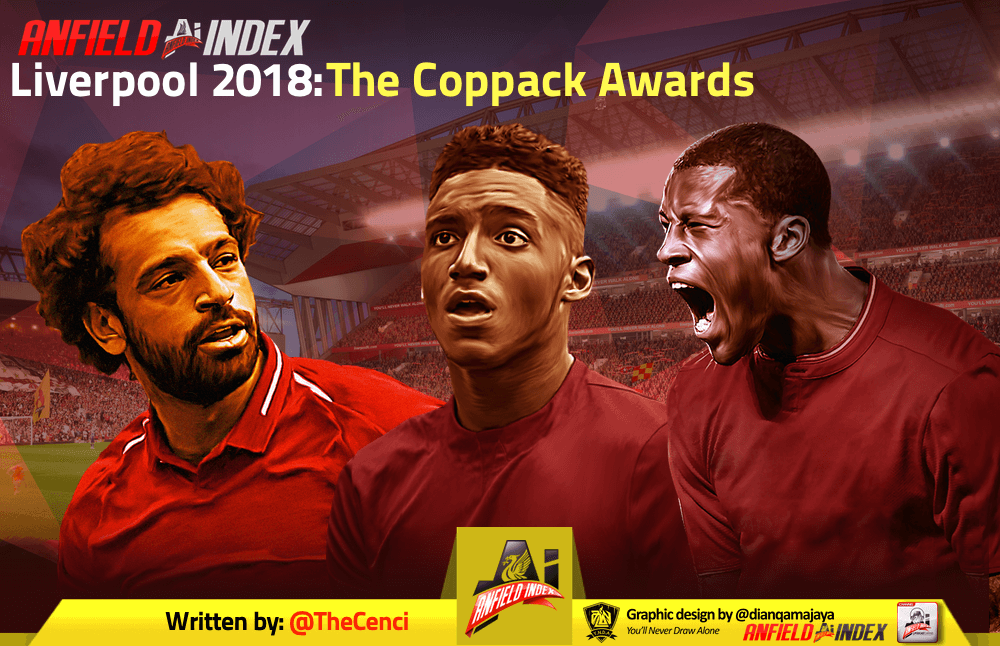 Liverpool 2018: The Coppack Awards

Look, this is a bit of a cheat. I'll admit that.
You see, your Anfield Index writers tend to pore over pages of data, argument and counter-argument before committing words to page or screen. That's not to say that I don't do the same, but the end of a year allows us to do something else—something which isn't based on evidence but opinion. Spouting, if you will. Columnist friends tell me that you get one freebie like this every couple of years so this is mine.
To that end then, I've decided to dish out some non-existent awards to various LFC people and a few other 'muggles' on the way.
Okay then. Here we go. Don your tuxedos or ball gowns, according to taste, and join me on the red carpet outside the burger vans on the Kop/Kemlyn Rd corner as we see who has been lucky at the completely irrelevant '2018 Coppack Awards'.
Spoiler: That lad who went to Nike FC for all that cash doesn't do well here.
Player of the year: RAGNAR KLAV … only joking, readers, though the plucky Estonian did score the first winner of the year so I loved him dearly on 1st January.
Actually, this is trickier than I thought. Virgil is a favourite obviously and scoring a winner on his debut in a FA Cup tie against Everton was just about as dreamlike as you can get, but it's got to be Mo really.
As an older fan, it's lovely to see a man with big frizzy hair and tash knocking in the goals for the Reds again so that had synapses firing all over the shop. That already had him as a shoo-in, to be honest.
Favourite goals of his? Well, the long strike when Ederson half-cleared the ball in the City league game at Anfield was breath-taking in both its ability and significance at the time (so calm), but I'm going to opt for one which has long been forgotten.
His header against Bournemouth in a must-win league game at the end of last season was simply irresistible. I bet you've forgotten all about it and all. Go on. Look it up.
Ordinarily, you'd expect him to drag it down and slot it past the onrushing keeper, but he had the wherewithal to sense what the best option was and simply lobbed it with his forehead as it came over his shoulder. An outrageous piece of skill from an outrageously gifted man.
Goal of the year:  ALEX OXLADE-CHAMBERLAIN vs Man City (Champions League, 1st leg)
The best goals are always wrapped in context. The Reds had gone into a game we weren't expected to win and gone a goal up somewhat fortuitously when Roberto squared a ball to Mo following an awful defensive error.
City came back hard after that and wouldn't let Jurgen's lads rest for a second. We were under the cosh until Alex took the ball out of his feet a good thirty yards out from Ederson's goal in the 21st minute and let rip. Call it what you want. A thundertwat of a shot? A rocket? A howitzer? In any case, it put the tie firmly in our hands and the miracle breathed again.
Villain of the Year:
I don't like being negative, but that lad getting off to Nike FC in January irked at the time. Rumour has it that he regrets that move and thought I'd welcome back if it meant multiple shiny things, I'm enjoying his misery. And don't start with that 'you've got a short memory' nonsense. I can't tell you what I'd be willing to do to put that shirt on so faking back injuries means he gets my middle finger every time. See also, Michael Owen.  Torres gets a pass because of who was in charge at the club at the time.
A nod here to Sergio Ramos, but only because he knew that the authorities would never point the finger at him in such a big game. A loathsome club, loathsome man, but I quite like people who would sell their families to get so much as a throw-in.
Disappointment of the Year:
Yeah, Kyiv. I think we were struggling before Lorus started throwing them in and he did at least get us there, but it was a kick in the teeth all the same. That side deserved better than such ill-luck. Credit to Bale though. Hell of a first goal.
Underrated Player of the Year:  The Jean Gini
If it wasn't for the fact that it's difficult to get a rhyme for his surname I'd write this bit in a 64 line verse. Gini Wijnaldum is Liverpool's best midfielder. Sorry, he just is. Amazing strength, vision and, most of all, decision making. He's got the lot. He's even scored a couple of away goals this season and the winner in a European Cup semi-final isn't the worst place to start doing that.
He's often accused of going missing in games but that tends to be while the midfield is overrun and he's trying to cover half the pitch. I love the man and, if I were the type of person who wears shirts with players' names on, I'd wear his.
Most improved player of the year:
The best thing in football writing is being wrong. Honestly, nothing beats it. I've often had a tweet saying 'Look, you said he was shit in 2011' or whatever when I've sung someone's praises and I'm fine with that.
I once said Joseph Dave Gomez was a fourth choice centre-back at best and it was foolish to judge him on the seven or so games he played before he came back from his long injury. I still worry about him getting caught under high balls, but he's improved massively on that front.
The player I'd most like to see at Anfield if M'bappe went to jail or something:
Ivan Perisic from Inter Milan. I loved his World Cup performances and I like that he's a bit mad. I, um, really like Antony Martial too. Don't care. Bring on the hate.
The Divock Origi Award for being the Best at Being Divock Origi:
I will forever smile at his wonderful face.
So there you go.
Next week it's back to that winning the league stuff. In the meantime, I wish you everything you wish yourselves for 2019.