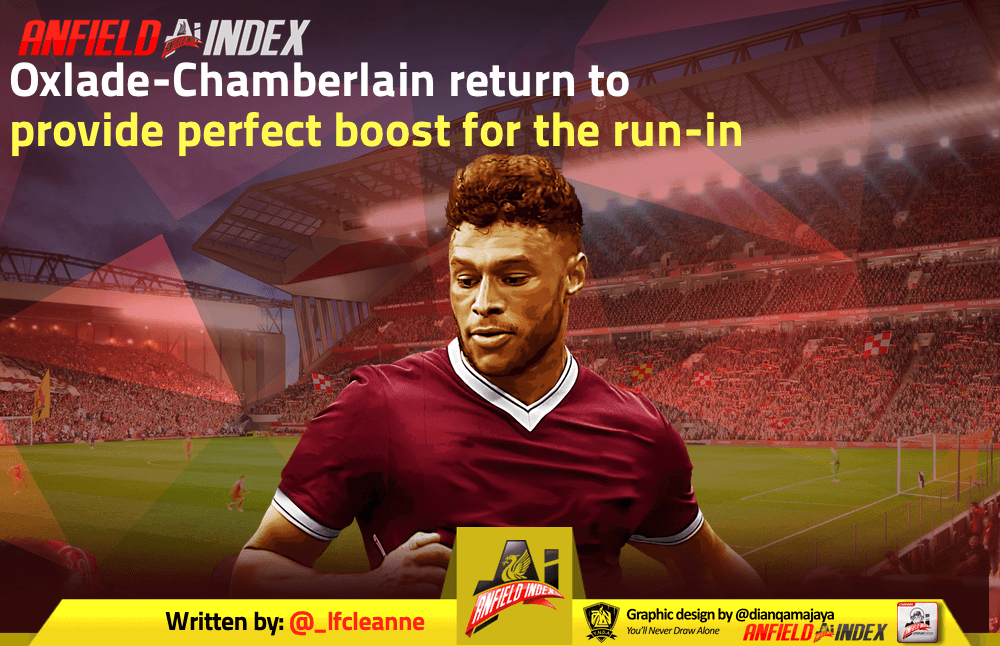 Oxlade-Chamberlain return to provide perfect boost for the run-in

Jurgen Klopp's recent confirmation that Oxlade-Chamberlain is ahead of schedule in his return from injury following a knee ligament injury that threatened to derail all chances of featuring during the 2018/19 campaign is, in many ways, the perfect gift anyone could've asked for going into the New Year.
Anyone who watched Liverpool with any interest last season will know just how big a boost his return will be, with the 25-year-old in line for a return in late February or early March just in time for the run in.
While some signings hit the ground running in the immediate aftermath of a summer move, Chamberlain endured a relatively slow start to life on Merseyside. Bought in part due to his versatility, having filled in at wing-back and winger alongside his favoured centre-midfield role, it was hard to see just what role he would be tied down to within Klopp's setup.
A performance to forget against Leicester in the Carabao Cup merely added ammunition to the argument that he wasn't worth the £40million outlay while a wretched September for the club, marked with just one win in all competitions, compounded a frustrating initiation for the No.21.
Klopp's patient approach provided time for Chamberlain to acclimatise to his new surroundings, with a series of substitute performances offering glimpses into his potential. A short twenty-minute cameo at Old Trafford on the wing visibly added an extra dimension to the attack while highlighting his exuberant style.
A first league start against West Ham marked the start of his journey, progressing from an inconsistent utility man who failed to make direct contributions in the final third to a complete midfielder destined to thrive in Klopp's system.
Perhaps the best evidence of this came in the 4-3 win over Manchester City; a performance of collective brilliance embodied by Chamberlain's incessant running and surging forward runs. Drawing first blood, he endeared himself to fans instantly, grabbing his moment with both fists in a showcase of true individual class.
A repeat of the same fixture in the Champions League quarter-final would see Chamberlain raise his level again. Picking up the ball from deep, it took just three touches for him to send a rip-roaring strike hammering into the back of the net from 25 yards.
A season built on twenty-minute blitzes, the 25-year-old acted as conductor to Klopp's ceaseless, organised chaos. Here he was, thriving in a central-midfield role with the impetus to start the press and adventurism to maraud into the final third, treasuring every moment in the process.
Sustaining a harrowing knee ligament injury in the Champions League semi-final, Chamberlain's dynamism has been a huge miss for Liverpool this season, making the prospect of his impending return all the more exciting.
Where Klopp's previous claims about players returning from injury being 'like a new signing' have been met with groans, it offers the perfect summation about Chamberlain's homecoming.
This side has been a reckoning force without him, unbeaten in twenty games and primed at the top of the table. Imagine what it can do with him.