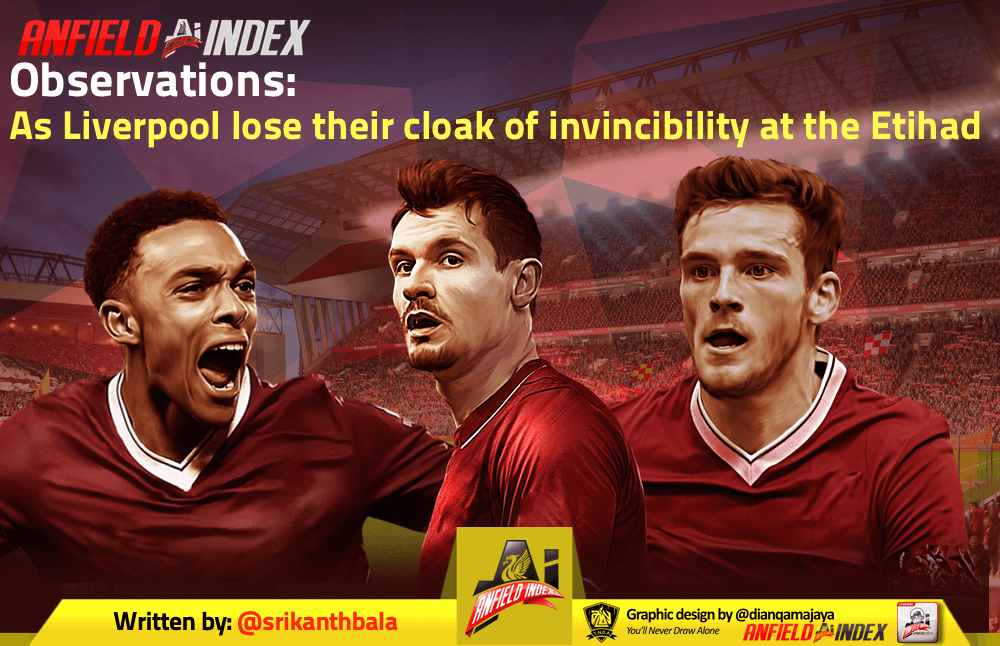 Observations as Liverpool lose their cloak of invincibility at the Etihad
Well… That was a bit shit, wasn't it? Many of us went into the game praying that Liverpool don't lose tonight, and for large parts of the game, it seemed as though the players heard the prayers as Liverpool were largely in their shell. Liverpool needed an Aguero goal at the Etihad (for the zillionth time) to wake up from their slumber. Liverpool equalised with an exquisite move but lost out to a great goal from Sane.
The key observations from the game:
Luck is a matter of centimetres
City started the game purposefully as Liverpool took time to settle in, but Liverpool had the best chances first. Sadio Mane hit the post and the clearance from Stones almost comically led to an own goal only to be denied by the paint of the ball not crossing the line. Mane got another chance right after but shot straight at Ederson. Liverpool were clearly growing into the game at that point and looked likely to take advantage of the makeshift City defence. Has Liverpool's luck run out? Can the win the title? Check OLBG for the best sports betting tips.
Right is wrong
As City grew into the game it became very apparent their main target was to expose the right-hand side channel of Trent and Lovren. Sane had a very good game against Trent and often beat him while Lovren struggled through the game. Lovren was oblivious to Aguero's movement for their first goal while Sane's winner also came from the right-hand side. Liverpool would love to get Gomez back soon to get some alternatives.
Nervy passing and build up play
Liverpool had the better chances in the first half but their build-up play was a struggle with the awry passing not helping at all. A lot of passes were underhit. Even Alisson, who is usually excellent with his passing with his distribution well below his normal standard. Liverpool repeatedly gave the ball away through the game allowing City to build up the pressure. The substitution of Milner for Fabinho allowed Liverpool to regain ascendancy with Fabinho impressing with his passing and ball control.
This midfield away from home needs discussion
This was yet another big game away from home and Klopp reverted to his trusted (and derided) midfield 3. Liverpool struggled to gain any control as Milner struggled till he was taken off and Wijnaldum reverting to his 'ghost' form. The midfield three who started today have lost to City and PSG away from home and drew at Chelsea. Though they might not be the biggest reason for the results, you could argue they were a contributing factor to it. With Liverpool still to play 3 teams of the top 6 still, it will be interesting to see how Liverpool line up.
What next ?
Liverpool are 4 points ahead of City with a decent fixture list ahead. City have an easy ride too, though they have a 2-legged EFL cup semifinals to contend with. Liverpool need another winning run to commence from the next game as Liverpool need to maintain the 4 point lead or extend it. January has proved to be the most trying month of every season under Klopp, hopefully, this time it isn't.