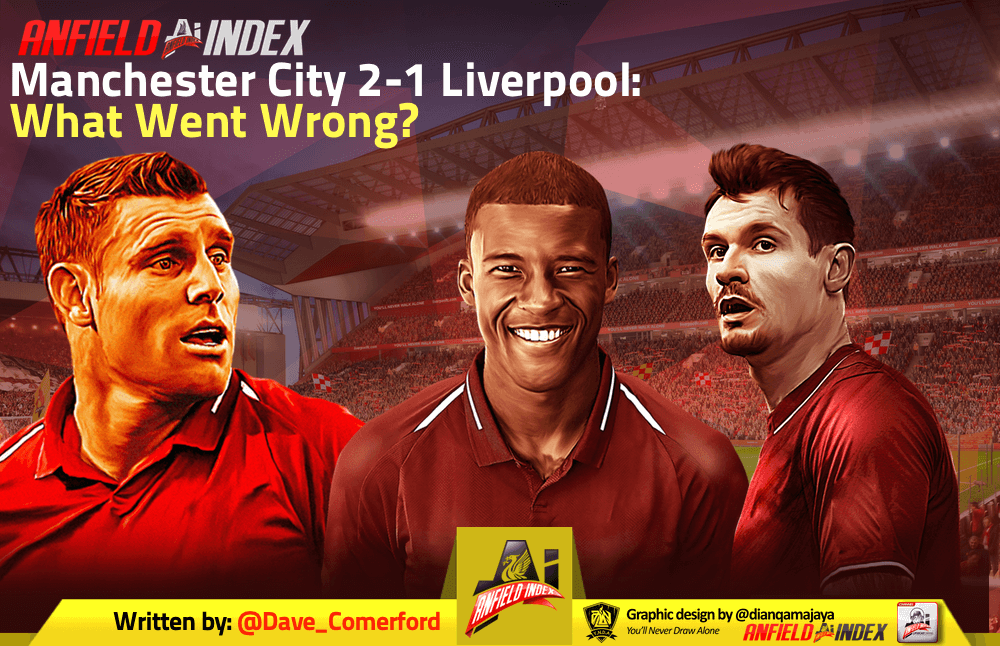 Manchester City 2-1 Liverpool: What went wrong?

Liverpool have been beaten for the first time in the Premier League this season. It was closely-fought, but Manchester City, the ultimate in title rivals, were deserved winners.
The Reds were punished for their first real defensive lapse late in the first half when Sergio Aguero lathered it past Alisson but managed to snatch an equaliser after raising their level just after the hour mark.
Supporters may have dreamed of a glorious three points at that stage, but it was City who continued to look more dangerous going forward, and their second was typically ruthless.
The result sees Liverpool's scintillating run of form come to a shuddering halt.
Nervy Reds play with caution
It was clear that City would adopt an aggressive approach, with manager Pep Guardiola declaring that they needed to win to keep their title hopes alive.
For the Reds, though, there was a tactical dilemma. They would have been perfectly happy with a point but knew they could not afford to invite City pressure by sitting back.
At first, Jurgen Klopp's side were jittery. City suffocated them by closing down the spaces, and they couldn't put together a spell of possession.
When they did manage to get a foothold in the game, they proved too patient. Attempts at incisive forward passes were few and far between, and when they did come, too many sailed out of play or were comfortably dealt with by City's defence.
The midfield selection may have had some part to play in that. Klopp went with the trusted trio of Jordan Henderson, Gini Wijnaldum and James Milner, but they lacked ambition and were overwhelmed by City's aggression.
For much of the game, Liverpool missed the quality of Fabinho, the dynamism of Keita or the creativity of Shaqiri. Klopp may well entrust them with a starting role when the next huge game rolls around.
The forwards, it must be said, were also part of the problem. It seemed Liverpool were waiting for a City error to gift them a goal, but there was no real attempt to put them under serious pressure as they stroked the ball around at the back.
Liverpool really ought to have played with more confidence and belief given their record this season.
Lovren struggles
Dejan Lovren reached new heights in 2018, but his performance here marked the continuation of a cycle which has condemned his Liverpool career.
So often, Lovren puts together a solid run, as he had done in the absence of Joe Gomez and Joel Matip, only to see his progress wiped out by costly errors.
The first goal was probably more the result of Aguero's brilliance than Lovren's failings, with the Argentine stealing a march on his marker and producing a clinical finish. But he was more culpable for the second, playing Raheem Sterling onside in the buildup before being caught out of position and leaving Trent Alexander-Arnold in a 2 v 1 situation. You can't fall asleep like that in a game of this magnitude.
A poor touch and a mishit clearance at 2-1 showed that his confidence had indeed been dealt a blow.
The criticism Lovren will face is bound to be excessive, but Gomez's return from injury, after an excellent few months, will be more than welcome.
City show their class
This defeat can't be put simply down to Liverpool's failings. City, to their credit, illustrated why they are considered, in some quarters, the best side to grace this competition.
With the atmosphere in The Etihad as raucous as it will ever be, Guardiola's fired-up players executed his game plan almost to perfection. They raised their game defensively whilst maintaining their customary attacking vigour.
Leroy Sane was classy, Sergio Aguero was inflamed and Bernardo Silva was tenacious, but Fernandinho was head and shoulders above anybody else on the pitch, grabbing the game by the scruff of the neck.
The game highlighted just how well Liverpool have done to build a margin over their top-drawer opponents, and how well they will have to perform to maintain it.
The key moments…
All in all, it wasn't Liverpool's night. Their luck deserted them at several crucial moments, and that was always bound to be decisive with the teams so closely matched.
The Reds hit the post after a delightful move, and moments later they were literally millimetres from the opener. It was cruelly close.
Sane's eventual winner then struck the post on its way in.
One could also argue that some referees would have dismissed Vincent Kompany for his somewhat desperate, lunging challenge on Salah.
There's little point pretending this defeat won't hurt, but Liverpool cannot afford to dwell on it. They remain in an excellent position.
Upcoming games against Brighton and Palace offer an ideal opportunity for them to respond and, in doing so, prove they possess the mettle of champions.