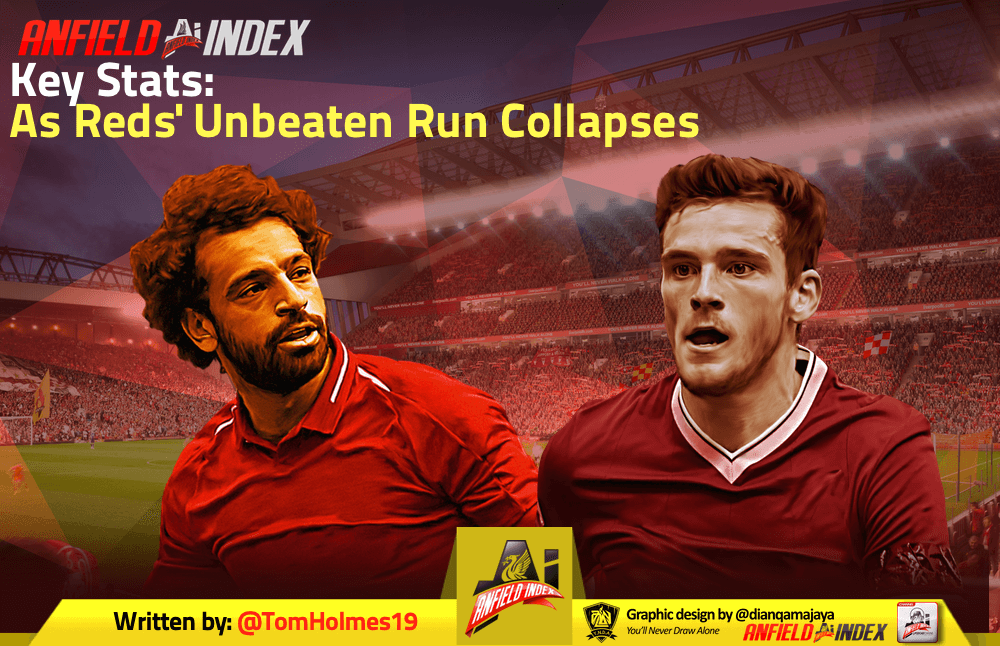 Key Stats As Reds' Unbeaten Run Collapses
Liverpool suffered their first defeat of the season at the hands of title-rivals Manchester City to blow the title race wide open. But what were the key stats from an exciting and extremely painful 2-1 defeat at the Etihad?
1.1CM
You always felt that that might be the moment the game was lost. Football is one of fine margins, and the margins in this game were even finer than that. Possession was equal, Man City had 9 shots to Liverpool's 7, both teams had two big chances and the xG was 1.18 to 1.38. To be honest, any result was entirely plausible, and both teams were excellent.
But ultimately, Leroy Sane's shot just barely smashed in off the post, Sadio Mané's just barely smashed out, and then the rebound was somehow even closer. On paper, this game was wide open, and either team could have nicked it. In practice, it was even closer than that, and 11mm seems like a mile compared to how close it felt.
54 Points
That's still 2.57 points per game, leaving Liverpool on course for a 98 point season. Whilst this might feel like a huge setback, the fact is that it took the best team in the league that wasn't them playing at full throttle to just barely scrape past them. Liverpool's win % against teams outside the top six is 100% and if they continue that form, they'll win the league, with only three games left against teams inside the top six, two of them at Anfield.
A 21 game unbeaten streak is also colossal, and something for Klopp's side to be proud of. As this stat demonstrates, the Reds are still in remarkably good shape.
Liverpool are the fifth team in top-flight history to have 54 points* or more after 21 games

The previous four all won the title
Preston 1888-89
Tottenham 1960-61
Chelsea 2005-06
Man City 2017-18

*based on 3 for a win

— Duncan Alexander (@oilysailor) January 3, 2019
Back To Haunt Us At Last
After a serious of torrid games against Liverpool, Raheem Sterling finally stepped up and caused Liverpool endless problems. Despite Andy Robertson winning 4/5 tackles, Sterling still managed to complete the most dribbles on the pitch (three), create the most chances (four, no LFC player was able to create more than one) and had the highest xA (0.68 compared to Robbo's 0.62).
Robbo Turns In Storming Performance
Another brilliant assist for the working class hero, but as this tweet from Andrew Beasley shows, he was also brilliant at turning over the ball – as were the other two lads mentioned in this tweet, Fernandinho and Bernardo.
Fernandinho and Bernardo Silva are rightly getting lots of praise tonight. So let's have a little for Andy Robertson too. pic.twitter.com/6j2CBTM8NK

— Andrew Beasley (@BassTunedToRed) January 3, 2019
In big games you need your big players to step up, and Robbo was one of the lads in red who stepped up, delivering his 4th assist of the PL season, second only to Salah (seven) in this team. He's also created the second most big chances (6 behind Mo's 12) and the second highest xA (4.19 compared to Salah's 7.83).