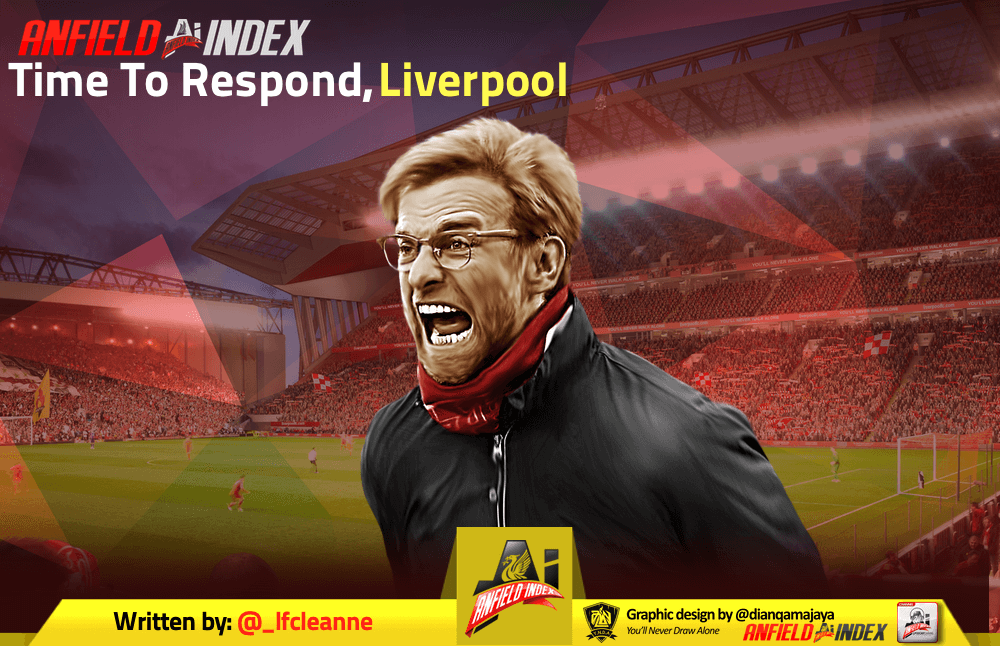 Time To Respond, Liverpool

Thursday's narrow defeat at the Etihad was, in many ways, the perfect depiction of football.
A game primed on fine margins, Liverpool could easily have extended their lead at the top of the Premier League to ten points but for a desperate goal-line clearance.
Technology would reveal the ball was within just 1.12 centimetres of crossing the line and giving the Reds the lead before a customary strike from Sergio Aguero struck at the heart of Klopp's side.
Things could've also drastically different too, had Vincent Kompany rightfully been giving his marching orders after a desperate lunge on Mohamed Salah. Studs up and sliding in out of control, it appeared an easy decision to make on the eye but fortune favoured the home side on this occasion.
And yet, but for the immediate aftermath, there's been little frustration felt in the Merseyside air, replaced by a hopeful realisation that Liverpool remain in a very healthy position. 21 games, 17 wins, 3 draws and one defeat. Just the nine points dropped this season, then.
Don't get me wrong, the defeat will have hurt and so too the failed chance to go ten points clear at the top, but this was far from the final chapter in Liverpool's title story. Those who previously earmarked the fixture as a game that would all but crown the 2018/19 Premier League Champions were mistaken, there remains plenty left in the fight.
Indeed, all those who banded around Pep Guardiola's side, basking in the joy of City's victory upon the final whistle should be reminded that Klopp's team remain four points clear.
Now it's all about the response, using the frustration and pain of defeat to go again.
First, an away trip to Brighton and the perfect opportunity to return all guns blazing, sending a warning shot to rivals that defeat at the Etihad won't stop them in their tracks. Games against Palace, Leicester, West Ham and Bournemouth to follow present a good run to keep up momentum at the tip of the table while Manchester City must welcome Arsenal and Chelsea to the Etihad. A home game against Wolves will hardly be an easy fixture either, with Nuno Espírito Santo's side already having one up on City while gaining three points on the road at Stamford Bridge – an indication of their strength against the top-six.
In short, the next six games present a great chance for Liverpool to respond to Thursday's defeat in the best possible way while Guardiola's more gruelling calendar could yet see them falter at the hands of others.
Get on a winning run now, Liverpool.
Prove you can respond. Prove what you're made of. Prove how much you want this.