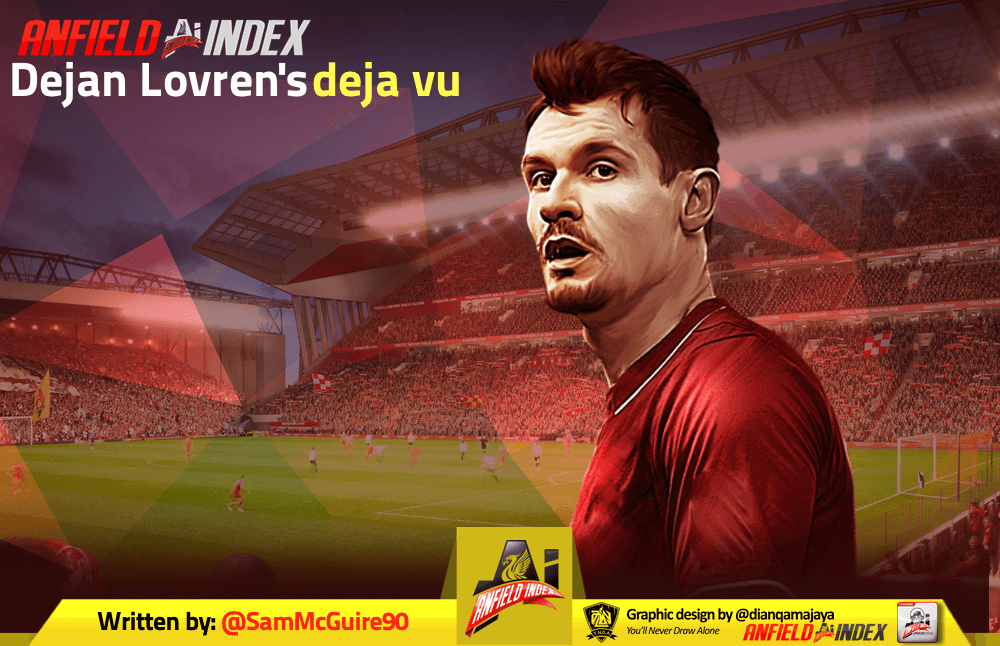 Dejan Lovren's deja vu

For many, Liverpool's defeat to Manchester City must've felt like a rerun of a movie you'd seen plenty of times throughout the years.
A midfield three lacking creativity, picked solely for their energy and experience of the system being deployed, was swarmed by counterparts possessing superior quality both on and off of the ball. The Reds lacked rhythm and their service to the front three was erratic at best as they struggled to string passes together and stamp their authority in the middle third.
Then there was Dejan Lovren. The Croatian defender had a night to forget as he struggled, just as he has done in the past, to contain Sergio Aguero.
The Liverpool No.6 has been enjoying a run in the first team as of late after an injury to Joe Gomez. The former Charlton Athletic youngster has excelled beside Virgil van Dijk in the heart of the defence this season, relegating Champions League and World Cup finalist Lovren to a place on the bench.
The 29-year-old rekindled his impressive partnership with the Dutch captain, slotting in seamlessly alongside him against Manchester United as the Reds romped to a 3-1 victory. Being paired with van Dijk has seen Lovren's performances become a lot more consistent and reliable.
Yes, he still had bad moments but all players do.
He was easily bullied by Romelu Lukaku in the 2-1 defeat to Manchester United at Old Trafford while he wasn't at his best against Roma in the Champions League semi-final. But it was far removed from the Lovren whose head fell off against Spurs in October 2017.
However, he put in mammoth performances against Manchester City to help the Reds progress to the semi-final, as well as being dominant against Real Madrid in the Champions League final.
The difference in Lovren's game was evident. Bad moments weren't carrying over into bad matches. It appeared as though he'd turned a corner. With van Dijk's guidance, he was turning into a solid enough, reliable centre-back.
But his performance at the Etihad, Liverpool's first loss of the Premier League season, was a sobering one. He looked like the Lovren of yesteryear. Caught cold on numerous occasions, flat-footed and sloppy in possession, Lovren let one early error bleed into a bad game.
He was nervy. Which isn't a surprise given he was up against a Manchester City side with a point to prove. But instead of managing it as he has done previously, he seemed to panic and the wheels came off.
It's harsh to lay the blame squarely at his feet for the opener. He's caught on his heels, yes, but Aguero's finish is simply stunning. He has no right to get that much power or height using his weaker foot from that sort of distance.
In fact, it was everything other than the goals that should be a concern. The weight of his passes caused turnovers in dangerous areas. Despite being a player famed for his aggressiveness and proactive ways, he was often reactive meaning he was seconds behind. Against a team as good as City, it's always going to be capitalised on.
He looked lost in a defensive line which has been organised, efficient and pretty ruthless this term. Twice Lovren was the one responsible for playing a City man onside while the other three held their line and twice it resulted in opportunities for the home side.
Again, it's worth noting that many consider City to be one of the best teams in Europe. Struggling against them is no shame. The issue, however, and what should alarm fans, is how Lovren let one questionable bit of defending impact the rest of his match.
There's one big difference to previous years, and it's why heads should stay firmly attached to shoulders. This isn't a movie you've seen before. The Reds aren't reliant on Lovren as a starter this time around. He's filling in for the injured Gomez and he'd been doing a fine job at it. He's arguably the best back-up defender in the league and one forgettable 90 minutes doesn't change that.
And perhaps the biggest difference is how others responded to Lovren's struggles. The Liverpool of old would've crumbled along with him and the floodgates would've opened. It didn't happen at the Etihad which shows a mental strength the Reds have lacked in the past. A resilience that may result in them lifting the title in May.