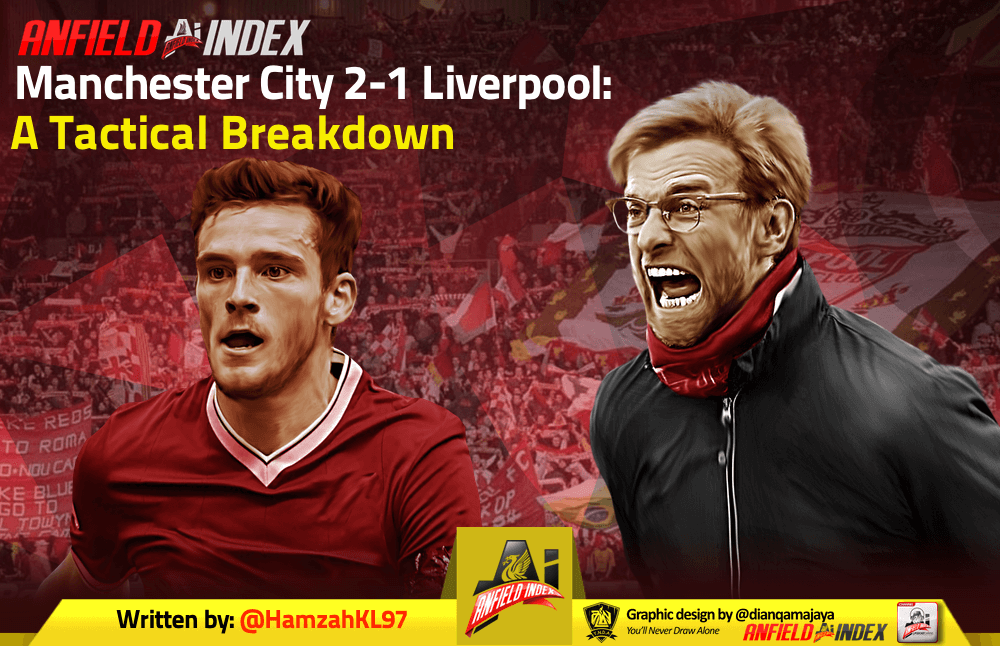 Manchester City 2-1 Liverpool: A Tactical Breakdown

The beautiful game, and two of its best proponents in a tête-à-tête. Manchester City, the Emirati bankrolled behemoth, against Liverpool; the old kid on the block, desperate to reclaim lost territory. Guardiola, the purist football scholar versus Klopp, an underappreciated genius.
It was supposed to be a tight game. It wasn't. One team was clearly better than the other, and it was Liverpool.
However, it was literally decided by fine margins – two stellar pieces of individual skill by Manchester City's players – and two exceptionally close moments in the same phase which somehow conspired to not cross the line essentially decided the game.
Liverpool dismembered Manchester City twice with passing football. City failed to generate a single "big chance" until after they scored their second goal, and Liverpool were forced to push up extremely high, in order to chase the game.
Liverpool had three opportunities cleared off the line. Manchester City scored two goals, with a combined xG of 0.11 (Understat.com).
Sometimes, the world doesn't make sense. Such is football.
City's system
Guardiola elected to go with a 4-3-3 system, but one in which in possession the midfield three would be staggered, into a 1-1-1, and Laporte (at left back) would not push on, so that there would not be space left in the channel behind him, and so that if City were caught out in transition, they would have an extra centre-back to cover and prevent 3 vs. 2 situations transpiring. Danilo, on the opposite side, also did not push on particularly high, as Walker and Mendy have done so this season when at the Etihad.
In the first twenty minutes, City pressed high, looking to win the ball in dangerous areas: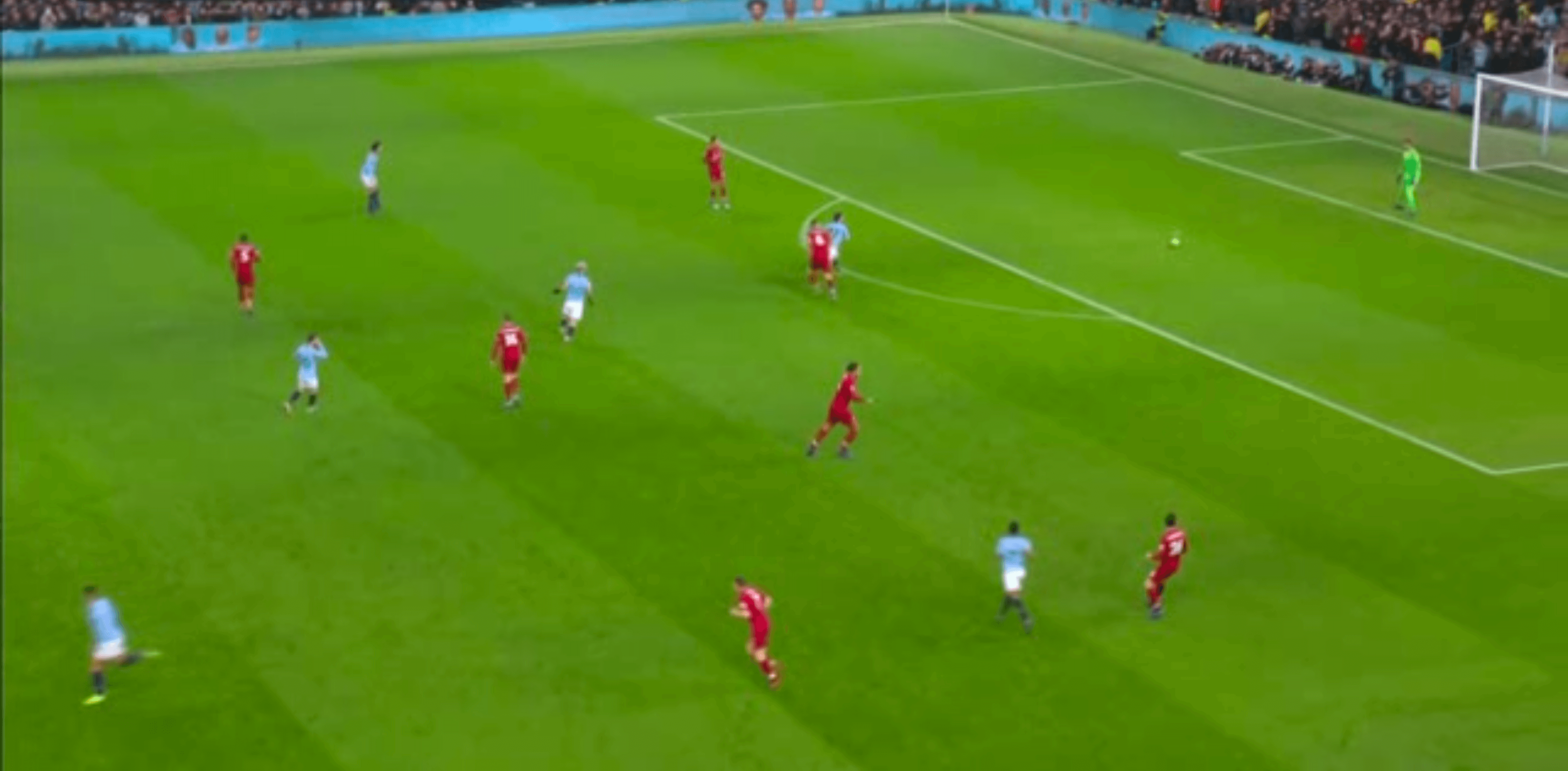 The speed and intensity of their press forced a number of poor passes from the Liverpool players in this period, but Liverpool persisted with building up from deep throughout the match.
City also elected to avoid passing through the centre of the pitch, and instead use Fernandinho as an outlet for getting the ball into wide areas, and from there they would look to advance up the pitch. They did this to avoid affording Liverpool the opportunity to press centrally. Additionally, when building up from deep, Bernardo would drop near Fernandinho, to assist in moving the ball into the forward line.
When out of possession though, Bernardo would go wide, and double up on Sadio Mané, to prevent him breaking through in one-on-ones, as he did successfully against Manchester United, for Liverpool's second goal.
Sterling and Sané acted as wide outlets, keeping to their positions, to generate one-on-one opportunities – as Sterling did against Robertson – and to stretch Liverpool, thereby creating more spaces between defenders, for the forwards to run into. Liverpool did not allow the latter to happen.
Everyone talking up Fernandinho, but no one lost possesion more than he did last night
He did attempt 5 tackles but he lost the ball with 34% of his touches

If city had a standout player it was Bernardo

— SimonBrundish (@SimonBrundish) January 4, 2019
Liverpool's system
Liverpool's team, especially the midfield three, is much maligned for being workman-like but lacking creativity and finesse. If we look at the combined xA of the centre midfielders, a measly 0.1 (all of which was contributed by Henderson), it is certainly fair to say that they are not a creative force, but to say so is to entirely miss the point.
This Liverpool midfield completely stifled Manchester City's attacking threat. When out of possession, they set up in a 4-5-1, and to prevent one on one situations in the wide zones, Milner would move to the right side and assist Alexander-Arnold, and track David Silva, who looked to take up a position in the halfspace on that side.
Mané on the left side supported Robertson, Firmino covered passing lanes into Fernandinho, whilst Henderson would press Fernandinho, upon a ball being passed towards him, despite playing as a deep midfielder.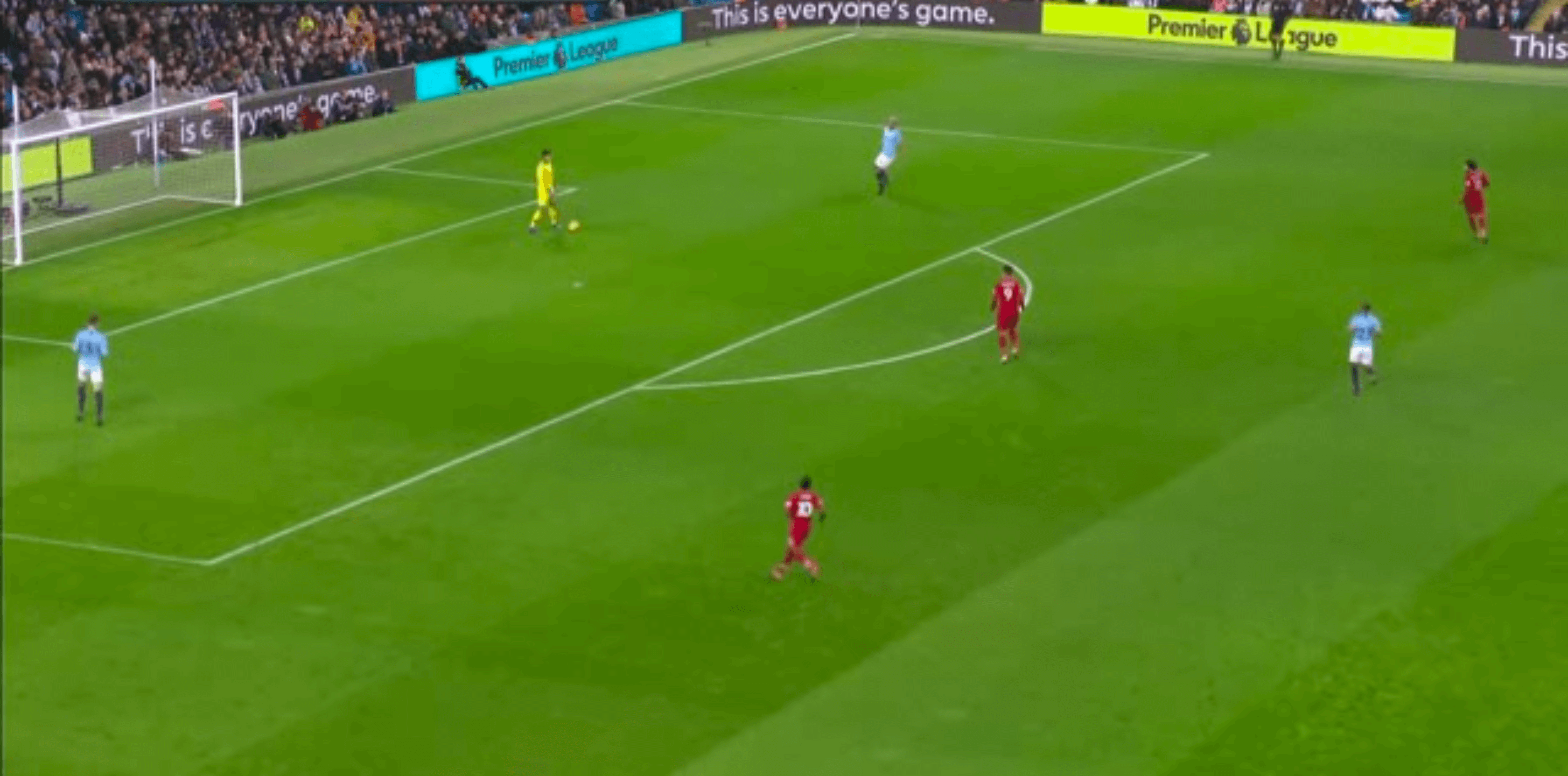 Tactically, it was superb. Liverpool were compact, able to break into space, and with the movement of Firmino and Salah, alongside the fullback outlets, Liverpool could pounce on any City error, without risking being open in transition, thanks to the ability of the centre-midfielders to fill-in in the defensive line, and press the City midfielders effectively.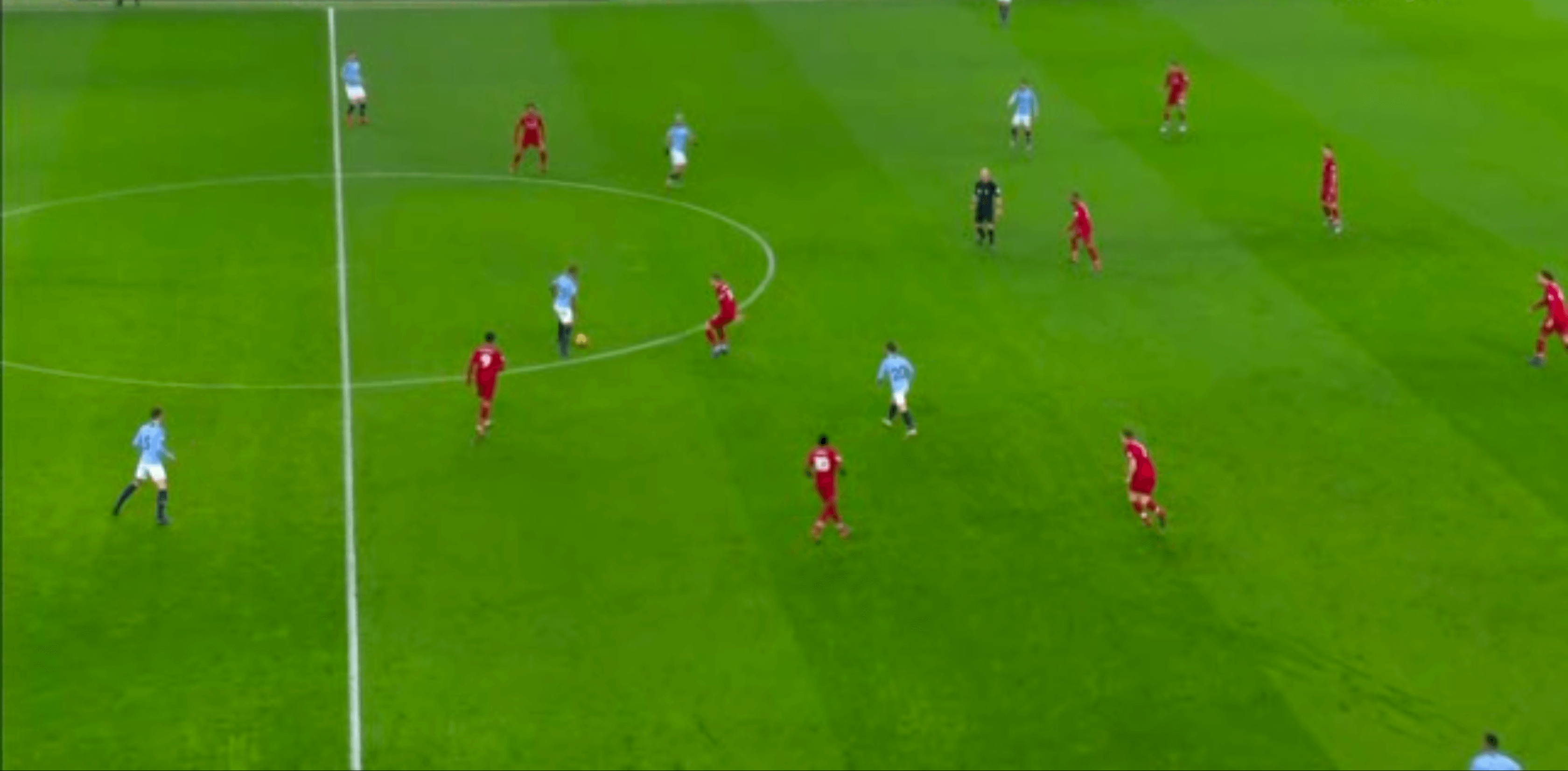 The game
In the first half, Manchester City could only muster two shots; one from David Silva, valued at 0.11 xG, despite a number of Liverpool defenders directly in front of him, and the other, Agüero's goal.
The initial fifteen minutes were manic, and City held a majority of possession, however, they did not control the game. In the first twenty five minutes, City did not have a single shot, whilst Liverpool had two: one of which was a "big chance" (an opportunity with a greater than 30 per cent chance of scoring).
How LFC bypassed City's press

City pressed high early on, but the on-ball ability of LFC's players shone through & was why City's press was not conducive to producing goalscoring chances.

When you press, you leave space in behind, LFC exploited it.

RTs/thoughts appreciated pic.twitter.com/6oDaQBScAa

— Hamzah (@HamzahKL97) January 5, 2019
Prior to Agüero's goal, City had a single chance – a David Silva effort, blocked with a number of Liverpool defenders around him. Between the first minute and the goal, City held the ball in the final third but did not once show anything comparable to the penetration, slickness and quality of the move linked above.
By the 20th-25th minute though, City's press had dropped off to the halfway line – they had realised Liverpool's technical ability was strong enough to not just play through the press, but to exploit it too. With Alisson's passing range, and the increasing propensity to expose themselves when pushing up, City backed off and allowed Liverpool to retain possession more comfortably in their own third.
But this game was not decided by tactics, it was unexplainable individual moments, and Agüero's phenomenal goal was one of those. Lovren has received a completely disproportionate amount of blame for it, but the truth is, it was a marvellous piece of skill. Had Agüero turned inside, and got a shot away, blame could more reasonably be apportioned to Lovren, however, he took the ball away from goal, and fired the ball past Alisson before he even had a chance to move his hands. The speed of the move, in which Agüero darted in from Lovren's blindside, and then struck the ball with his weak foot makes it all the more special.
The xG value of Agüero's shot was 0.05. That's a 95 per cent chance of the ball not going in from there. In this instance, we can raise our hands and simply respect the undoubted quality of Agüero, and bemoan why it happens to be Liverpool whom he has a vendetta with.
But before Agüero's goal, there was another key moment in the match. One in which the images below can speak for themselves: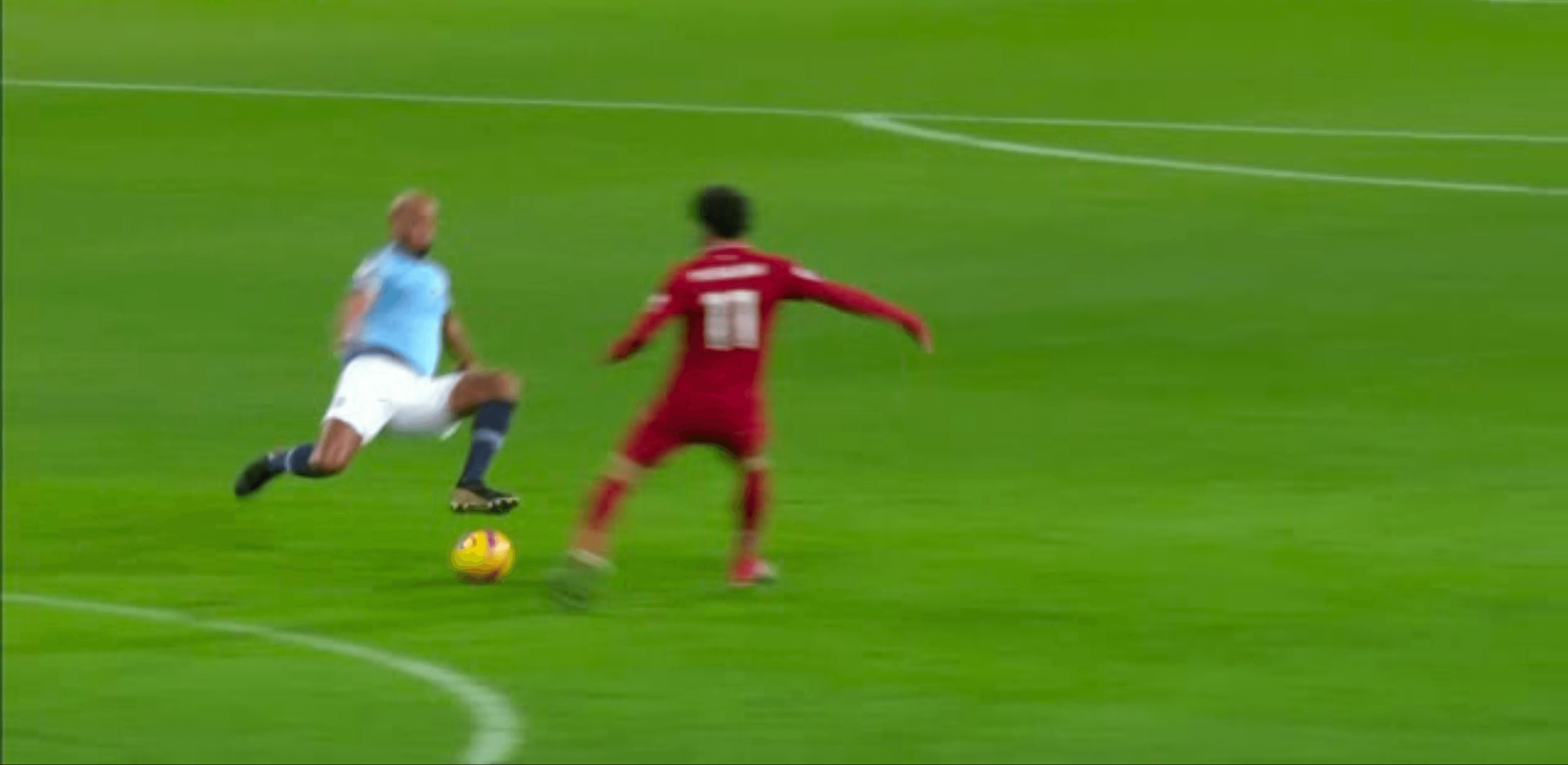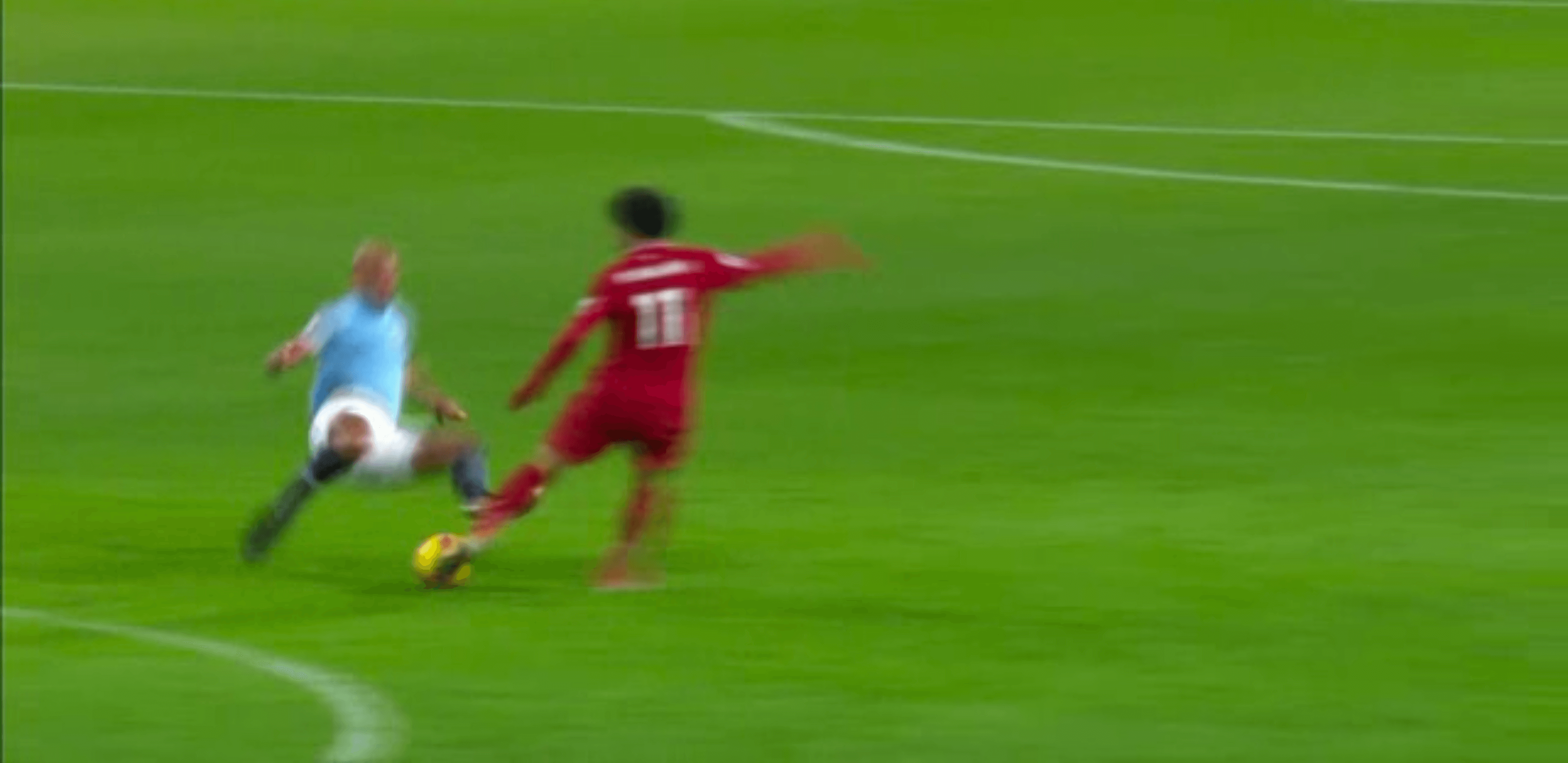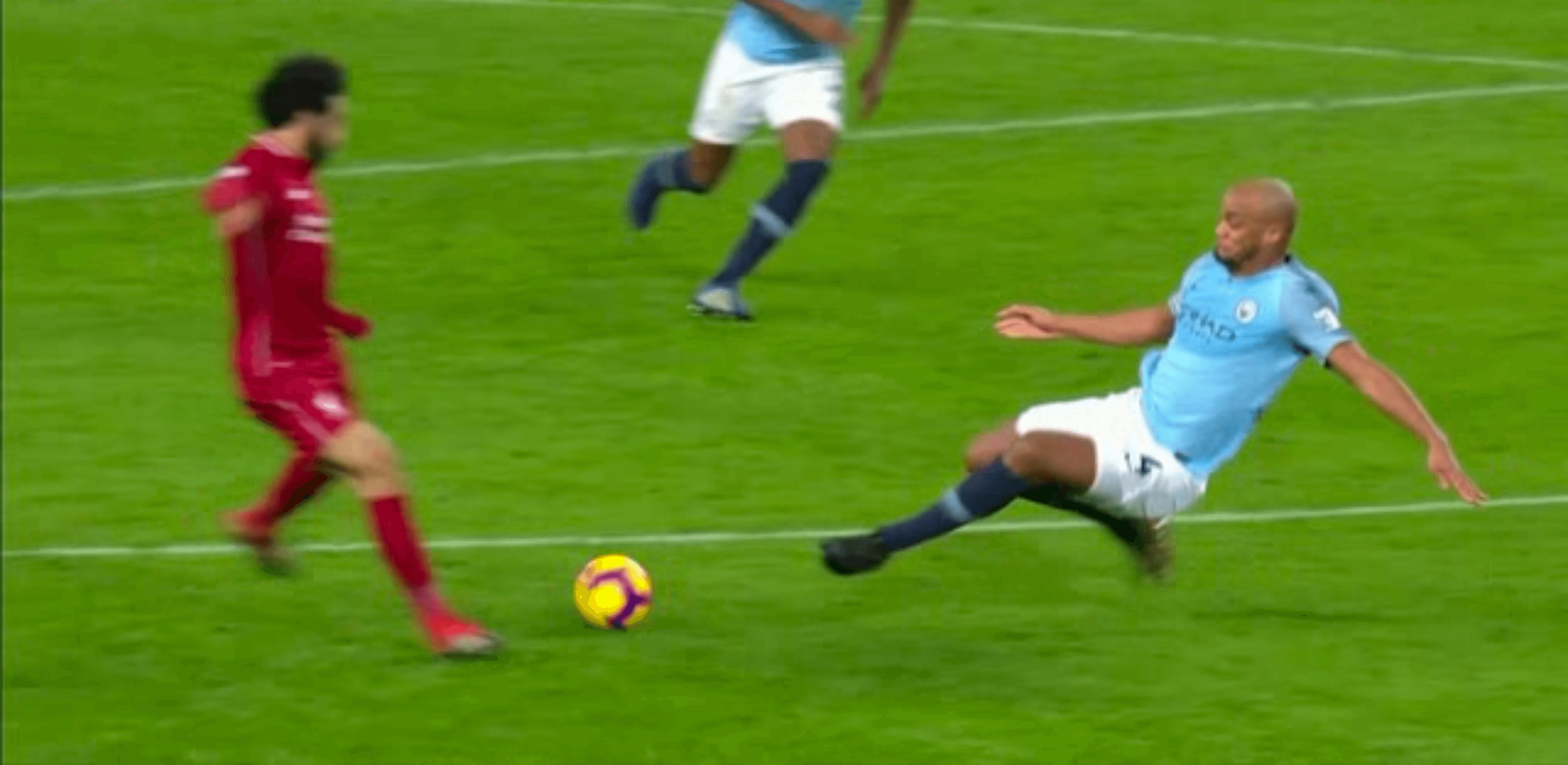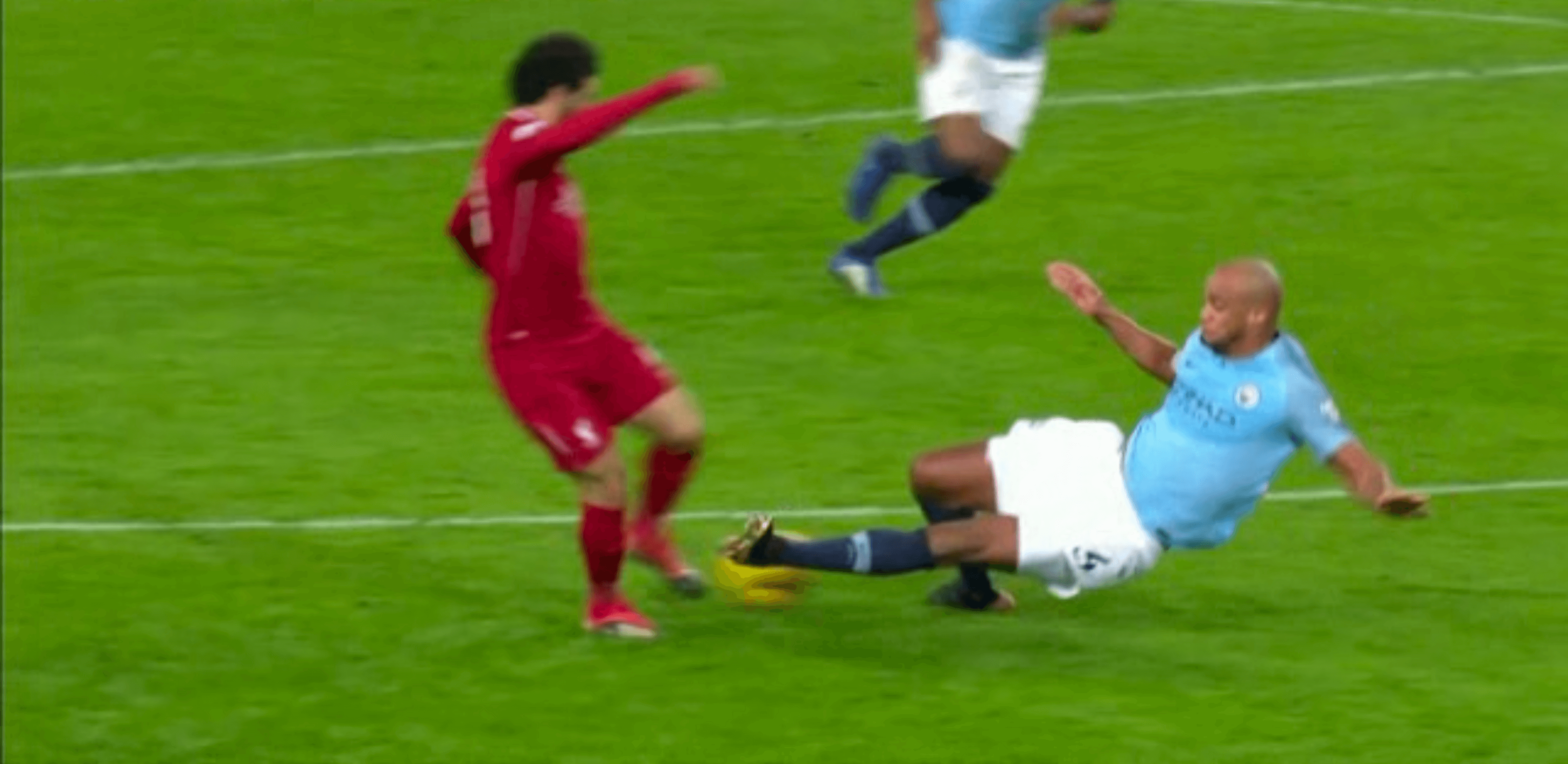 Kompany, to Sky Sports, after the match:
"It was that, or let him go through on goal."
Anyway, onto the second half.
Liverpool's start to the second-half displayed some of the concerns voiced by a number of individuals on Twitter upon seeing the teamsheet – namely the lack of creativity from the Liverpool centre-midfielders. As noted earlier, the tactical choice to deploy them, in itself was fine, (as it worked for almost the entire first half!) and we should not judge that decision on the outcome, because, as we know, the outcome of the match was determined by two superb, low xG shots by City, an awful refereeing decision, and poor finishing/luck in the clip linked earlier in this piece. Nonetheless, once Liverpool went 1-0 down, it was clear that the creative onus would rest upon the midfielders.
Liverpool, without Fabinho, Keïta or Shaqiri, lacked the forward impetus needed to break through City's mid-block, and in the 56th minute, Klopp brought on Fabinho in place of Milner, heralding a return to the barnstorming 4-2-3-1 formation.
Liverpool has 42% possession until Fab came on, from that moment until the end of the game 66%

9 touches in the box before
12 after

City lost possession every 4.40mins before
3.01mins after

City had final 1.9 final 3rd passes per min before
0.89 after

— SimonBrundish (@SimonBrundish) January 4, 2019
Within seven minutes, Liverpool had several City players scrambling across their line, to block an effort from Firmino: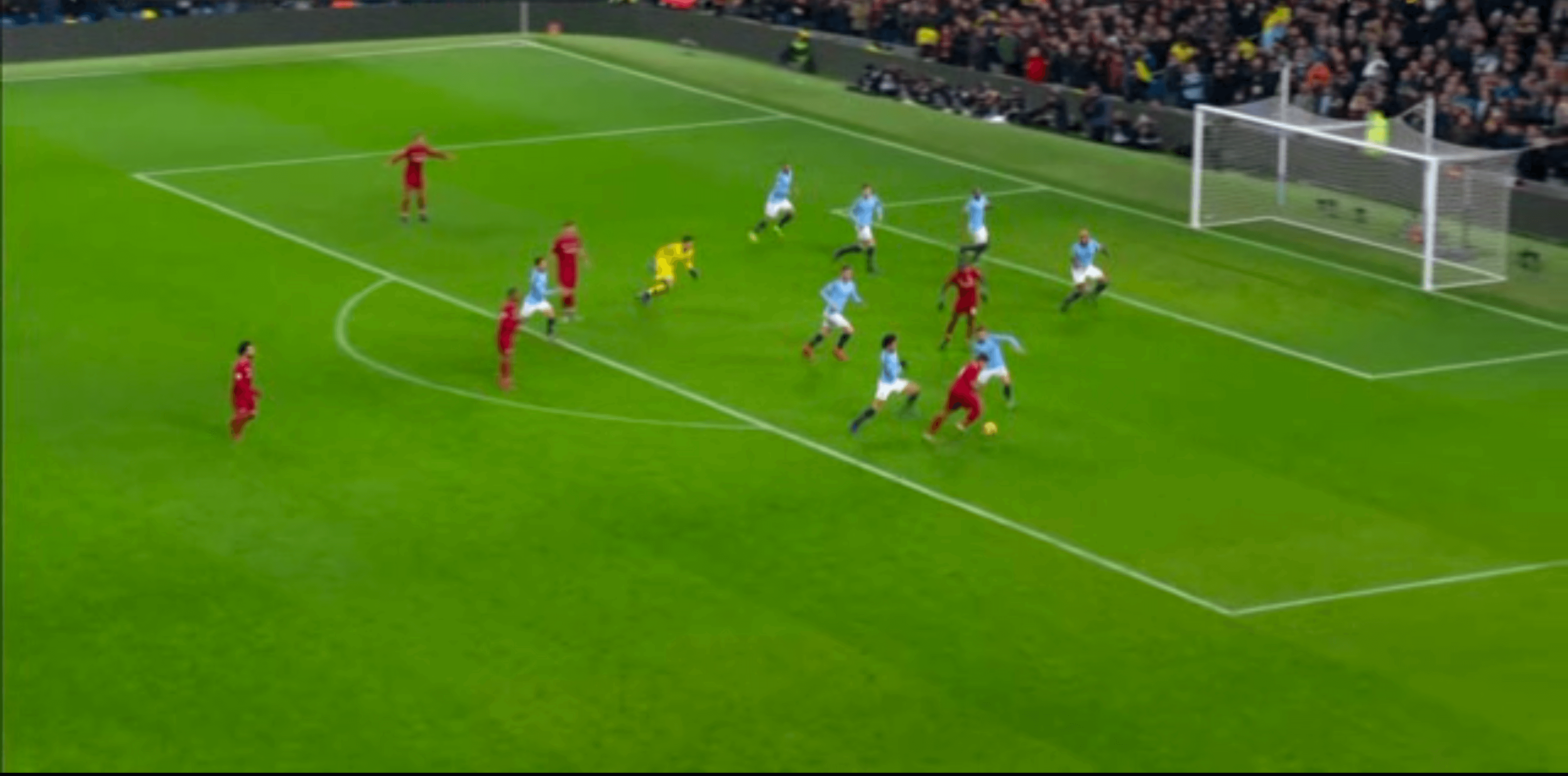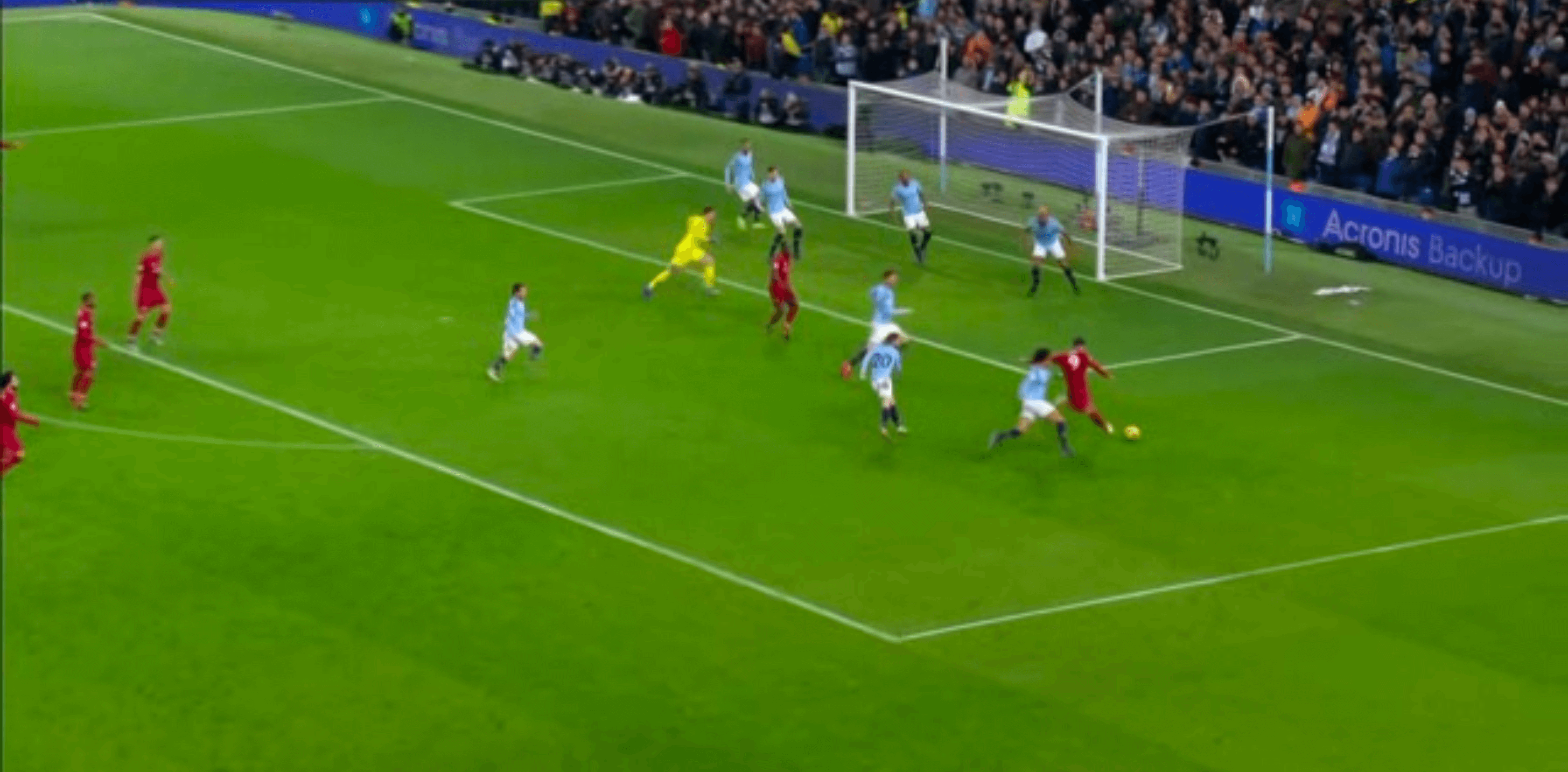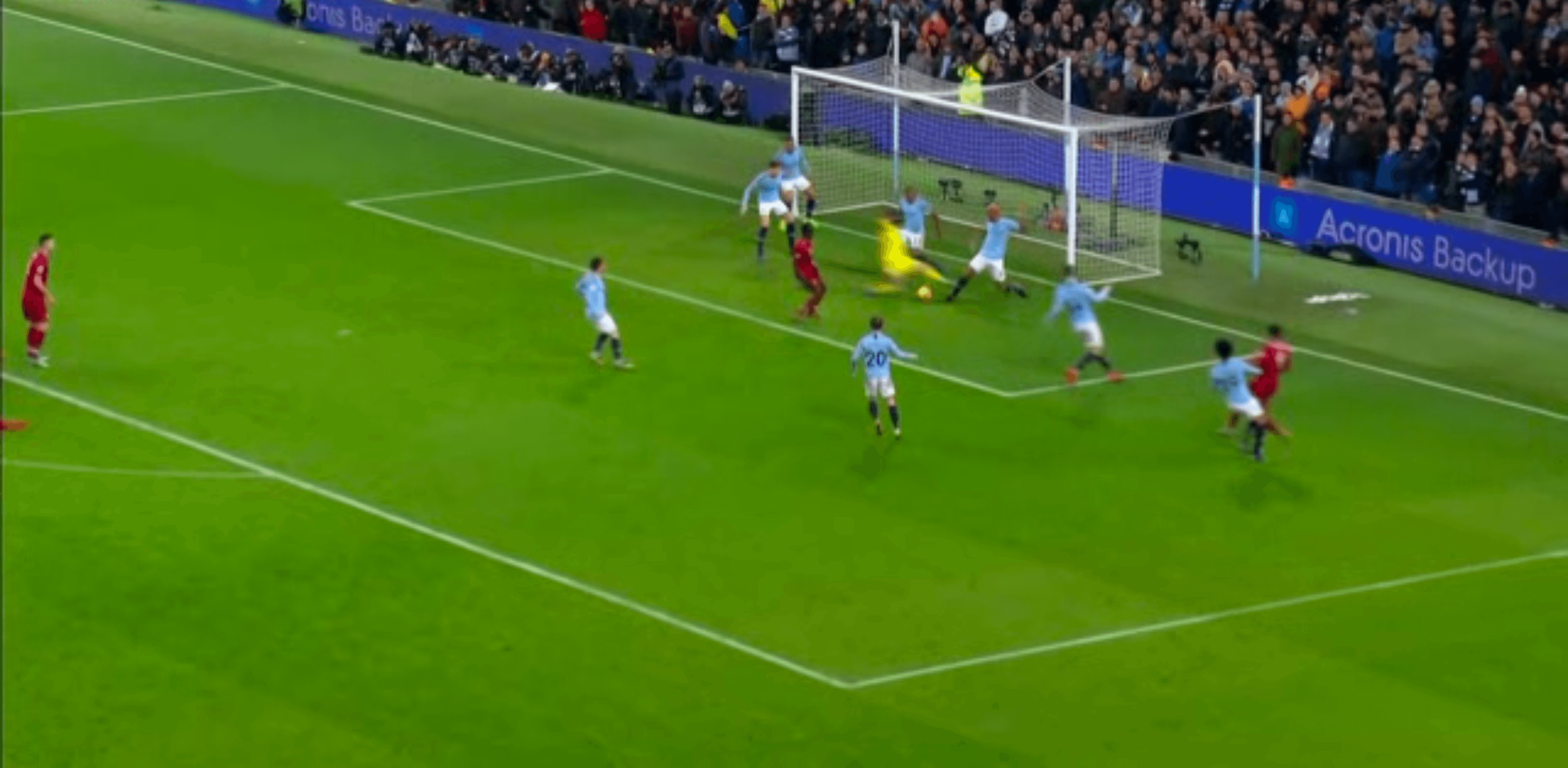 Then came perhaps the most gorgeous phase of football in the Premier League this season.
Liverpool caught City in transition and broke forward. Instead of forcing the pass through, they waited instead for the right spaces to open up again. The ball was switched from side to side as Liverpool stretched the City defensive line.
Wijnaldum, as the left-sided attacking midfielder in the 4-2-3-1, tucked in as one of the forwards inside the box, attracting Danilo, and leaving the space outside of him, in the channel, for Robertson.
Robertson loses Sterling, and Alexander-Arnold sells Sané a dream.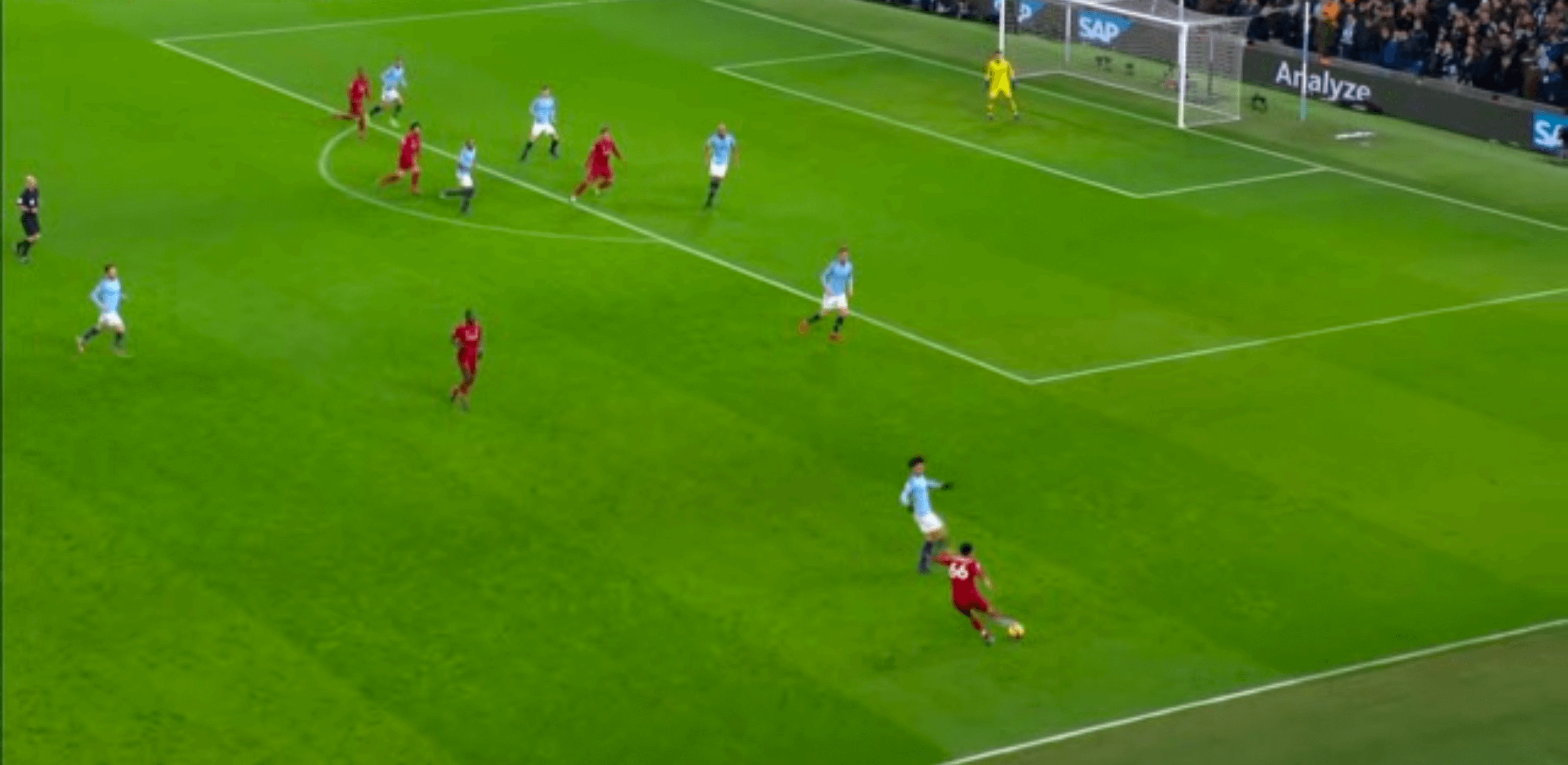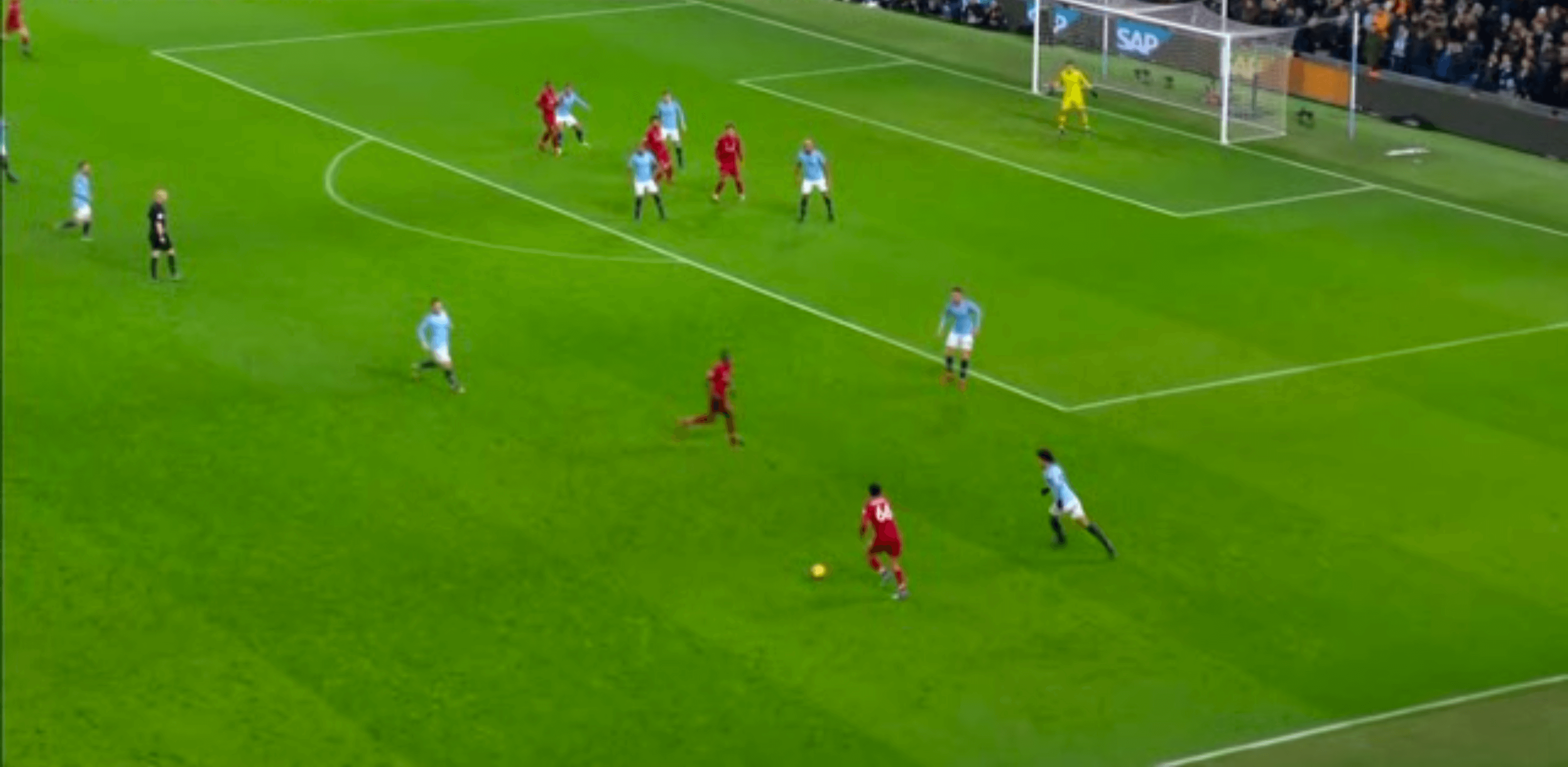 Before supplying Robertson with a soft, curling aerial pass, which he cushions into Firmino's path.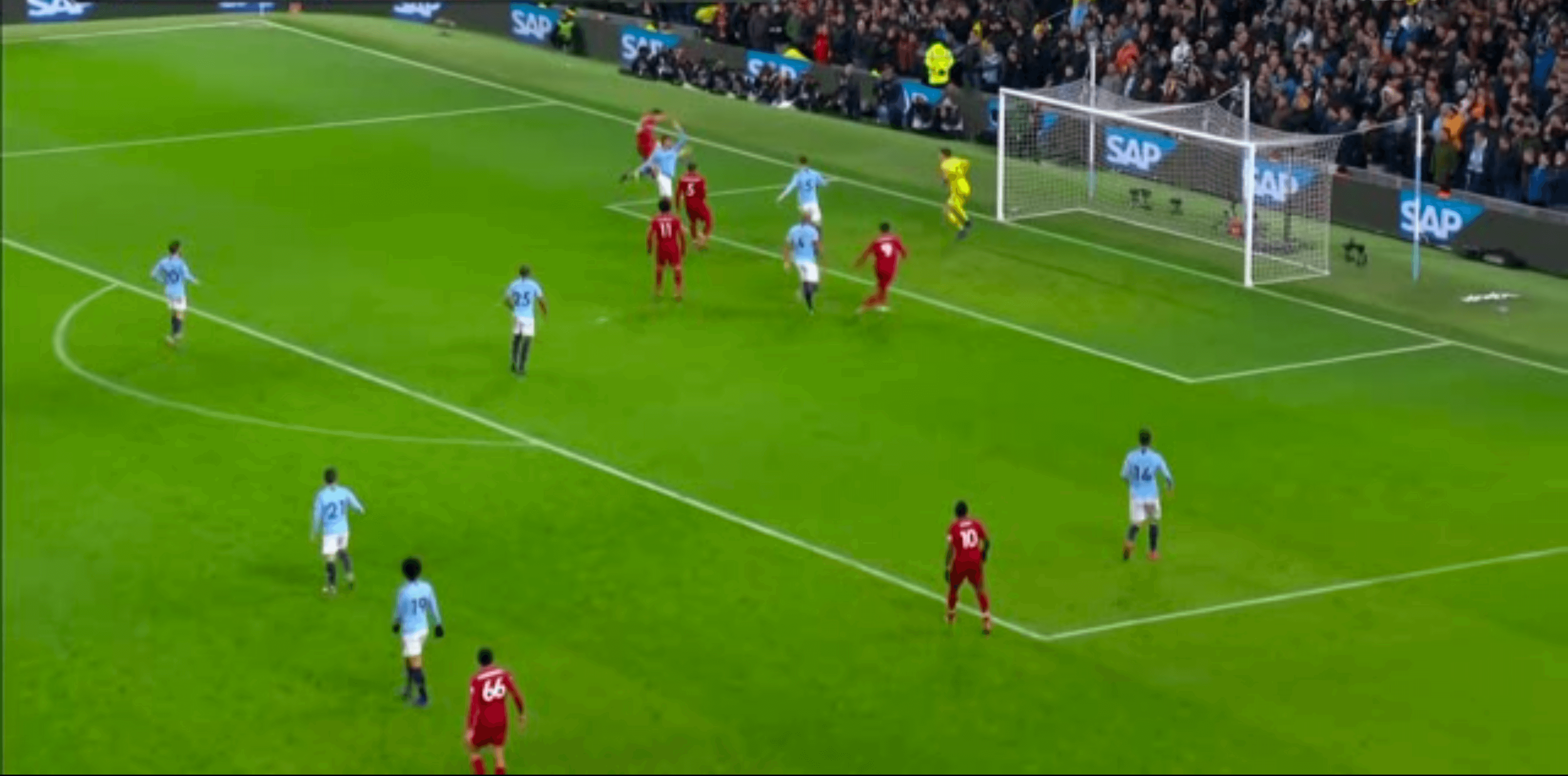 Still watching this game back and still amazed at how good our goal was. Trent's pass to Robbo took out 9 City players. #PackingStats Tremendous goal.

— GaGs (@GagsTandon) January 5, 2019
A 16 pass masterpiece.
However, for all the merits of the 4-2-3-1 as an offensive tool, there are costs to it – and those are in transition, and when in a defensive shape. The 4-2-3-1 is simply not as compact as the 4-3-3 in transition, as one of the centre-midfielders in the 4-3-3 is sacrificed to play as a forward, and for City's second goal, City break through in the wide area behind Wijnaldum, which he himself would have protected, if he was playing in the 4-3-3.
The image below shows Wijnaldum moving up to counter press after Ederson intercepts a pass played in behind the City defensive line and passes it into Danilo: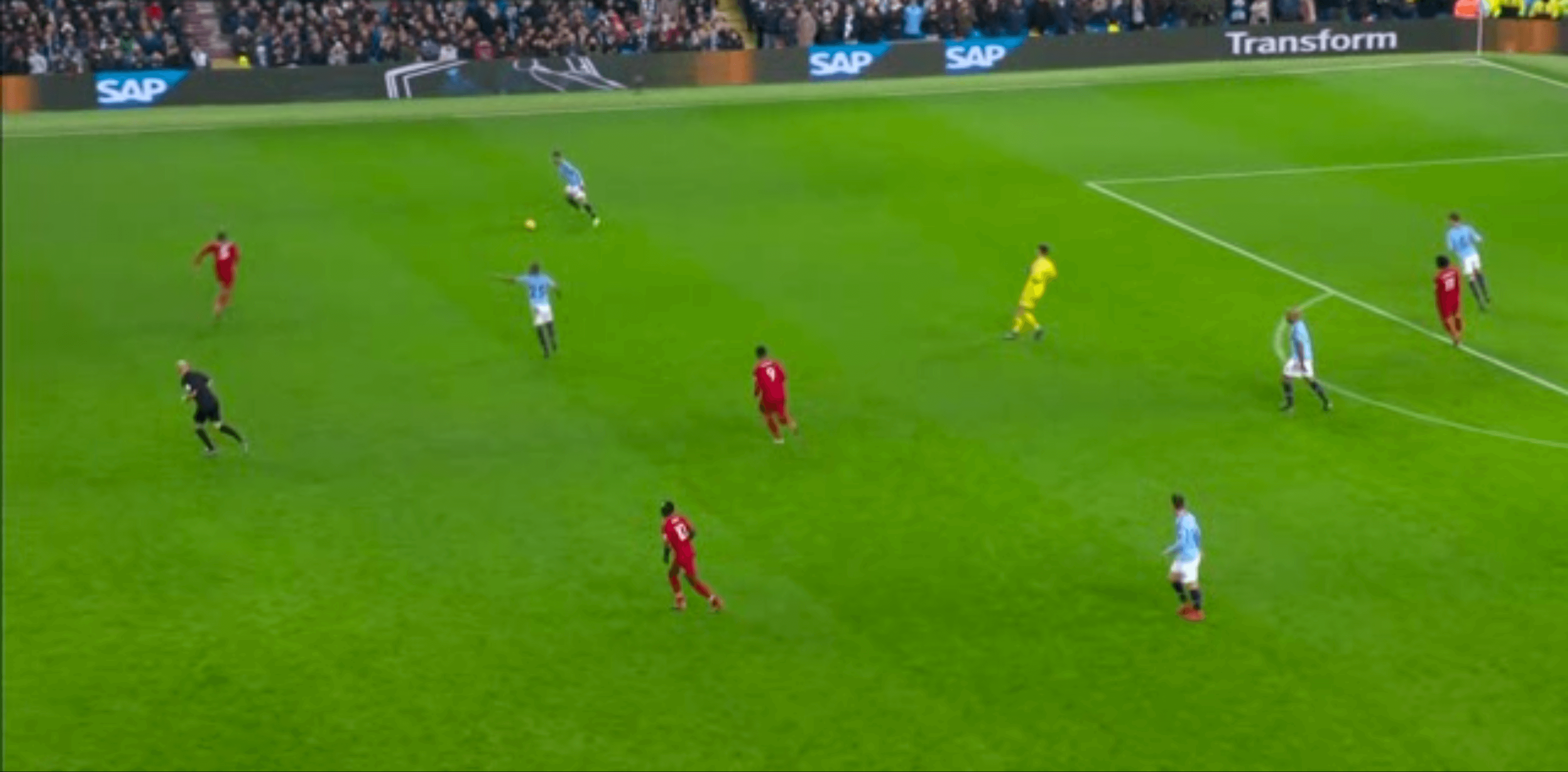 The ball is carried forward, and Danilo is able to pass through the lines into Sterling, because there is one fewer man in midfield, making it harder to block the passing lanes.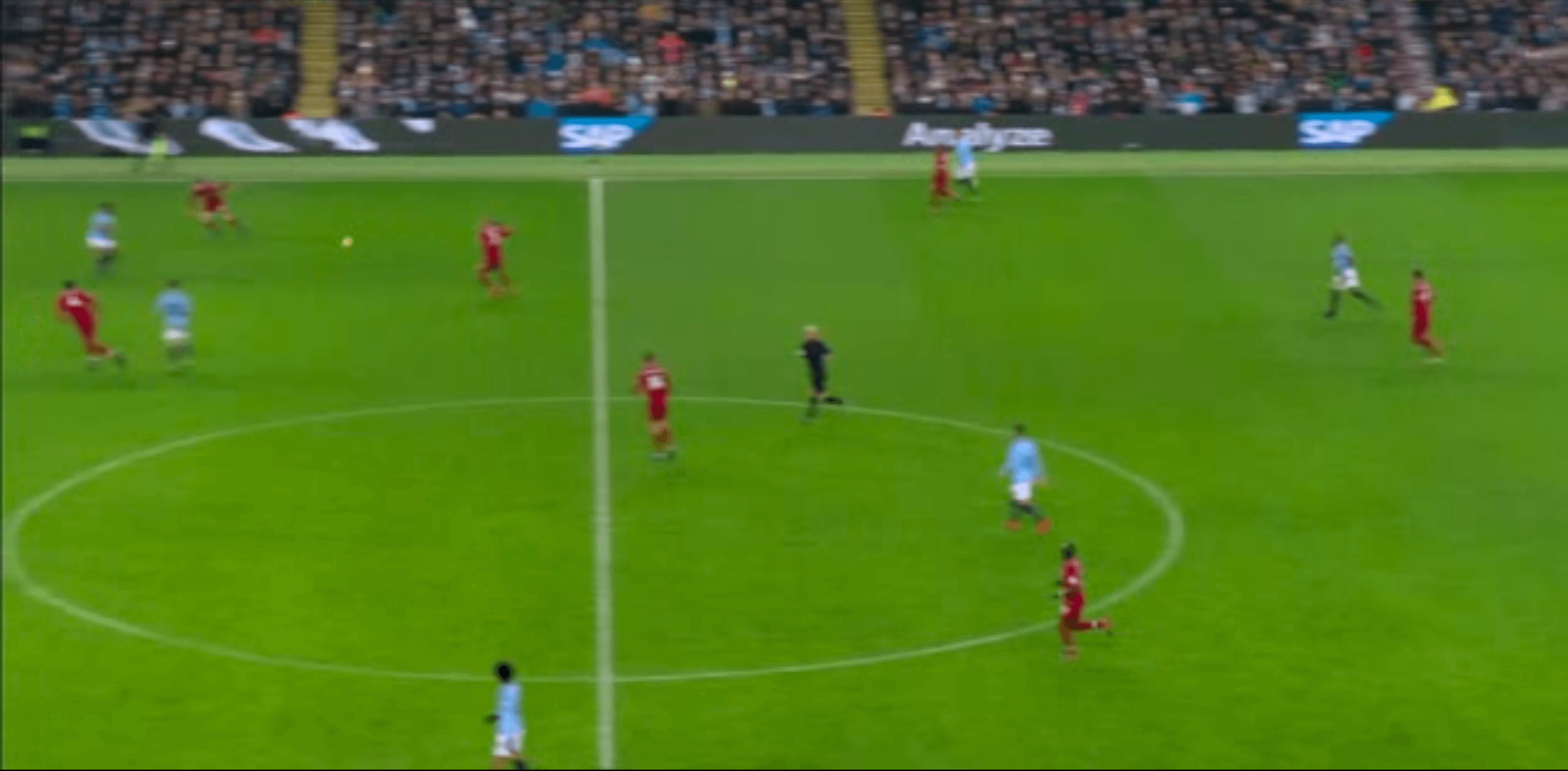 The lack of midfield protection for the backline is emphasised in this image below, underscoring the defensive cost of the 4-2-3-1: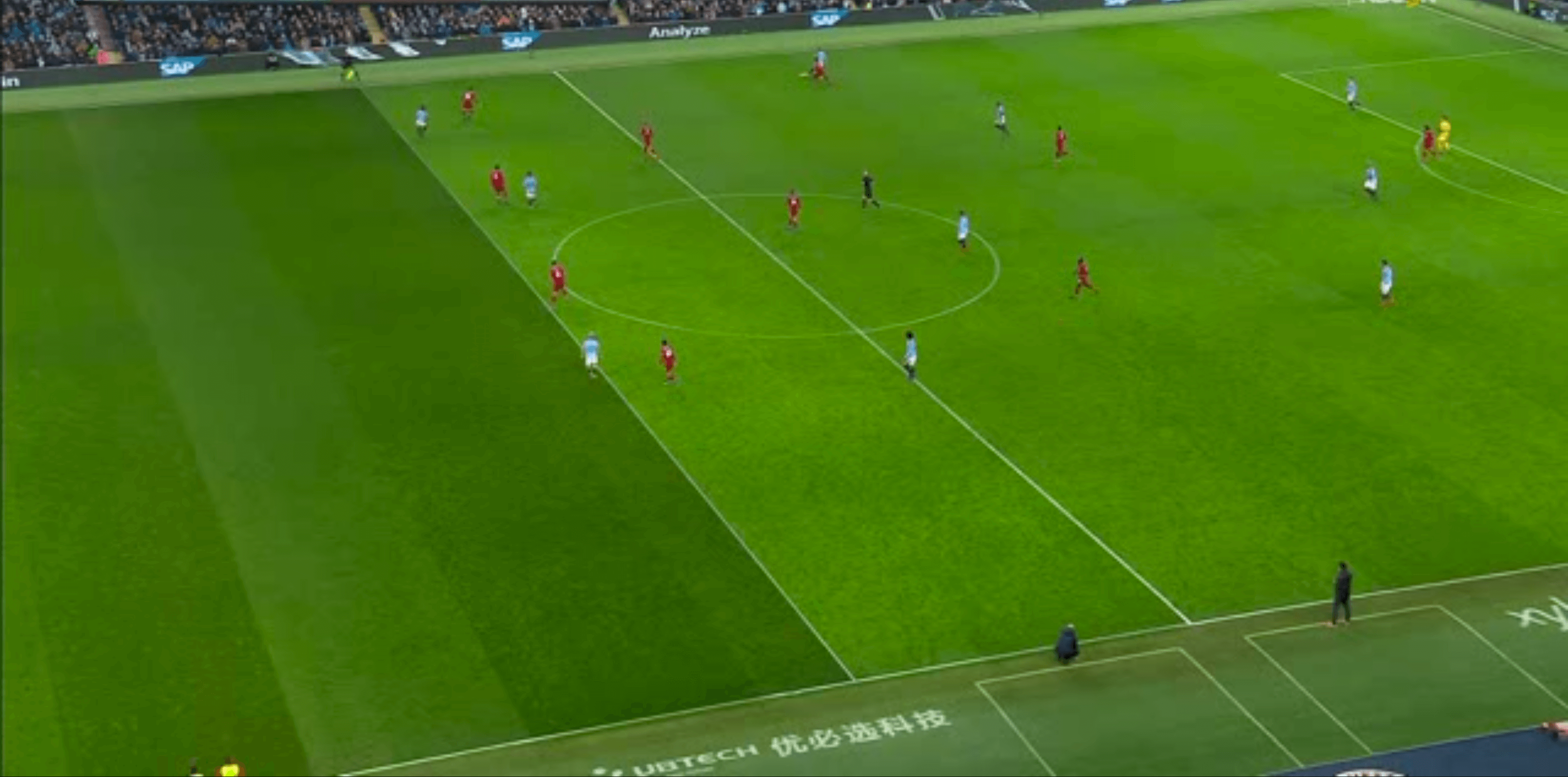 Sterling carries the ball forward, and moves into a central position, however, no player closes him down, and he is able to then play a perfect pass into Sané, who manages to squeeze the ball into the goal off the post.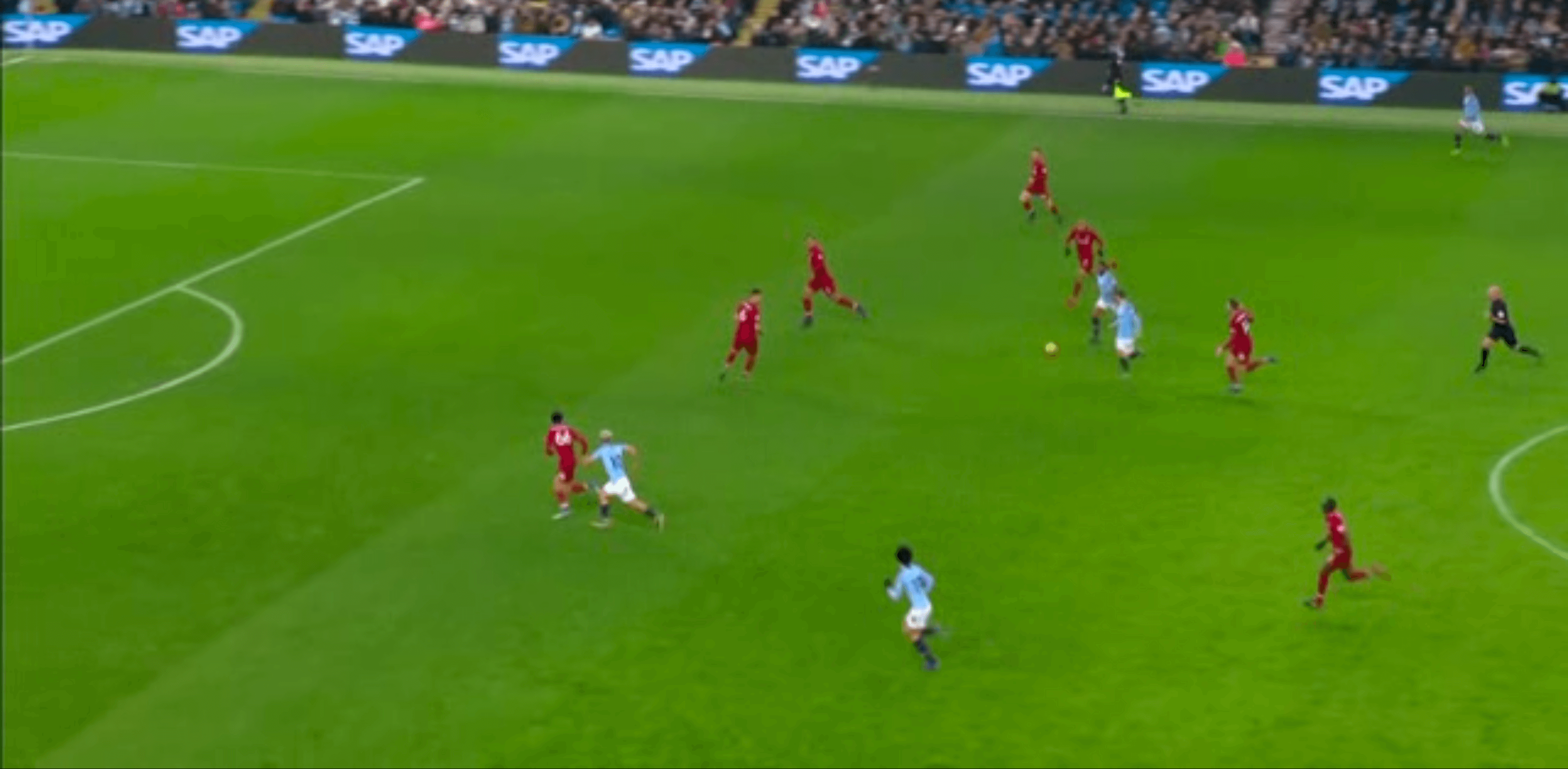 Sané's goal, which he takes as Alexander-Arnold closes him down has an xG value of 0.06. It hits the post at such an angle it manages to hit the side netting, next to the post, on the opposite side.

The shot was on the edge of what is physically possible to have gone in.

— Hamzah (@HamzahKL97) January 5, 2019
As a consequence of the goal, Liverpool move up the pitch as they go all-in. In the image below, Van Dijk and Lovren are positioned on the halfway line, with all other outfield players getting ahead of the ball: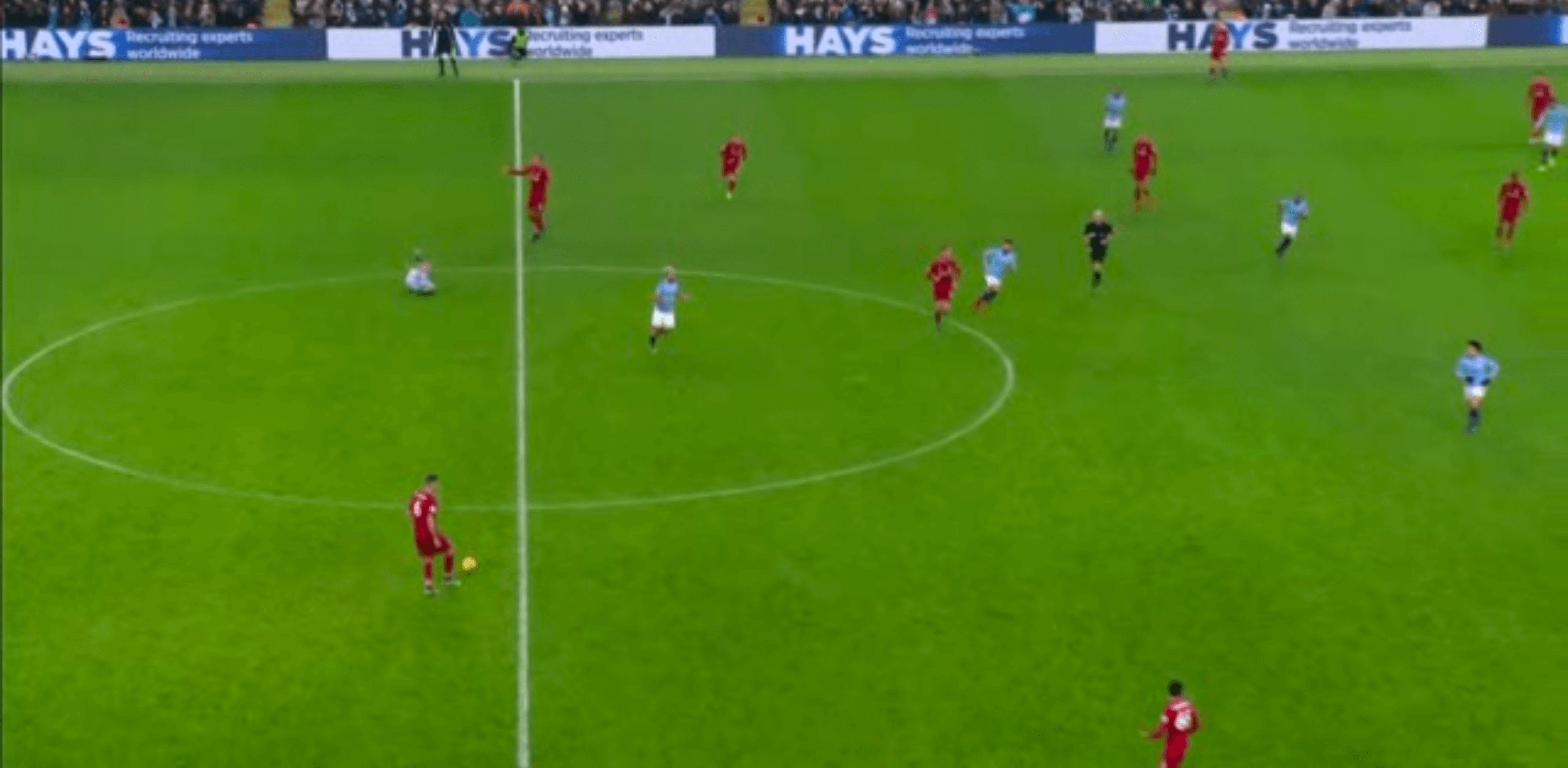 At the time Lovren makes this header in the 81st minute, only Alisson remained in Liverpool's half: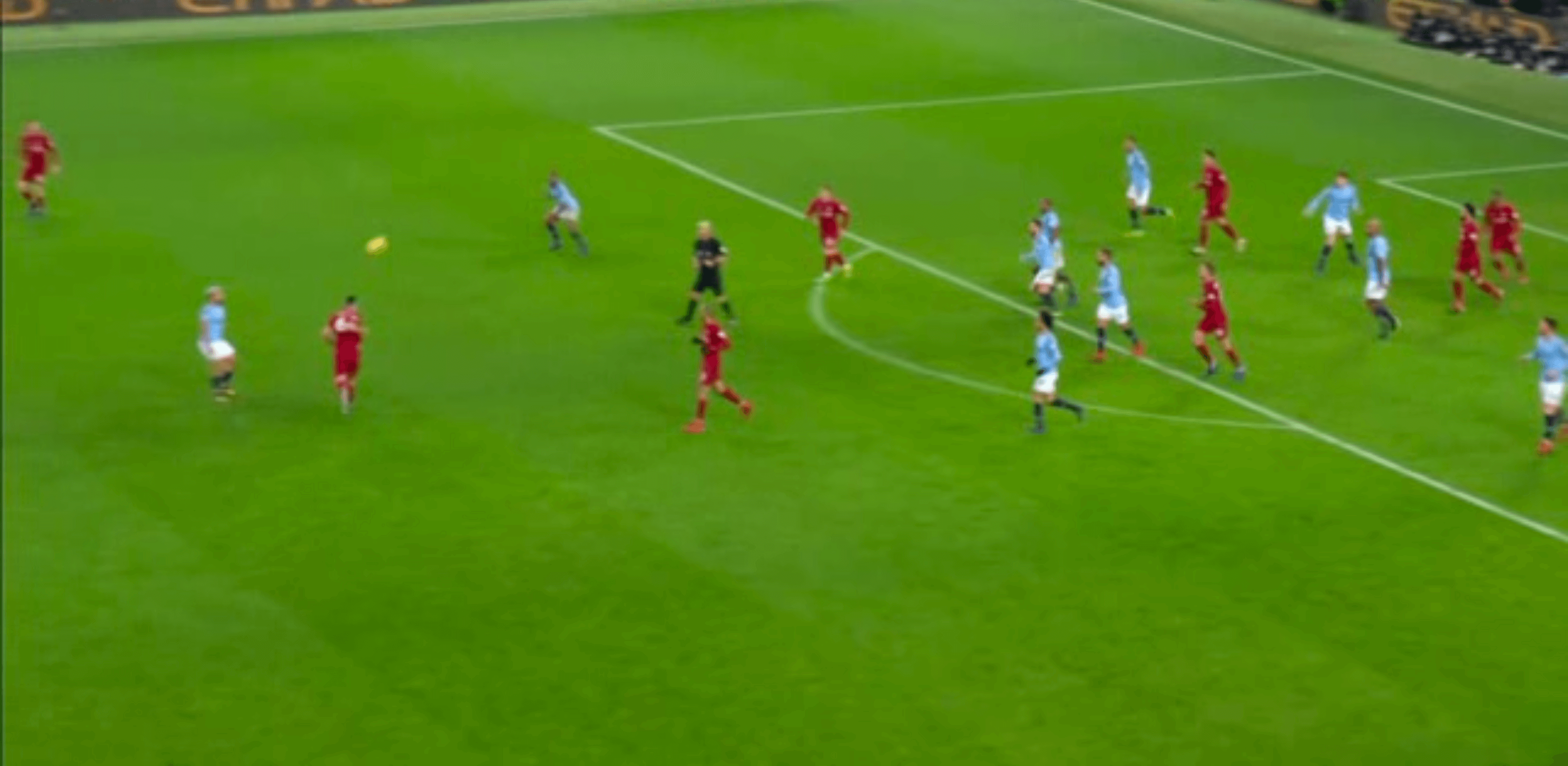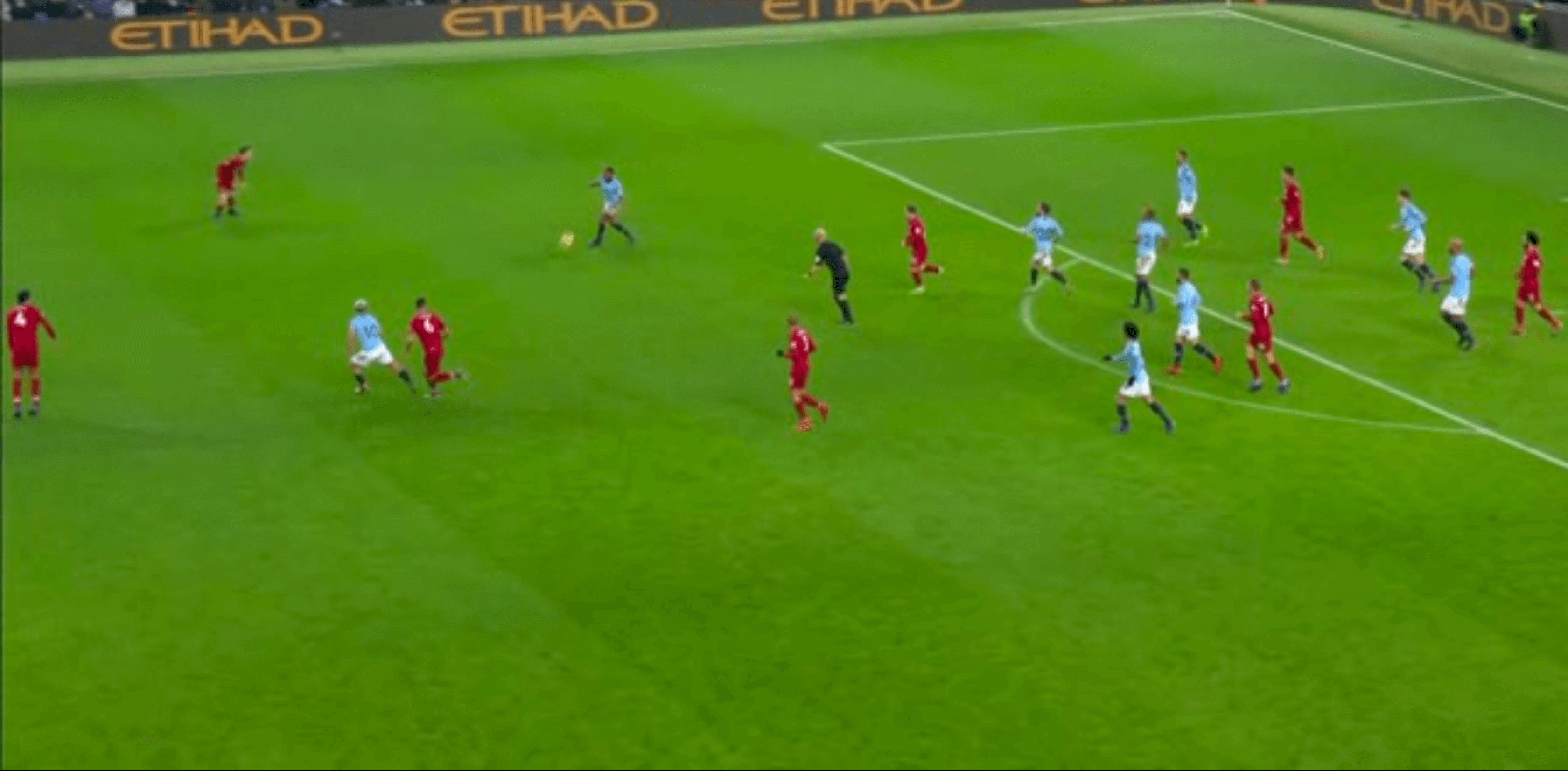 Liverpool forsook their defensive shape and structure in search of an equaliser, and City were able to break with numbers into space whenever Liverpool lost possession.
The xG score tightened up as LFC went behind the second time, but that's expected. We pushed up & left loads of space & opportunities in behind to try and get the equaliser.

After Sané's goal xG was 0.27-1.21.

Agüero '81 (0.49) & Bernardo '89 (0.32) fudged the stat to 1.18-1.38

— Hamzah (@HamzahKL97) January 5, 2019
As Guardiola wasted time with his antics on the sideline, seconds raced away, and Liverpool forced passes which did not have a chance of going in. For a performance so wholesome, it was a shame it ended so.
Liverpool may have lost the game, but this was probably their second best performance of the season. The team outplayed Manchester City, at the Etihad, and Klopp outsmarted Guardiola. Were it not for two unstoppable, inch-perfect strikes, Liverpool would have left Manchester not just with their unbeaten record intact, but 10 points clear of City. Dubious officiating, luck and excellent finishing secured City the win, but if this display proved anything, it's that Liverpool are clearly the best side in the league.
2 trends at play here, Man City have dropped off a cliff, whilst Liverpool have ascended one

— SimonBrundish (@SimonBrundish) January 4, 2019