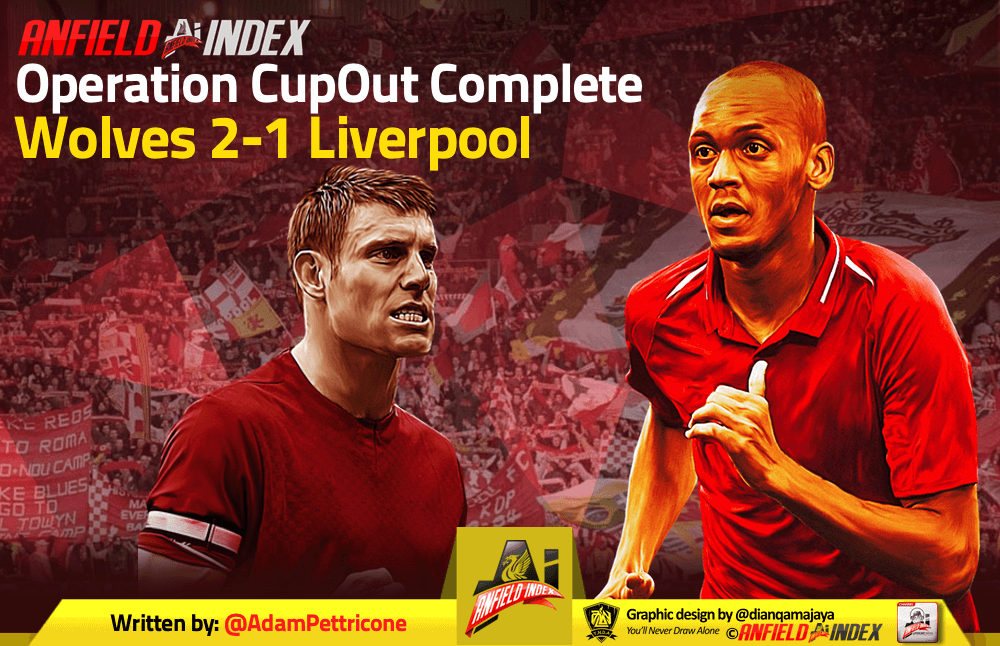 Operation CupOut Complete: Wolves 2-1 Liverpool
Ah, the magic of the FA Cup…
Is there another competition in the world that would allow Liverpool supporters a moment to sit back and appreciate their front-line starters more than this?  How about that squad depth am I right?
You could tell Jurgen Klopp was really feeling the magic.  He revered the cup so much that he put out a side consisting of teenagers and Brodge retreads barely hanging on to their squad numbers.  The Reds were leaning on their usual 75th-minute subs, Daniel Sturridge and Shaqiri to lead them to victory.  Certainly veterans, Mignolet, Lovren and Moreno were not going to do it.

One absence from the line-up was notable as key-to-the-press Adam Lallana was left out of the squad after Klopp claimed he was healthy.  Leave it to LFC Twitter to get to the bottom of the mystery…
https://twitter.com/64_bit_hero/status/1082353620945911809?s=21
Maybe Adam Lallana is in Labour with Andy Robertson's kid

— Paul Senior (@PaulSenior1) January 7, 2019
If there was a buzz around the line-up it was all about the kids, Rafa Camacho and Curtis Jones.  Ki-Jana Hoever was thought a possibility in the morning, but Reds wouldn't have to wait long for him as it turned out.
A few minutes, scratch that, seconds into the match, Dejan Lovren, fan favourite that he is, limped off.  The injury leaves Liverpool with only man-mountain Virgil Van Dijk available with the small matter of a league title to attend to.
On strode the 16-year-old Hoever to save the day. Quoted before the match, he said he decided he wanted to play for Liverpool when he watched The Reds' triumph in Istanbul… while out drinking… milk… in nursery school.
https://twitter.com/lfcglobeuk/status/1082374271194812416?s=21
https://twitter.com/tommunns1/status/1082366874560749569?s=21
Hoever and his teamates looked like a side thrown together at the last minute.  Though Wolves didn't look much better considering they put out an eleven that wouldn't feel out of place in their Premier League matches.
With supporters around the world yawning, expecting Moreno ninja kicks, the match was calling for a moment of inspiration.  Leave it to Boring James Milner to add the required excitement to the match as he gifted Wolves one in the 37th minute. For those of you expecting Simon Mignolet to make the save, I've got a jar of pear preserves to sell you.
Wolves haven't been the better side but they're up after Milner tries to do I have no damn idea. Meh.

— Liverpool Offside (@LFCOffside) January 7, 2019
After toasting to our undefeated record in the league as the calendar turned, The Reds have now lost 2 straight. What is it with January and this club under Klopp?
Liverpool haven't been in front in a game all year.

— Jim Boardman (@JimBoardman) January 7, 2019
The halftime whistle blew and Liverpool supporters were absolutely thrilled with the first 45 minutes of riviting FA Cup action.  Don't worry Reds, the half-time analysis is sure to be worth the wait.
Glad I'm not doing a show after this game

— Kauser Soze (@NinaKauser) January 7, 2019
Jermaine Jenas seems surprised a side with three teenage debutants, a midfielder at centre-back and a strike partnership consisting of the third and fourth choice options are not playing all that well against a pretty good Wolves team.

— Kristian Walsh (@Kristian_Walsh) January 7, 2019
A drab match turned into a downright nightmare as the hero of injury time at Everton drew the ire of Liverpool supporters as he leveled the score with an absolute peach of a goal. By the look on Jurgen Klopp's face, he might never forgive the Belgian forward.
Damnit, Origi has scored 😉

— Paul Tomkins (@paul_tomkins) January 7, 2019
Great finish from Divock Origi. pic.twitter.com/wDY0VO8ZEq

— Will (@dug_8) January 7, 2019
Klopp celebrating Origi's goal like a man who's delighted to still be in the FA Cup pic.twitter.com/EAGariOgu9

— Shane (@IsMiseShane) January 7, 2019
Origi scores. Somewhere at home Jordan Pickford is trying desperately to change the channel but his tiny arms fail him again

— FootballJOE (@FootballJOE) January 7, 2019
All of that worry was for nothing though as summer target Rúben Neves restored order just four minutes later with a long-range effort. Some Reds were not thrilled with Mignolet's reaction time.
Am I being picky saying Migs should have got that? He moves about a week and a half after Neves hits it. #LFC

— Graeme Kelly (@GraemeKelly1) January 7, 2019
WHERE THE FUCK IS MIGNOLET THERE?!!! COME OFF YOUR LINE AND TAKE THE PRESSURE OFF YOUR 16YO CB

— Shan (@Shannxo) January 7, 2019
Not to be accused of throwing the match, Klopp brought on Salah and Firmino in the 70th minute, but all continued to go to plan as they didn't have much impact. The posts were even in on it, denying a Shaqiri free kick that looked like a sure goal.
Standout moments from Hoever were the only remarkable thing about the closing minutes.  With 2 losses on the bounce our inversely perfect January marches on.  But if any of you made the mistake of feeling bad about it, Paul Tomkins has the remedy.  He reminds us that the only magic of the FA Cup is when it disappears before it hinders your club's run at trophies that actually matter.
Liverpool have leapt from also-rans who would've loved the chance at a cup run a couple of years ago to a club that is happy to bin them off as quickly as possible.  It's good to be in that position… right?  Right?
We don't need to win a cup you fucking BBC numpties. We need to try and win the league. Stop talking like the FA Cup still means anything. Winning it did Wenger fuck-all use. As it's a waste of time.

— Paul Tomkins (@paul_tomkins) January 7, 2019
Up the cynical Reds!