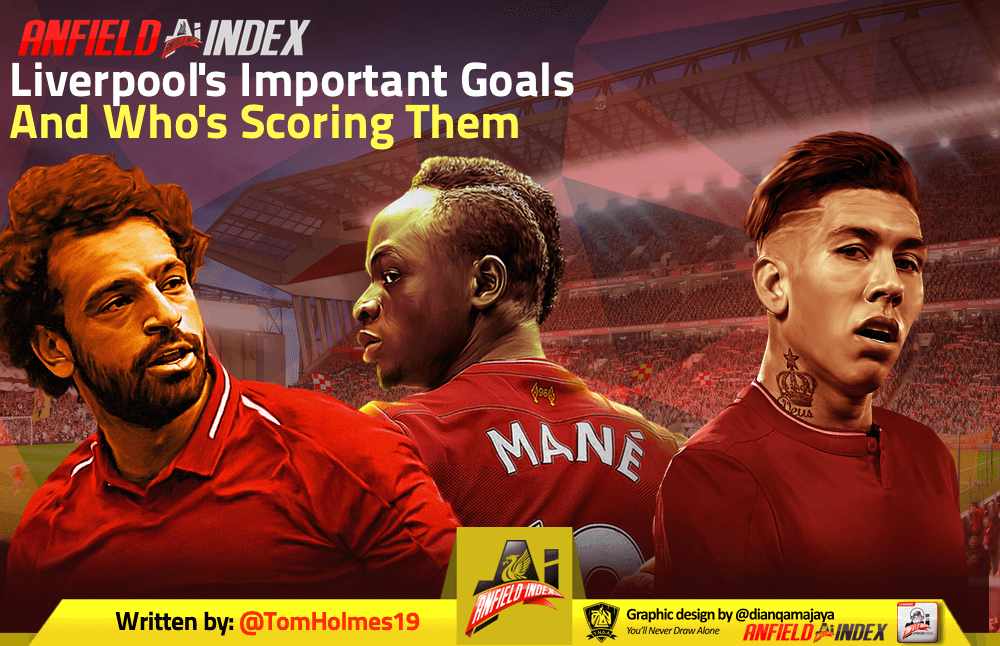 Liverpool's Important Goals And Who's Scoring Them
Liverpool have played 21 league games so far. In those games, they have scored 49 goals, at 2.33 goals per game. Of those 21 goals, Liverpool have scored 23 goals when they've been losing or drawing, taking the lead in 18 games and equalising in two of the other three. The Reds have scored the first goal 16 times and gone on to win 15 times, 14 times without ever being pegged back – only Arsenal and Manchester United have scored equalising goals against them.
Liverpool have also fallen behind on just four occasions – twice coming back to win and securing a late draw against Chelsea. The only league game in which Liverpool have failed to score when they've been drawing or losing is the only time they've failed to score – the 0-0 draw with Man City.
So in this article, I wanted to look at some of these goals in a bit more detail. We know that of the Reds' 49 goals, 13 have been scored by Salah, with eight each for Firmino and Mané and six for Xherdan Shaqiri. But who is scoring the important goals – the goals that matter – and when are they being scored?
As mentioned, 23 of these goals have either given Liverpool the lead or been an equaliser. Of the remaining 26, 15 have been goals to give the Reds a two goal advantage, with the remaining 11 merely to extend the scoreline. Since the Reds have never been two goals down this season, every goal has either been with the scores level, Liverpool down by one or Liverpool winning – which is pretty remarkable to be honest.
The Who
So to start with the who of it all – who is scoring Liverpool's important goals?
Unsurprisingly, the most important player for Liverpool when it comes to goalscoring is Mo Salah. Salah has scored eight goals out of his thirteen with the scores level – and in fact, all eight of Mo's important goals have been the opening goals in the game. Whilst it's been a slightly frustrating aspect to his play that Mo has struggled largely against the top sides this season, it remains the truth that he's been elite against the rest – scoring the opening goal in eight of the fourteen games against teams outside the top six.
The second player ends up being, also somewhat unsurprisingly, Bobby Firmino, but he's only scored half as many important goals as Salah. It's also worth noting also that Firmino's season really has turned on his last couple of games. He's scored half of his goals for the season, and three of his four important goals, in the last two games – the other one coming against Burnley as a sub.
The only other two players to score more than one important goal are Sadio Mané who has opening goals against both Leicester and Man United, and James Milner. All three of Milner's goals this season have been pretty huge, the opening goal against Palace, his goal against Arsenal and of course the equaliser against Burnley.
A raft of players have also scored important goals – Gini the opener against Spurs, Sturridge against Chelsea, Divvy in the derby, Shaqiri against Man United and, of course, Lovren against Newcastle. The only other goal is the own goal that gave us the lead against Southampton.
What this indicates is that the majority of the time against the smaller teams, it's Mo Salah delivering the goods, but Liverpool have been able to rely on a range of sources in big games.
The picture is, slightly different when it comes to the second goal in a game, which obviously isn't as important but can still be decisive in the right moment. It's perhaps unsurprising that the two players who didn't feature as heavily as they might have done in the first list – Sadio Mané with two of his eight goals when the Reds are behind or drawing and Xherdan Shaqiri with one of his six – lead this list. Both players have scored goals to make it either 2-0 or 3-1 on four occasions.
Then come the two other players you'd expect, with Mo and Bobby both netting twice with the game in the balance. Both of Bobby's goals on these occasions proved decisive, against Leicester and Spurs. Both goals made it 2-0 in games LFC would go on to win 2-1.
The only other players to have scored the second goal in a game for LFC this season are Matip vs Saints, Virgil against Wolves and Trent's screamer against Watford.
What we can see from this is that none of Liverpool's top four goalscorers have failed to contribute when it's important. 77% of Mo's 13 goals have come with the game in the balance, with Sadio and Bobby both 6/8 or 75% when it's mattered. Xherdan Shaqiri is 5/6 or 83%. The difference is when it really matters, the first goal or the equaliser. That has been when Mo and Bobby have stepped up, with Salah scoring eight goals when the scores are level, and Firmino, interestingly, scoring three of the four equalising goals that Liverpool have scored this season.
The When
So what about timings? When have Liverpool scored their important goals?
Again, there's nothing terribly unsurprising here to be honest. What's potentially interesting is that for all the talk of a fast start last year, the Reds have made an even faster set so far this year, with over half of their decisive goals coming in the first 30 minutes of matches – 12. 15 of Liverpool's decisive goals have come in the first halves of matches and of Liverpool's 17 Premier League wins, they've been leading at half-time in 13 of them.
That's not to say that there haven't been important goals later in games. Liverpool have two last gasp goals that have secured points – you know them both, Studge v Chelsea and Divvy v The Ev – but they've also secured results in the last half an hour of games against Man United, Watford and of course Burnley, whilst also taking the lead against Arsenal in the second half only to be pegged back.
In terms of second goals, or goals to put Liverpool clear by two goals in games, again there's nothing overly surprising here – with the vast majority of those goals coming in the second half – 11 of the 15 – and only one before the half-hour mark (Joël Matip's header against Southampton).
What is interesting is that the goals are pretty much evenly distributed in the second half of games, with four in the fifteen minutes after half-time (a period in which Liverpool have taken the lead just once), three in the second set of fifteen, and four in the final fifteen minutes.
There's nothing here that's excessively surprising. After all, scoring once before half-time and once after half-time is a relatively even distribution of goals, with games that are less even tending to see more late goals as teams press for an equaliser.
In Liverpool's case, we can see this clearly. Liverpool have scored 18 goals in the first half of games and 31 in the second, yet as I mentioned above, the majority of Liverpool's important goals have come in the first half. For example, Liverpool have scored more goals in the last 15 minutes of games than any other period of time, and yet only Sturridge and Origi's goals were vital, with four more goals sealing wins that were already on the cards. Comparatively, all six of the goals scored in the first fifteen minutes were with Liverpool losing or drawing. Obviously.
So in terms of timing, the most interesting or surprising thing is how consistent Liverpool are at fitting what you might expect from a top team – having a statistical spread that is exactly what you might anticipate is both surprising in and of itself and also a very good thing.
Conclusions
So what can be concluded from the numbers?
Mo Salah is vitally important when it comes to breaking the deadlock against smaller sides and is the biggest difference maker in this maker.
Bobby Firmino has been important too, but his numbers are skewed by an impressive couple of games.
Shaqiri and Mané have largely ended up killing games off this season rather than scoring the first goal.
Liverpool have been excellent at putting the opposition on the back foot in the first half, scoring early in the majority of their games, particularly against lower level opposition.
Although plenty of games have been tight, the Reds have been excellent at killing games in the second half.
Crucially, when required, Liverpool have had no issues scoring late goals or coming from behind in important games.
Again, there arise lots to chew on here, but what's remarkable for me is the consistency with which Liverpool have been impressive at killing teams, and the consistency in their statistical profile backs that up.