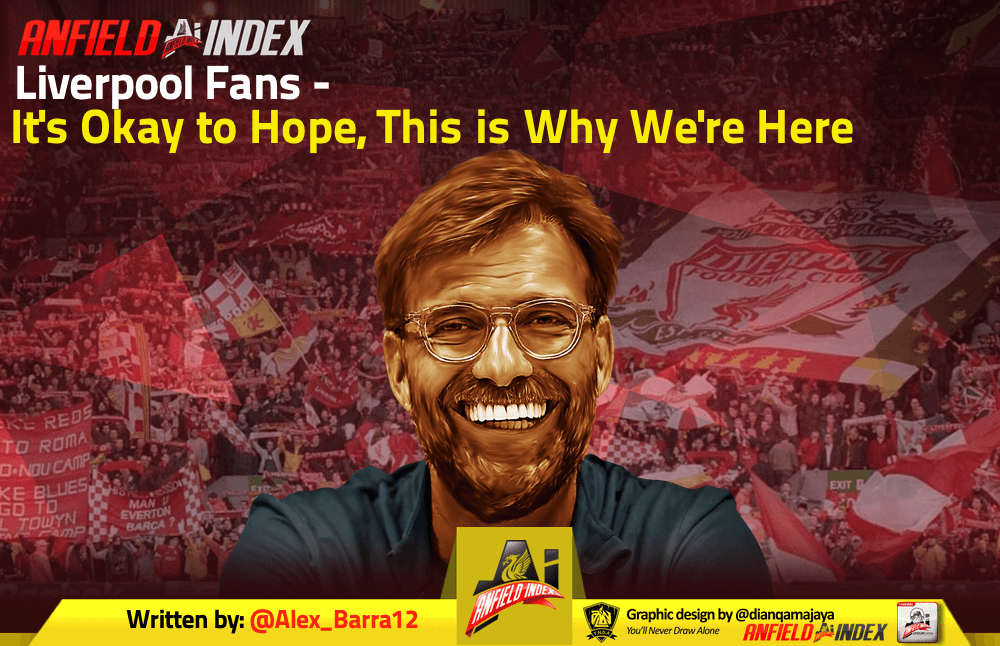 Liverpool Fans - It's Okay to Hope, This is Why We're Here
It's not the hope that kills you. It's never the hope that kills you.
Languishing in mediocrity, having to play in Macedonia on a miserly Thursday night, with aspirations of only being relevant again, that's what kills you. Being nowhere, existing but not prospering, that's what kills you.
Seeing your best players leave, that's what kills you. Replacing them with players who can't possibly fill the void, at the behest of a faulty transfer strategy and wildly obscene ego of one man who thinks he knows all, that's what kills you.

Watching your football club with numbness, that really kills you.
Not being taken seriously, having to rely on an occasional blistering storm of what could be as you sweep past a rival in riveting fashion, and then losing away to a mid-table club the following week, that's what kills you. Knowing you've only got a certain level of aspiration before everything falls apart, that's what kills you.
The collective being great, but not the greatest, that's what kills you. Having the greatest manager of your modern era and facing a brick wall of the supposed "best team of this generation" and feeling like nothing you do will ever catch up, that's what kills you. Because you can only get so excited with knowing you'll be second best.
Until you're not second best anymore until you're top of the table at the turn of the New Year and suddenly, you're not irrelevant.
"Walk on, walk on, with hope in your hearts" goes the anthem of the Red Cathedral.
"Sign on, sign on" They sing, all while looking up at Liverpool's lofty Premier League perch.
"Feed the scousers!" They belt out, with no sense of irony apparent.
"Always the victims!" They chant, knowing they'll probably go home to their family later, unlike 96 people who went to a football match in 1989.
And they have the cheek to label this "insufferable."
Because, of course, no other fans enjoy their title wins. They all just stand up, cheer for a bit, and then sit down again. None of this carry-on about parades, or parties, or coming up with songs, or maybe, just maybe, being slightly over-the-top on Twitter.
Liverpool fans are the first to do that, you know.
Just like they're forsaking tradition by playing a second team in the FA Cup. How dare Klopp field a side largely featuring youngsters and fringe players! In a round of the FA Cup where Premier League sides made an average of eight changes to their starting lineup, and at a point where they had one feasible, fit centre half – who proceeded to then get injured – how dare they not give the FA Cup their full attention. Klopp needs a trophy, you know. If he doesn't win a trophy, he'll be a failure!
Just look at Louis van Gaal, Antonio Conte, Arsene Wenger even. Those are three names that won the FA Cup and were henceforth heralded as icons of their clubs. They had a lot of time to ponder their successes, too, given all three were out of the job within a few months.
"This article will come back to haunt you in May" people might say.
No, it won't. Because there are Liverpool supporters who know of their club's reputation as Kings of England but have never seen it. This is not about winning titles. This is about enjoying the ride. The greatest of rides.
There are supporters who know only of the fleeting title challenge of 2013/14, only for a single slip to take it all away. Or the 2008/09 season, and all the seasons before that, where Alex Ferguson was just too damn good. The ones for whom the glory of 2005 feels like a lifetime ago.
These are the ones who've lived through Roy Hodgson claiming Liverpool "aren't too big for a relegation battle", who had to grit their teeth through Brendan Rodgers' grandstanding and Rafa's constant battles with the ownership of their beloved football club.
These are people who saw their club at the brink of bankruptcy, who wanted nothing more than to just be relevant again, to be on that ride again.
So, no, it's not embarrassing that fans are excited to be top of the league. It's not cringe-worthy that the first loss in the league causes a few wild conspiracy theories, it's not righteous to complain about Liverpool going overboard when there are tweets like "Do the rest of the league a favour and beat the Reds."
This is a club that, rightly or wrongly, feels like it's them against the world. This is a team not built on the resources of an entire nation, but an excellent strategy, a few people who are excellent at their jobs, and a club in Spain stupid enough to give them a lot of money.
And yes, of course, there are morons. Idiots. Embarrassments. There are those who will go overboard. But then, this football stuff doesn't really make sense, does it?
Football is escapism, it's the rush you get when something totally out of your control can cause you to experience actual, real emotion. Of all the material things, football allows us a connection to something greater. There's magic in that.
It's not the hope that kills you. It's not being top of the league that makes things nervy. Embrace those nerves, channel that fear, enjoy the competition.
This is what you wanted. Because winning the league means competing for the league. Because there was talk – rightly – that this Manchester City team could compete with the Premier League's greatest teams, and Liverpool are four points ahead of them.
If you can't enjoy this, then you'll never enjoy anything.
So, sing it loud, sing it from the bottom of your lungs and at the top of your voice. Even if Manchester City are crowned Champions in May, even if it goes catastrophically wrong, even if there's a one-point game and things seem despondent.
"Walk on, with on, with hope in your heart. And you'll never walk alone."