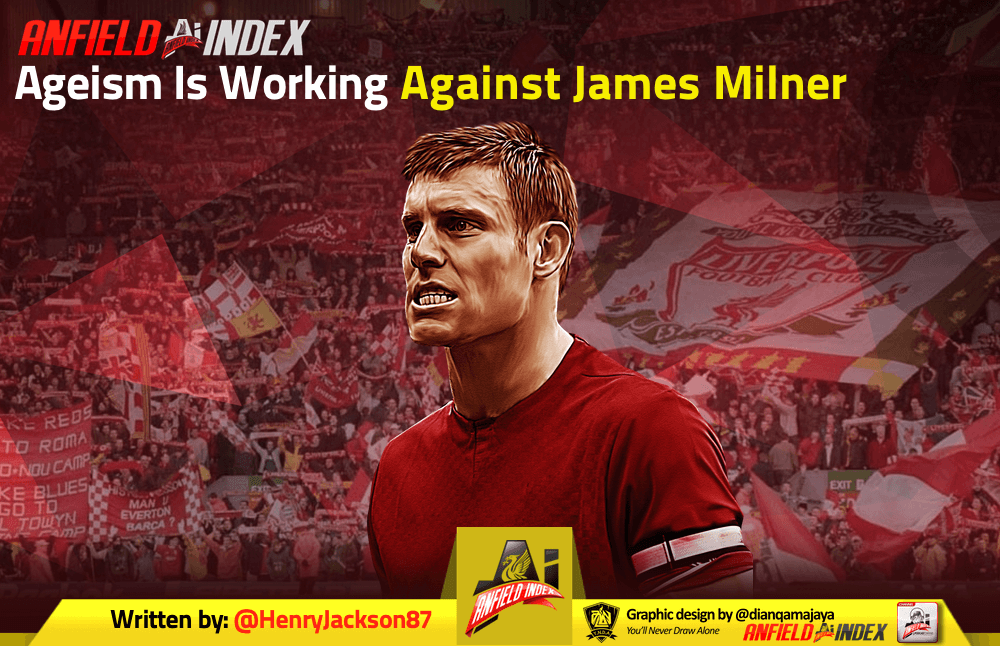 Ageism Is Working Against James Milner
When a footballer hits 30, or at least in and around that age, something instantly changes in the way they are perceived by supporters.
Every bad performance is suddenly due to their advancing years, every misplaced pass is because they're not as young as they once were and they are used as target practice every time their side suffers defeat.
Steven Gerrard even suffered from it, which says it all.
This is something we are suddenly seeing come to the fore with James Milner – it has existed a little already in the last couple of years – following a dip in form by the 33-year-old.
His mistake in Monday's FA Cup defeat at Wolves was the perfect excuse to further touch upon his age, as was a tough night at the office away to Man City, in a relentless contest.
He shouldn't be excused for what have been some rather leggy, uninspiring showings, but neither should they be treated as some kind of crime against football.
Would Milner be receiving this level of flack if he was 28? Absolutely not. It would be shrugged off as a drop-off that didn't warrant concern, with his usual level sure to return soon.
The flack that the veteran midfielder has received has been justified at times, but the way it has been over-exaggerated has also been needless.
It wasn't long ago that he was being lauded as one of Liverpool's star men in the early few months of the season, with only Gini Wijnaldum outperforming him in the middle of the park.
While others around him failed to reach their 2017/18 level, he was a trusty presence who continued to show his agelessness, combining an influential mix of experience, work ethic and underrated technical quality.
All it has taken is for a few sub-standard displays to come his way and all of a sudden the "Milner is past it" narrative is in full swing.
There is, of course, an argument to say that his legs are starting to feel the effects of over 15 years at the top level, but not to the extent some would have you believe.
He hasn't looked as fresh as he did earlier in the campaign of late, and he will have to be managed sensibly until the end of the season, but there is still a fair amount left in the tank.
Milner doesn't justify being a regular as the Reds look to become greats in May, and he won't be, with better options now available.
That especially applies if Jurgen Klopp continues to adopt the 4-2-3-1 formation that Liverpool have so often thrived in, with the former England international not suited to that system.
Fabinho has become a key man in the winter months, growing hugely as a player and showing precisely why he could be a long-term monster in the Reds' midfield.
Wijnaldum is in comfortably the best form of his Liverpool career and Jordan Henderson has found a new lease of life, with the pair dovetailing nicely in a two-man midfield.
The trio are all ahead of Milner in the pecking order, but who's to say one of them won't suddenly experience their own dip? They're younger, of course, so the scrutiny won't be as deafening, even with the eternally divisive Henderson.
Even Naby Keita, who is struggling for consistency at the minute, can offer more than Milner in this new system, and will only grow in influence over time.
This is all no slight whatsoever against Milner, however, who remains a highly effective footballer whose presence is important.
He is one of the few Liverpool squad members to possess a genuine winning mentality, and who knows that feeling of what it takes to secure silverware.
Milner is the only Premier League winner in the squad, barring Daniel Sturridge, who scooped the 2009/10 title as a youngster at Chelsea.
Fabinho and Xherdan Shaqiri, meanwhile, are the only players to taste title glory in one of Europe's other top four leagues.
Milner's success at City, where he won a total of four trophies at the Etihad, can be a real positive for the Reds in the coming months when the going gets tough.
He knows how to manage games, how to waste time and how to get over the finish line – something Liverpool have been inept at in recent times.
Milner is also a vital presence off the pitch, proving to be an inspirational role model alongside Henderson, which cannot be underestimated.
His recent lull in form has been nowhere near as drastic as some of the current opinion would suggest, with some even claiming they want him nowhere near the team during the title run-in.
It is a sad indictment of the ageism that exists in football, with the level of criticism multiplied once a player reaches the autumn of his career.
Milner shouldn't be seen as a key man as Liverpool aim to kick on and secure one of the greatest achievements in the club's history, but he will still prove to be worth his weight in gold, in what could be his final season at Anfield.