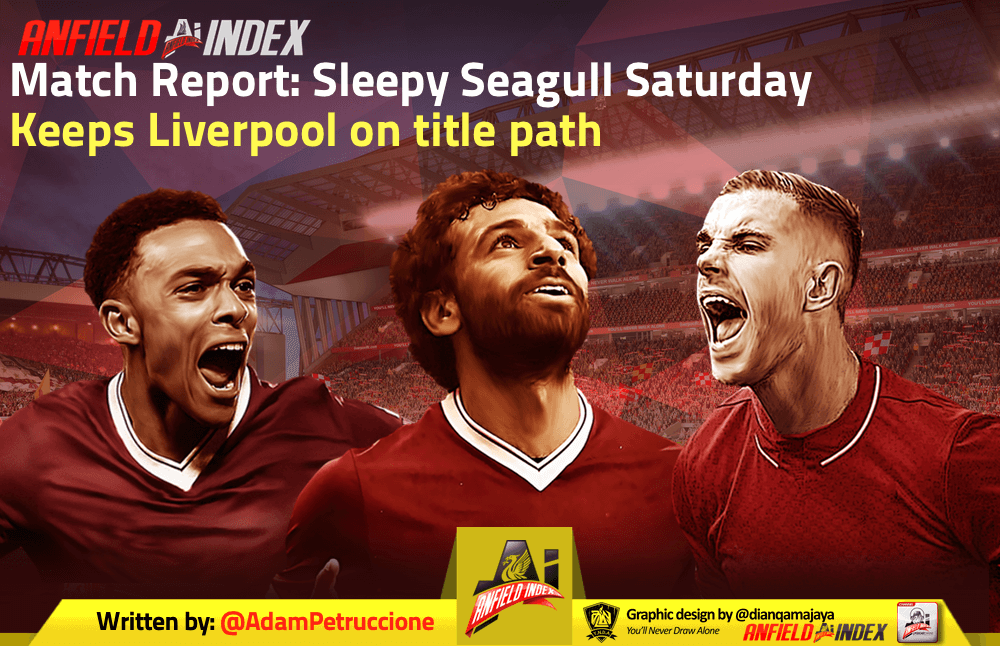 Sleepy Seagull Saturday keeps Liverpool on title path

A sleepy Saturday saw Liverpool cruise to another win and our 57th point of the season; 1 short of our full season totals in 04/05 and 10/11, already having surpassed the 98/99 and 11/12 totals.  The fact that we're climbing the list of Liverpool's top Premier League point totals in the middle of January is quite something.  Now it's up to Spurs against United on Sunday and City against Wolves to keep up the pace.
The match was one that we've seen so many times before.  Away to a lower tier side in January, a packed defence, some physical forwards, but tough as it was to watch, we'd happily do this 16 more times if necessary.
The first half was as ragged as you'd expect with Fabinho filling in at centre-back, Henderson managing the middle in a slow match, and Trent doing his best to patrol the right after injuring his leg in warm-ups.  Without a driving force in the middle, and a limping right-back, The Reds were getting what little creativity they could get from Robertson and Shaqiri.
Poor from Henderson so far – over hit balls, failure to open his body to the space behind, happy to play the way he's facing with better options on around him. Needs to raise his level to help break down a well disciplined Brighton. #BRILIV

— Chris Williams (@Chris78Williams) January 12, 2019
The Captain was again unable to make a real impact in a game played at a snail's pace.  It's almost doing the player a disservice to have him out there when we aren't in rock-and-roll football mode, but with our injuries there are few options to replace Henderson.  To be fair to him he is coming off of his own injury.  Gini Wijnaldum was filling in all over the pitch, but not to any productive effect.  If Naby could get up to speed for the run-in it would be a major help to this squad.
Gini and Hendo need to improve massively 2nd half. Our buildup is far too slow. #lfc

— Dan Kennett (@DanKennett) January 12, 2019
As you'd expect, Liverpool came out with an improved tempo and attitude in the second half.  Unable to get the ball to the Egyptian King in the first 45, Jurgen Klopp moved Salah into a creative role, driving the team forward at every opportunity.  The Reds desperately needed someone to be able to take the ball on the half-turn and go by people and Mo was just what the doctor ordered.
In the 50th minute Mo Salah took the ball on the right and spun away from Gross who was already pulling at him early in the play.  To take any doubt out of it, Gross emphatically ripped at Salah's collar, pulling him down and making it a relatively easy decision for Kevin Friend.
Salah spotted the ball and took his elongated run-up, firing past Button who had guessed right but couldn't slow Mo's shot.  The match felt like it might require a penalty to take home all three points from the beginning, though Salah, Wijnaldum and Bobby Firmino would have decent chances as the minutes ran out on Brighton.
Somewhere @SimonBrundish is saying "amazing what happens when you get your best player more touches."

— Alex Mansfield (@el_mansfield) January 12, 2019
In years this type of match never seemed safe, but even with replacements all over the pitch this one felt secure as long as Van Dijk and Alisson were at the back.  Liverpool took several fouls, wasted time when possible and almost looked like they were aware of the importance of holding onto all three points.  The final moment of tension turned into comedy as Gini Wijnaldum gave Shane Duffy an anatomy lesson after a wishful appeal to the ref.
https://twitter.com/hythebarry/status/1084133611648045056?s=21
Another clean-sheet in the bag, Liverpool have conceded only 10 goals all season.  Only 04/05 Chelsea conceded fewer (8) after 22 matches.
Up the boring Reds!