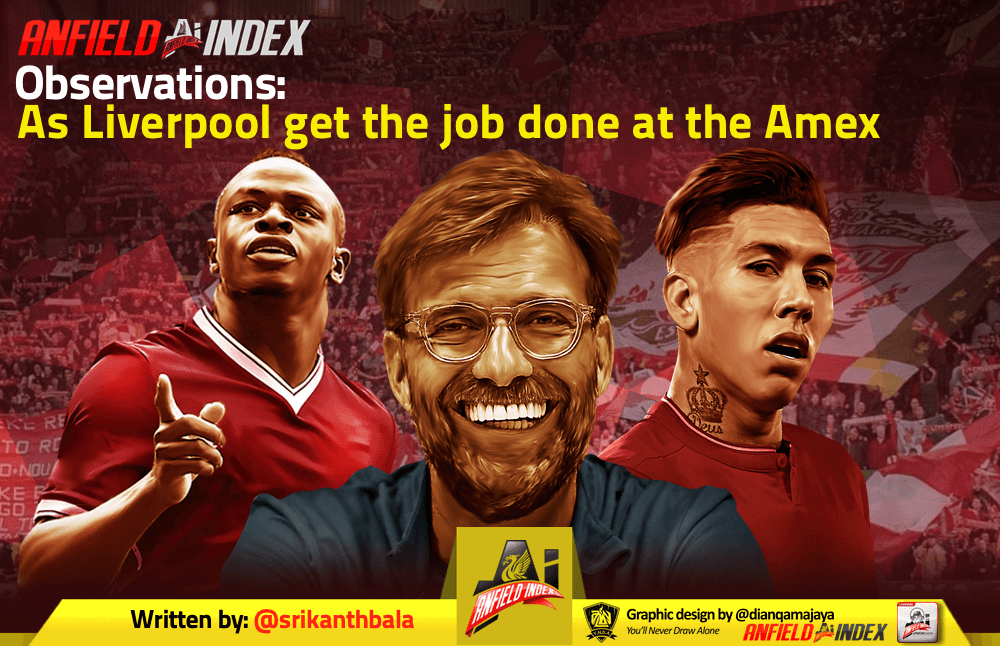 Observations as Liverpool get the job done at the AMEX

Liverpool continued to set the pace at the top of the league table as Liverpool got the better of Brighton in what was a tough examination of Liverpool's title-seeking credentials. Liverpool stepped up their tempo in the second half after a snooze fest of a first half.
The key observations from the game
Fabinho passes the Centre-Back test
Liverpool headed into a game with a make-shift centre back pairing , but with Liverpool expected to dominate possession, there was hope that this would be a smooth transition, and for most part of the game it was. Fabinho used his passing ability smartly and dealt well with what was thrown at him largely. What he struggled with was positional awareness on cross field balls, as he struggled with his positioning and judgement, allowing Murray to create potential opportunities. Fabinho came up with a crucial block late in the game as Liverpool held on to their lead.
First half dozes by
Liverpool pretty much played Keep-ball in the first half which was bereft of any exciting moments. Liverpool tried shaking off a well drilled defensive setup from Brighton,but a lack of creativity and guile from midfield ensured that it continued to be a test of patience. The Liverpool attack were largely un-involved, and one cans say safely that the half time whistle was welcomed with glee.
Liverpool and Salah shift gears in second half
The step up in tempo from Liverpool in the second half was evident immediately as it felt like the team had awoken from a deep slumber. The front 3 immediately got involved and Salah duly won a penalty which put Liverpool ahead. Salah then exhibited incredible touch and control as he tried to setup opportunities for his team mates and himself. The second half was more of the Salah we have grown accustomed to.
Tick those boxes
Liverpool are heading to a relatively systematic schedule after the chaotic festive fixtures. Liverpool are playing 5 games in a block of six weeks, and with no midweek games, it allows Liverpool to put out full strength teams for all games. City also have a relatively easy fixtures in terms of Premier League, but have additional games in the cup to play. Liverpool need to ensure they stay 4 points ahead atleast at the end of these 5 fixtures.