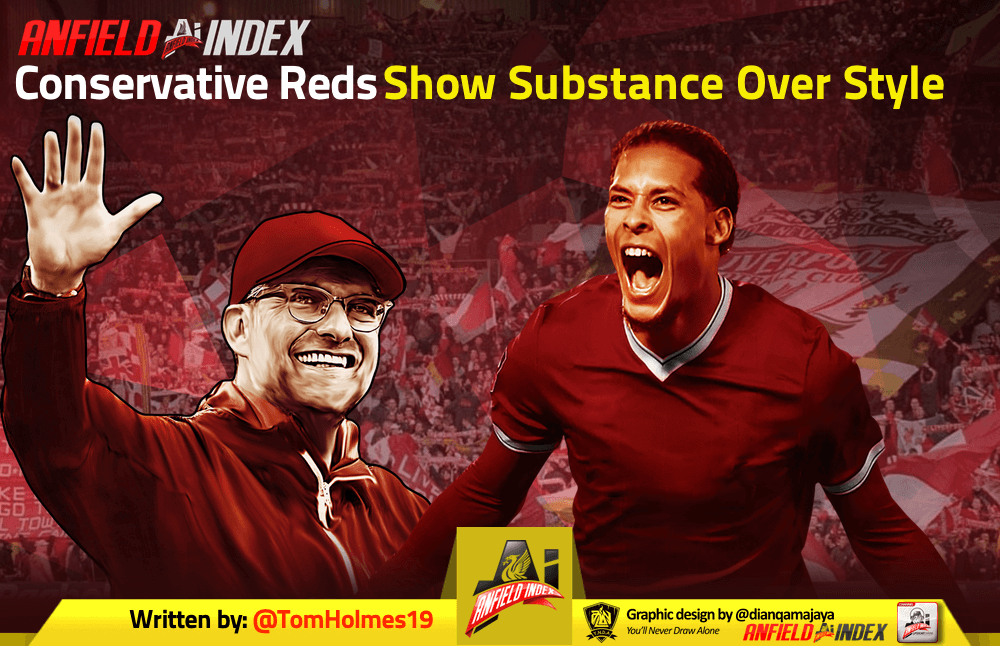 Conservative Reds Show Substance Over Style
There was a moment in the first half of Liverpool's 1-0 win over Brighton where Gini Wijnaldum picked the ball up 20/25 yards from goal, assessed his options, passed the ball sideways to Jordan Henderson, who promptly gave the ball back to Wijnaldum, only for Gini to turn around and pass the ball 40 yards backwards to Fabinho. My groan was audible. It was that sort of game.
This article isn't necessarily going to be a defence of that moment, but a defence of the game as a whole, with that moment just the prominent example that sticks in my brain.
For large portions of the first half, Liverpool's two central-defenders and two central-midfielders took up their positions in a box formation, knocking the ball between themselves in and around the half-way line. Liverpool had 71% of the ball, with VVD having 140 touches, Hendo 128, Fab 125 and Gini 97, as well as Robbo notching 102. Whilst the front four still touched the ball more often than they have done in previous games, that's largely due to the sheer volume of LFC possession, especially in that first half.
And yet, for all of their dominance, Liverpool didn't create loads, especially in the first half. Robertson and Alexander-Arnold remained the key attacking outlets, with Robertson's cross for Firmino and Trent's ball in for Shaqiri the best moments of a pretty bleak first half.
It's a fairly standard Liverpool set-up, especially in this 4-2-3-1 formation. The two DMs will keep the ball moving but not really create anything or contribute to the attack, whilst the full-backs need to get further forward and more involved in the play, being the impetus for the attack.
Nevertheless, the full-backs in this game were simply not getting forward quite as much, particularly Trent Alexander-Arnold in the early stages of the game – although that might be related to his niggling injury sustained in the pre-match warm-up.
That, coupled with the fact that Bobby Firmino wasn't able to sparkle and Xherdan Shaqiri was completely anonymous, meant that Liverpool were struggling to break what has to be said a very well-drilled Brighton defence down.
And that clearly played a part in this game. As frustrating as it is to see Wijnaldum and Henderson struggle to muster a single forward pass between them, a lot of that is down to how tightly packed the middle of the pitch was and how hard it was to generate any space for Mané or Salah. Liverpool's better moments in the first half came from counter-pressing situations, but they were few and far between.
But, I will argue, in games like this, this frustrating approach is absolutely the right decision, especially when you consider that Trent was nursing a niggle, Henderson had only just returned to training, and Fabinho was at centre-back with Matip, Lovren and Gomez all injured.
In many respects, this was a safety first approach. Don't take many risks, on or off the ball, keep possession, don't let Brighton counter-attack, keep numbers behind the ball when attacking if we can, dominate, slowly work away at them, wait for them to make a mistake or one of our lads to do something special.
And it's a very solid tactic. Liverpool are long past the point of caring how they win. At this stage of the season, with a four-point lead at the top of the table, and fresh off the back of a defeat to Man City, the only important thing was to win. And Liverpool, who have such a solid back-line, are in the perfect position to lean hard on that side of their game, and simply trust that Mo Salah in particular is good enough, or rather that Brighton aren't good enough, to ensure a 1-0 win.
And on this occasion that is exactly what happened. The game worked more in Liverpool's favour as they were able to stretch the play. We've already talked about the full-backs being able to get wide and stop the congested middle of the park, but in the second half Salah was essentially given a complete license. At times he was as deep as Henderson or the centre-backs and Brighton simply had no answer as the Egyptian would give the ball to Firmino or Mané and suddenly he's running at you and past you rather than trying to generate space for himself.
And it was Salah who provided the one moment that the game needed, spreading wide, isolating Pascal Groş, forcing the mistake and winning the penalty. It was a combination of brilliance from Salah, a mistake from the defender, and Liverpool had the lead.
And from there, the safe approach played perfectly into Liverpool's hands, as they were able to pull Shaqiri for Milner, shut the game down and defend it out reasonably comfortably, whilst also having the space to counter-attack as Brighton were forced to be more open – which should have led to Milner providing Salah with a second goal.
We've reached the point of the season where substance is far more important than style, where patience is the order of the day and where the only thing that matters is the result. Klopp described this performance as one of Liverpool's most mature of the season and it's hard to argue with that assessment. It would reckless for Liverpool to throw everything at Brighton early on when they're a decent counter-attacking side with some very good players – and they're a team who hadn't failed to score at home since March.
As such, I felt that this game was the perfect test of Liverpool's resolve, and they demonstrated the basics of how to win a football game. Set up to be hard to beat, make it a game where one moment of quality or one mistake will make the difference, knowing full well that you have players far less likely to make mistakes and that you have the player in the Premier League most likely to make a difference.
There will still be concerns for Klopp from this performance – Xherdan Shaqiri has hit a little sticky patch of form now and Sadio Mané could have done with a decent performance too – but the midfield set-up is not necessarily as awful as it has been made out to be.
The point is, whilst it's frustrating to see Wijnaldum and Henderson refuse to take any chances on the ball, it's also true that that's essentially the mantra that will have been drilled into them. Don't take chances. Don't give up cheap opportunities for a counter-attack. If both central-midfielders are inside the final third, then don't give the ball away. Recycle it. Probe. Take your time. It's much better to bide our time then try to force the issue and concede a sloppy goal.
Seeing Fab, Hendo, Gini and VVD all rack up 450 passes between them with 89.3% passing accuracy but 0 key passes, and an average xG Build of 0.215 is frustrating, but it also means that there's a deliberate tactic in place to prevent too many chances being taken. Playing long balls over the top is a safer offensive tactic because the ball might end up with the keeper or out for a throw-in, but keeping it along the ground and playing it to feet can make it easier for Brighton to spring, should they win the ball.
Ultimately, Brighton were able to create nothing against us, because Klopp made a relatively conservative team selection and his tactics were, on the face of it, also relatively conservative. But that enabled Liverpool to be in a position where they only needed four of their most talented players – including the most talented attacker in the Premier League, to score just one goal to collect the three points.
And I can see similar tactics in play over the next handful of games, against Palace, Leicester, West Ham and Bournemouth. None of those teams have attacks that are absolutely blistering, scoring just one goal between them against Liverpool in the front half of the season, and shipping twelve between them. So the Reds are very much in a position to sit back, dictate the tempo, not take too many risks and play the safety first football that so successfully got them three points against Brighton.
It might not be pretty, but if it works, nobody will be caring if we manage to lift #19. Up the Reds.