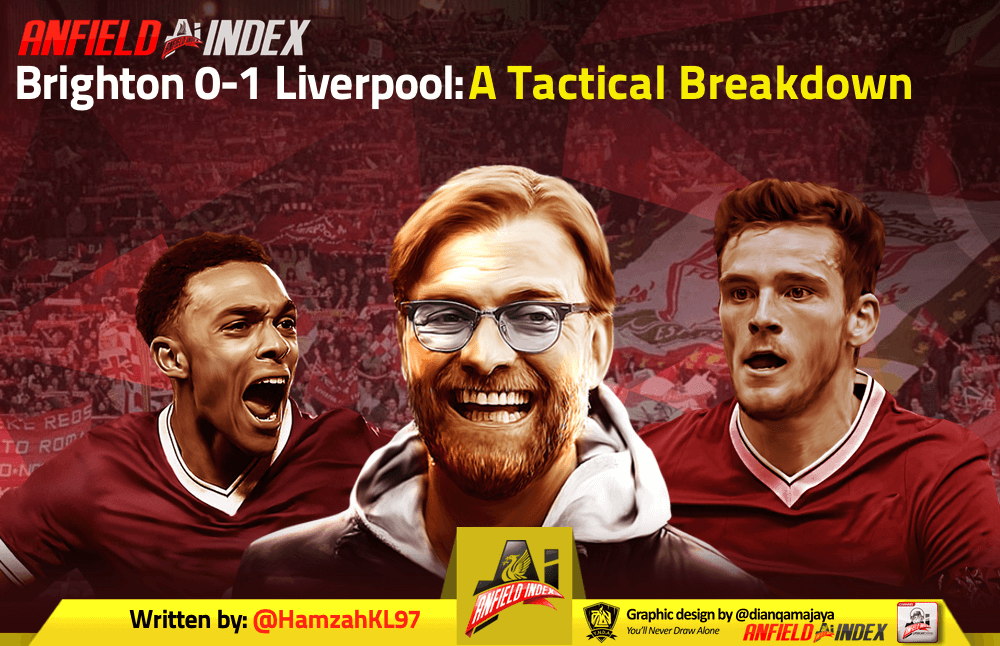 Brighton 0-1 Liverpool: A Tactical Breakdown
When it comes to stifling Liverpool's attacking ability this season, Chris Hughton's Brighton side has probably been one of the most successful. In the league match at Anfield, it was a single mistake – through taking a short free-kick inside their own half, and allowing themselves to be pressed – which was punished. Apart from that, their defensive performance was sound, astute and very rarely under threat. The same was largely true of Brighton's first-half performance against Liverpool.
Brighton's setup
Brighton structured themselves in a 4-5-1 off ball formation, in which occasionally a midfielder would step up and press, making it a 4-4-2, but for the majority of them time, when out of possession, Brighton used their 4-5-1 midblock system to bl0ck passing lanes into Liverpool's attacking midfielders and forwards.
Brighton's defensive line was a compact back four, positioned extremely tightly around the centre of the box, in an attempt to frustrate Liverpool's attacks in central areas, but meaning if Liverpool broke beyond either the Brighton LM or RM, there would be space to exploit.
Liverpool's setup
Liverpool opted for the 4-2-3-1 again, now the go-to formation for games against sides setting up defensively. Trent Alexander-Arnold and Andy Robertson took up advanced positions on the flanks, with Henderson and Wijnaldum operating as the defensive midfielders in the double pivot. Fabinho filled in alongside Virgil Van Dijk, amidst Liverpool's centre-back injury crisis.
To break down defensive sides, movement, intelligent passing, and spacing are fundamental. In the first half, Liverpool struggled with movement, as the forwards were isolated, trapped behind the midblock of Brighton, and the lack of passing into them – in some part due to the defensive work of Brighton, and the other due to the cautious nature of Henderson and Wijnaldum (and fairly so, given Alexander-Arnold was struggling with an injury, and they would rather not expose Fabinho in his first outing as centre-back).
Alexander-Arnold and Robertson were aware of the importance of their positioning. Through taking up wide positions, they stretched the Brighton midfield, creating more spaces for Liverpool's attacking midfielders to move into, or for the defensive midfielders to pass through.
Moving a team horizontally can have this same effect, but equally important is moving a team vertically too, and Liverpool attempted to do this a few times; through building up from deep, Brighton's forward line and midfield line would push up. In doing so, they created more vertical spaces between the lines, as the Brighton defensive line was less willing to advance.
The game
For Liverpool's first big chance we see both horizontal and vertical movement playing a factor, as Fabinho plays a long pass from deep into Robertson, which beats the Brighton RM.

Through having the ball at the back, and then moving up the field quickly, Liverpool were able to take advantage of Brighton's defence not being able to structure itself.
Unfortunately for Liverpool, Firmino was unable to reach the cross from Roberton, and his flick ran wide of the post.
Liverpool's next big chance also came from a wide area, as Alexander-Arnold broke past his opposite midfielder, and into the vacant channel outside the box, before delivering a cross into Shaqiri.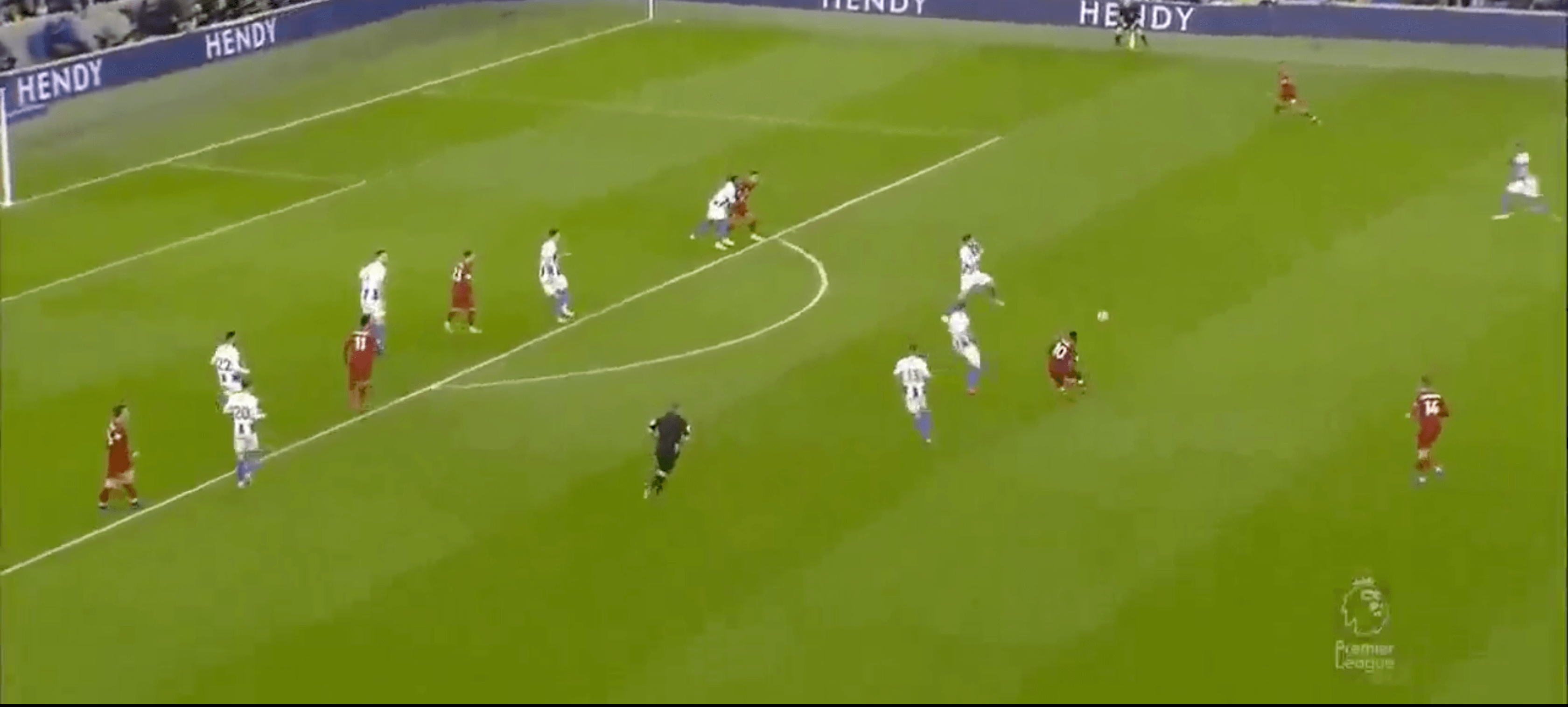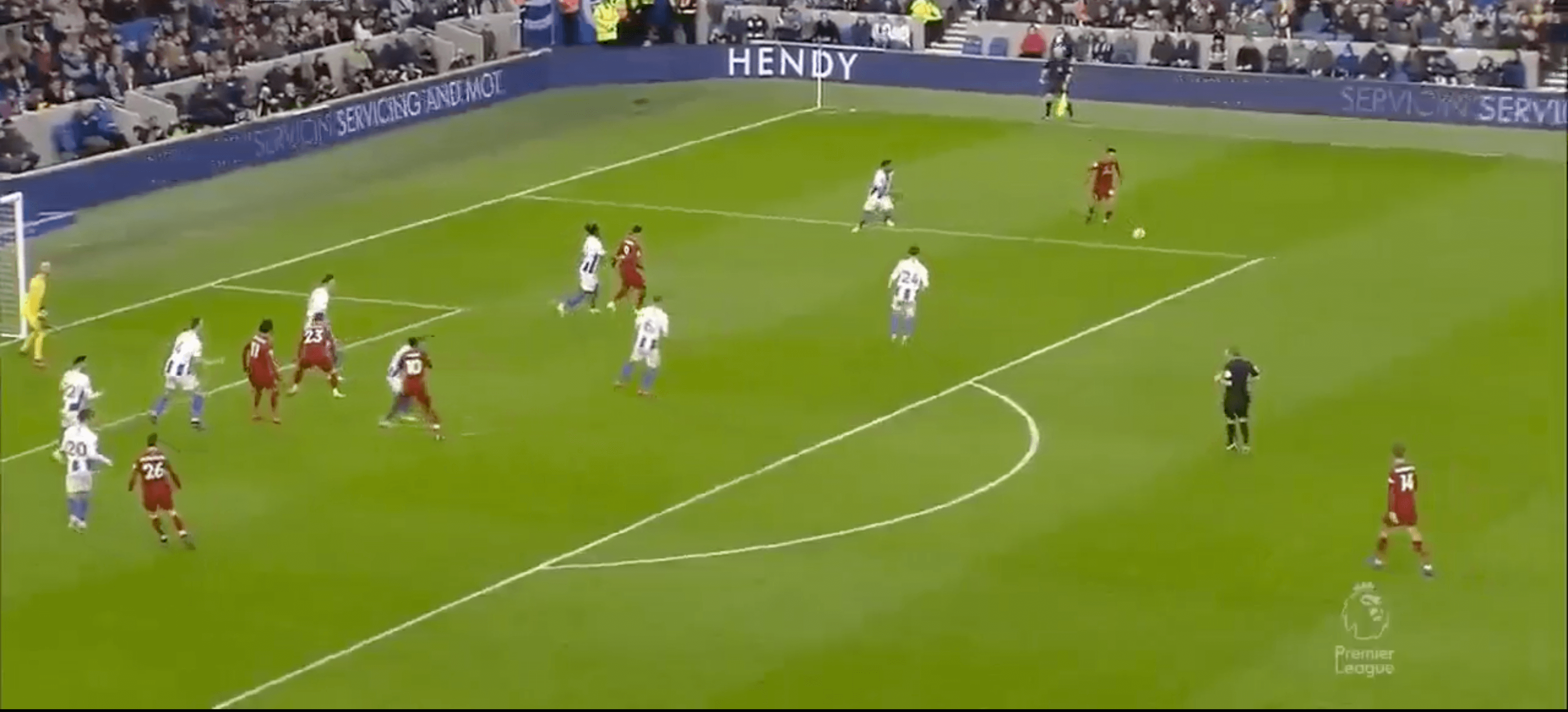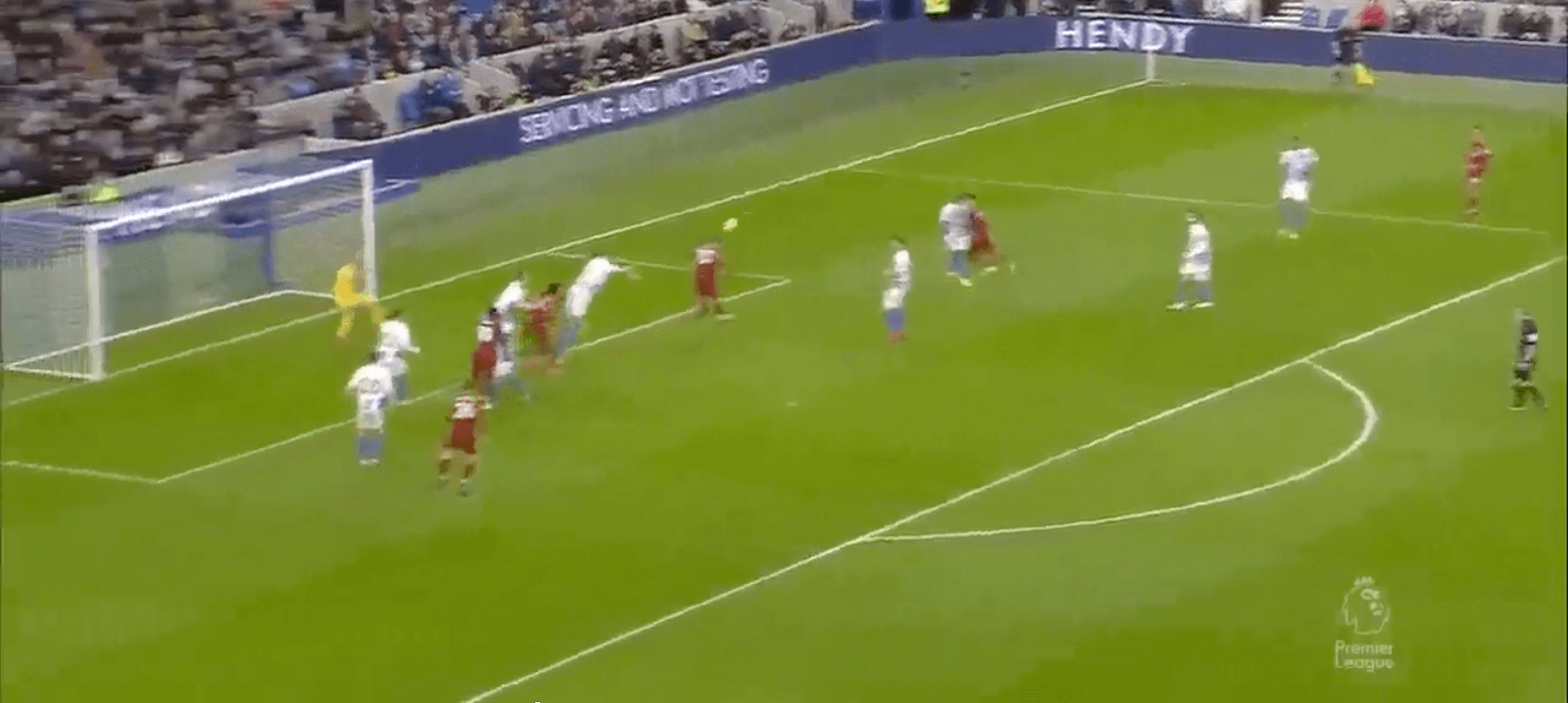 Beyond these two chances though, there was not much in the way of open play chances for Liverpool in the first-half, and that was largely due to the strong defensive work of Brighton. Games such as this one require patience in open play, and multiple plans to find a goal, be it moving the ball patiently from side to side, until spaces open up, counter-attacking, relying on an exceptional finish from outside the box (as Coutinho used to do), set pieces, or even capitalising upon a mistake. For Liverpool, it was the latter which was the key in this game.
The start to the second-half was brighter though, as Salah moved a little deeper in order to get opportunities to run at the Brighton defence, instead of being swarmed upon when receiving the ball positioned against the Brighton defensive line. Within three minutes, Salah had a shot away, from the left-hand side of the box, again operating in the channel outside of the Brighton fullbacks, where there was space, especially so as Brighton were caught in transition in this occasion.
Indeed, it seemed Liverpool's most likely chance of scoring was likely to be countering Brighton when they broke forward, in essence, countering a counter-attack. As it transpired, that was the case, as Liverpool took advantage of Brighton pushing up, with Alexander-Arnold's pass into Mané bisecting two Brighton players, and isolating even more from that phase of play.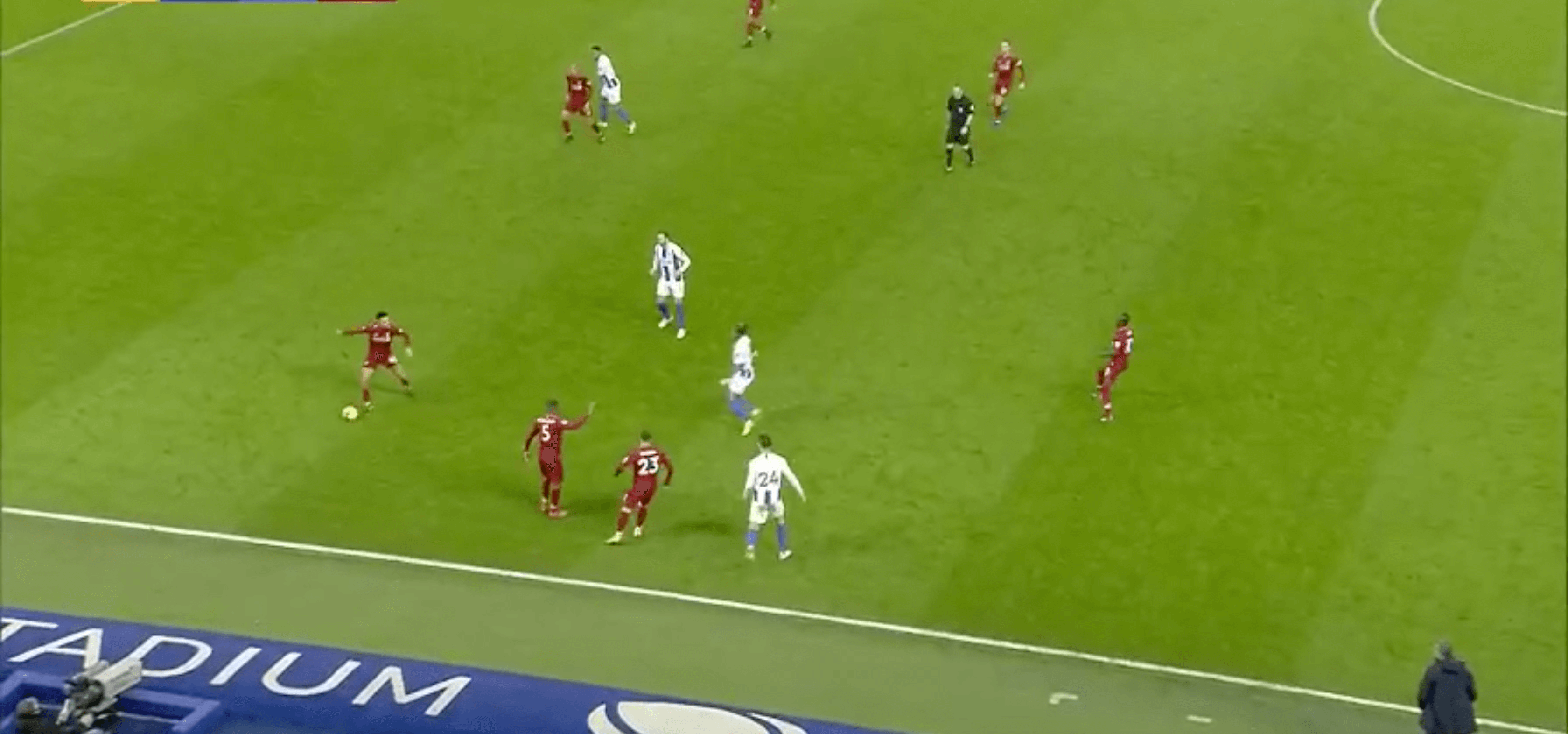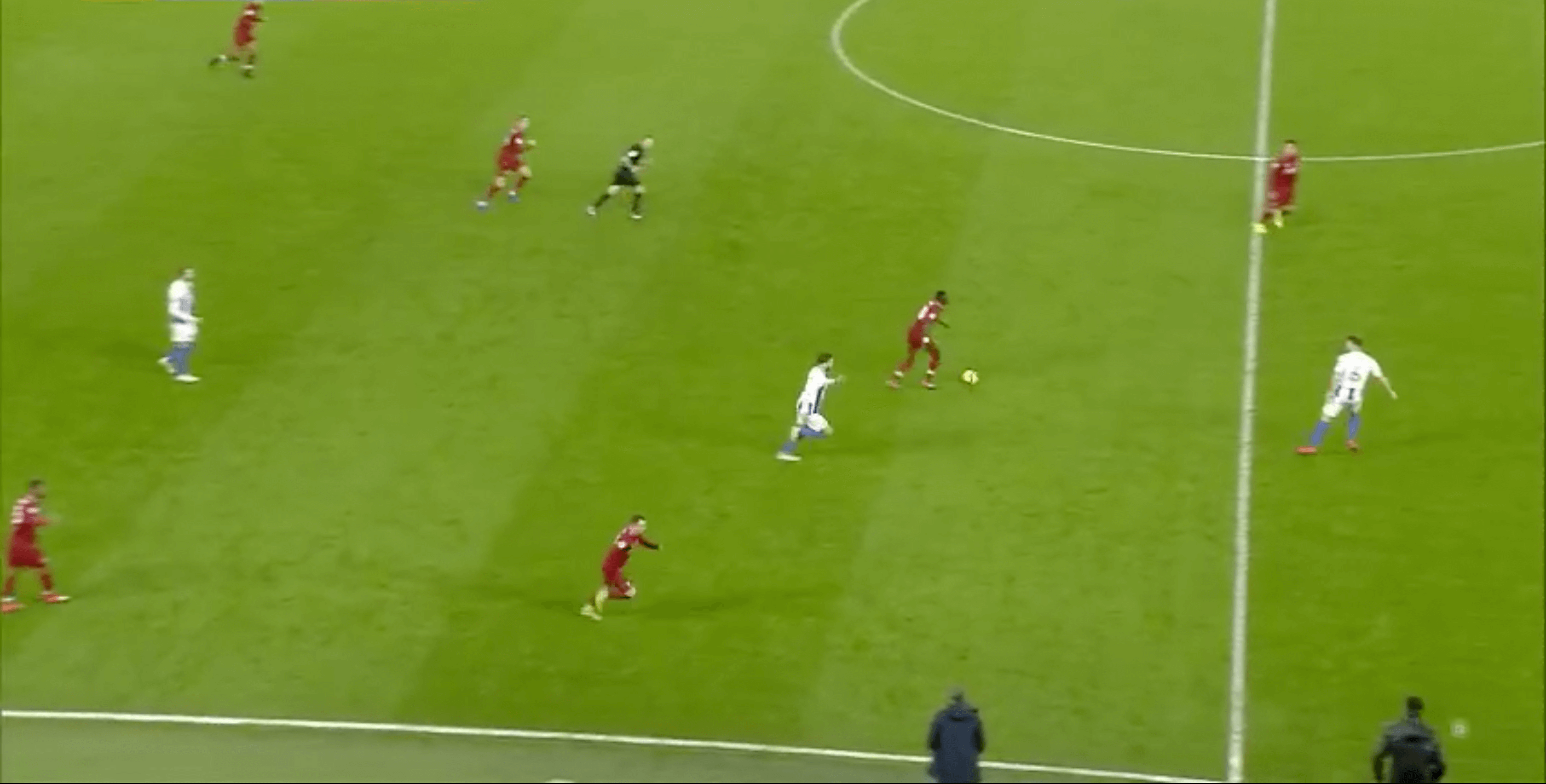 As Mané carried the ball, he fed it into Shaqiri on the right side, who Salah then joined, before winning a penalty.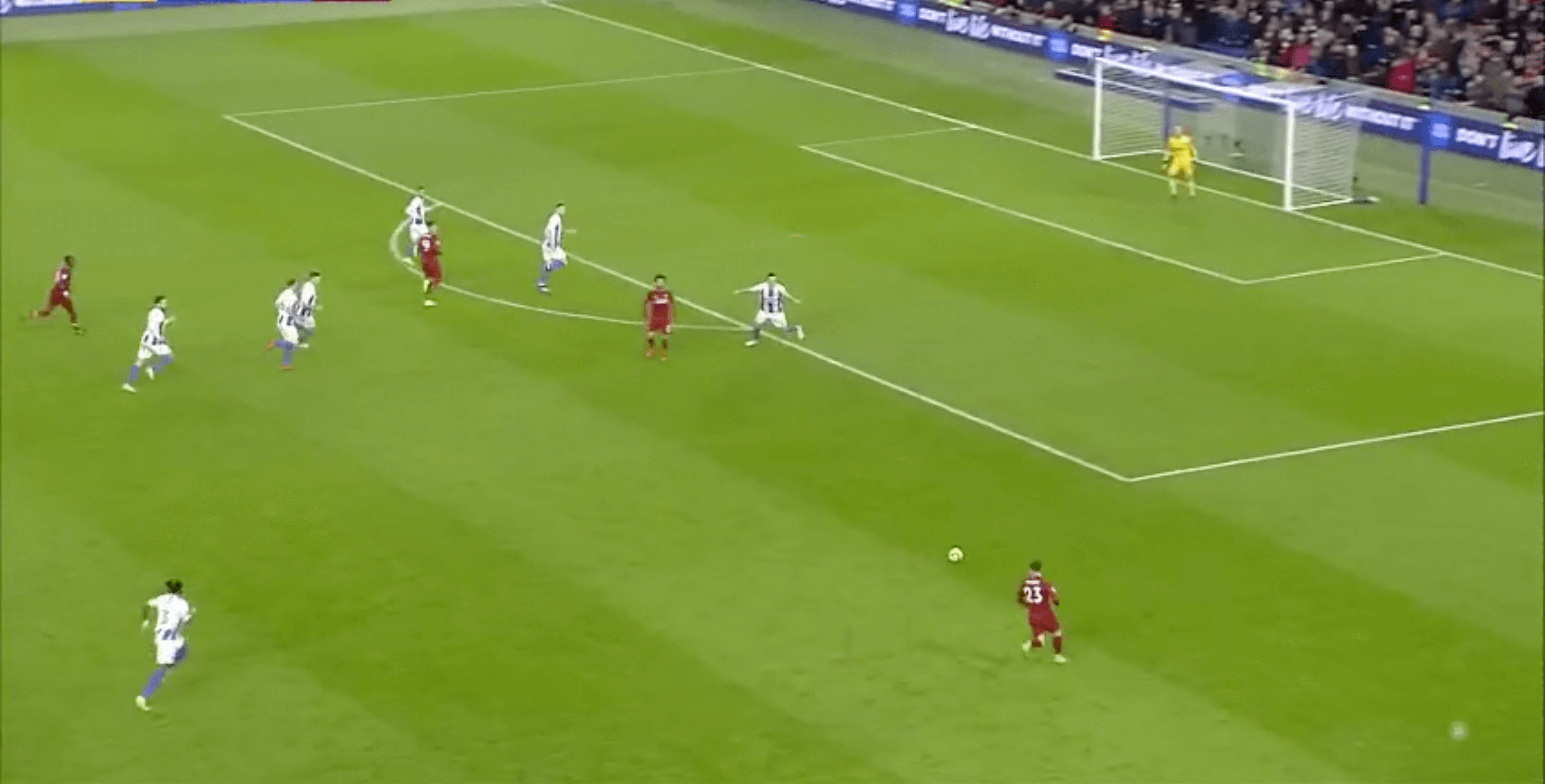 From the moment Salah scored, the game state completely suited Liverpool. Now, the onus was upon Brighton to step up and score an equaliser. As many sides have found this season, it's a classic catch-22 situation: whether to step up and commit more players forward, thereby leaving more space for Liverpool to exploit on the counter – as they no doubt will do, or instead whether to continue sitting back, and reduce Liverpool's opportunities, but with a very little chance of scoring an equaliser.
Brighton decided to step up – something they did not do at Anfield until around the 70th minute. And, as expected, once they left spaces between the lines, Liverpool were able to counter, and utilise them much more effectively. Salah, Mané, Wijnaldum and Firmino all had chances after this point, but Firmino and Salah played extremely important roles in Liverpool breaking more effectively. Through positioning themselves deeper, and not just receiving the ball in these positions, but running directly onto the Brighton defensive line from these positions, Liverpool were able to attack with much more directness and speed, not allowing Brighton to settle and position themselves accordingly.
This may not have been one of Liverpool's most entertaining games to date this season, but it was one which required patience, composure, and intelligence – things which can easily be forgotten by players after a defeat to a major rival. It was a mature performance, and a lesson of sorts: Liverpool do not need to cut teams apart in open play to win matches, the team is proficient with set-pieces and most importantly at creating, preying upon and punishing mistakes.
xG map for Brighton – Liverpool. Reds weren't their best but didn't need to be. pic.twitter.com/YAGtaqQ2nY

— Caley Graphics (@Caley_graphics) January 12, 2019
And so, Liverpool move one step closer to that which we daren't talk about. Maybe, with a few more results like this, we will…