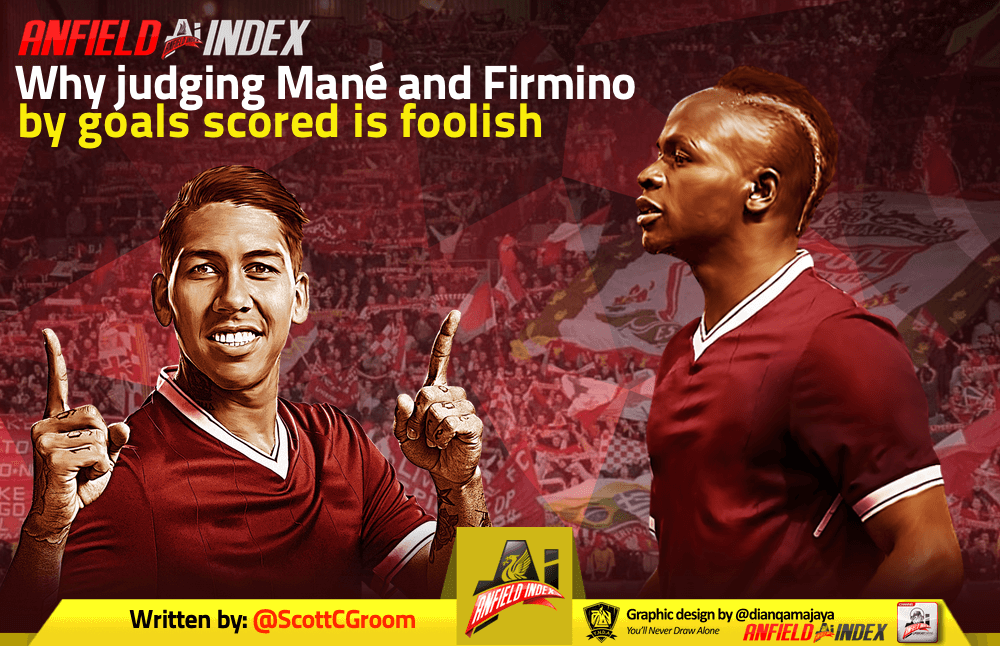 Why Judging Mané and Firmino By Goals Scored is Foolish

While Mohamed Salah once again stole all of the headlines in Liverpool's latest win over Brighton at the Amex Stadium at the weekend, it can be quite easy for criticism to be drawn to his attacking colleagues as to their contributions to goals this season.
Jürgen Klopp's revered front three draw plaudits the world over last season for their dazzling displays both domestically and in Europe, as the Reds plundered goals for fun and amassed 47 goals in the Champions League – setting a new record in the process.
Each of Salah, Mané and Firmino scored 10 goals each as the Reds came tantalisingly close to a sixth European crown, but the marker their performances and goal scoring prowess laid down was noticeable and is still being felt across Europe.
Fast forward seven months to the present day, and Mohamed Salah has gone about proving his 'one season wonder' critics very wrong by notching up 14 goals and seven assists after 22 games, directly having a hand in 21 of Liverpool's 50 league goals this season.
When you compare these numbers to his team mates Mané and Firmino, they seem to eclipse them, which has led to many pointing judgmental fingers to Liverpool's number nine and 10.
Firmino has slightly better stats than Mané, with eight goals and three assists so far, while Mané has the same number of goals scored but has registered only a solitary assist.
That is still a direct contribution to 20 of Liverpool's Premier League goals so far this season, which when added to Salah's contribution, sees the front three contributing directly to 41 of the 50 goals scored so far. That's immense.
But this is not where the book stops in terms of the contributions of Mané and Firmino.
Klopp has recently spoken about the importance that both players have in the system that his team plays in, which focuses far more on their all-round contributions to play rather than relying solely on them to put the ball in the back of the net.
Let's start with Sadio Mané. Klopp has said that one of his biggest regrets in his managerial career is not signing the Senegalese when he had the chance at Borussia Dortmund, but it is a mistake he was keen to rectify while in charge of Liverpool.
Mané has formed a pivotal role of the deadly attack that has undoubtedly spearheaded Liverpool to their current platform of success. His pace, trickery, direct running and eye for goal have proved so important since he joined from Southampton, but he's a perfect example as to why goals don't make a player.
If Liverpool are looking to break on the counter, it's usually Mané who gets things going. When the Reds implement their gegenpress tactics, it's usually Mané who is leading from the front and closing down the opposition and the spaces between the lines.
It is perhaps all of these things, combined with his boundless energy and desire to track back and help in his defensive duties that is only truly missed when he's not in the team, and it's this that makes him so important to the bigger picture at Anfield.
The same can be said about the impact that Roberto Firmino has on the side – a fact well documented in a number of media outlets.
It is true to an extent that when Firmino's form dips, so does the team's form on the whole; and this really highlights the distinction of the Samba star's position in Klopp's side.
He, like Mané, is vital in the counter-press, leading the charge from the front and is renowned for his tenacity and work-rate, especially when he drops deeper than any other conventional centre forward, winning the ball back and getting his side back on the front foot again.
But it's arguably the last part of the above that is the most important, as it allows Firmino to become central to linking the midfield to the attack and makes him a pivotal member of all aspects of Liverpool's game.
Again, like with the traits displayed on a regular basis by Sadio Mané, it is only when Firmino isn't on top of his game or is missing from the team that you realise just how important he has become to the team.
So while rival fans (mainly) and the odd skeptical Kopite may point a fickle finger in the direction of Mané and Firmino as Salah continues to steal the show, you mustn't be blinkered in your views as to how much they contribute on an all-round basis.