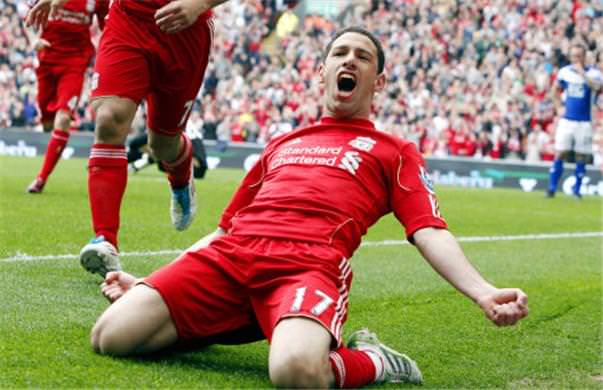 Maxi Rodríguez | The unluckiest man in Liverpool
 Maxi, Maxi Rodríguez runs down the wing for me.
Well, not this season he doesn't. The subject of one of the Kop's favoured songs and the hero of the closing games of the last season, Maxi Rodríguez has played only 13 minutes in the Premier League in 2011/12. It seems hard to fathom for someone who seemed to be so integral to the way the 'new' Liverpool played as the 2010/11 campaign wound down, but just how has Maxi fallen so far from grace?
Having joined the club in January 2010, it is fair to say that Maxi didn't immediately win the hearts of every Liverpool supporter. At the height of protest against the Hicks and Gillette regime, his arrival on a free transfer from Atlético Madrid was only heralded by a few as good business. As the team struggled in what was to be Rafa Benítez's final season in charge, eventually falling short of Champions League qualification, so Maxi took time to settle in, but by the end of the campaign he had a pass completion rate of 82% and had created 21 chances (20 of which came from open play).
Under Roy Hodgson's short tenure, Maxi was one of the few to impress. Perhaps alongside Lucas Leiva and Dirk Kuyt, Maxi's tireless work ethic won him favour, and goals against Bolton, West Ham and Aston Villa showed his value. It was under Kenny Dalglish, and when playing alongside Luis Suárez, that he truly began to flourish, however.
Maxi is one of those players seemingly born to play 'pass and move' football. Comfortable and creative on the ball and with an intelligence of run off it that has a wonderful habit of creating space for his team mates. It's unsurprising that Maxi began to work his way into Dalglish's team, and he hits his height during a three game spell which saw him score seven goals and complete 89.33% of his passes.
It wasn't just in those three games that Maxi impressed though. Whenever he was in the team the Reds seemed to play more fluidly, his linking of defence and attack and superb ball retention a big part of that. While last season his appearances generally came at the expense of Andy Carroll, whose fitness issues often made him a lumbering weight around the team's neck, this campaign the Geordie has improved and impressed, and it would be Dutch Duracell Bunny Dirk Kuyt who would miss out.
Maxi's problem, however, came when the club paid £18.5M for Stewart Downing. A direct rival for his position on the left of Dalglish's 4-4-2, it would be fair to expect that a player who was chased so hard and who cost so much would be the favoured choice, and that meant that Maxi would be left kicking his heels.
One can understand why Downing was the man identified to fill that role as well. In the 2010/11 season he created 77 chances for his Aston Villa team mates, and though many of them came when he played on the right flank, his ability as a traditional winger had long been established. Simply put, when one looks at the statistics, Downing seems the better choice. In 2010/11 he created, on average, a chance every 43.99 minutes, and this season has trimmed that down to a chance every 42.35 minutes. Maxi, on the other hand, seems positively dull in comparison, with a chance every 58.37 minutes in 2009/10 and every 57.48 minutes in 2010/11. Given that a winger's job, one could argue, is purely one of being a supply line, the Downing selection seems justified.
When one considers Liverpool's record under Dalglish last season, both with and without Maxi in the side, it becomes less cut and dried. Dalglish was in charge for 18 league games, 10 of which saw Maxi start. In the 10 games in which Maxi started, the Reds' win record was 70%, scoring an average of 2.4 goals per game and conceding just 0.8. In the eight in which he was either missing or began on the bench, the win record drops to just 37.5%, scoring just 1.38 goals per game but with a similar goals against record of 0.82 per game.
It seems ridiculous that a man who made such an impact on the side and fitted so perfectly into the way that the club play has been cast aside so easily, and even more so when one considers the formation that Liverpool are using. Although there are occasional adjustments, such as the back three that was used against both Chelsea and Stoke last season, by and large Dalglish's Liverpool are set out in what is nominally a 4-4-2, but with the right players (such as Maxi) becomes a hybrid between that and a more modern 4-3-3. It is a system very close to how Liverpool played under Dalglish in his first stint in charge, and can be quite happily said to suit the players at his disposal.
One key aspect of the formation and its potential success in the modern game are the two wide midfielders. On the right side of the four, the player (usually Jordan Henderson so far this season, but a role that would suit Steven Gerrard perfectly) is asked to tuck in slightly, providing something of a midfield trio alongside Lucas and Charlie Adam. The left sided player, a role that John Barnes made famous, is asked to push on, linking midfield and attack and certainly has a creative burden on his shoulders.
When Downing is played in this position, his tendency is to stick to the flank, which is all well and good and has brought a number of chances this season, but also stymies, to a certain extent, the attacking flair of José Enrique. The full back is a great attacking weapon for Liverpool, and that would only be enhanced with Maxi in the side, his cutting inside dovetailing perfectly with Enrique's forays down the flank. With Suárez dropping deep into the 'Beardsley' role as well, the two South Americans would be more than able to continue their fruitful link up play.
In all honesty I simply cannot understand why Maxi has been reduced to just 13 Premier League minutes this season; his performance against Stoke in the Carling Cup was evidence that he has not magically lost his talents over the summer. For a player who has reached the age of 30, and who will more than likely end his career back in his native Argentina, such a lack of game time may signal the beginning of the end of his Liverpool career. If it does, it would be a great shame that only briefly did the Liverpool fans get to see such a talent run down their wing for them.
Update
On Sunday 20th November, the wishes of many Liverpool fans were granted and Maxi was recalled to the starting line-up for the trip to Stamford Bridge. The Argentinian featured in front four specifically designed to make the most of Chelsea's weakness – the high defensive line with which many of their defenders are uncomfortable – and, thanks in no small part to another excellent performance from Maxi, a win was secured.
There was an expectation of fluidity about the front four that Liverpool fielded, and that was true to a large extent, but Maxi was the one to keep a stable position with only 3% of his passes coming in the right hand half of the pitch. Maxi made 30 passes during the match, with 24 (80%) of them finding their mark, but it was drifting into the space between David Luiz and Branislav Ivanovic where he was absolutely key to the game.
It was from a run in exactly this position, perfectly found by Craig Bellamy, that he scored the opening goal, and indeed has Luis Suárez been more accurate with his passing in the first half, Maxi could have had considerably more than the one chance he got. The goal continued Maxi's lethal touch since Kenny Dalglish returned to the helm; in his last eight league starts Maxi has bagged eight goals. To further add to that achievement, those eight goals have come from a total of just 18 shots on goal in those games, giving Maxi a chance conversion rate of 47.06% (in context, Sergio Agüero has a chance conversion rate of 26.32% this season).
Perhaps Maxi's most impressive stat from Sunday's game, however, comes in the guise of his second half pass completion. A tactical switch from André Villas-Boas swung the game in Chelsea's favour, and the Reds were seemingly unable to hang onto the ball. Maxi may have been tiring – his lack of minutes catching up with him – and was substituted in the 78th minute, but as Liverpool struggled to hold onto the ball for any length of time, Maxi completed 11 out of his 12 attempted passes, a completion rate of 91.67% which undoubtedly helped give the defence some respite when they were able to clear the ball.
It will have come as no surprise to the many who were calling for his inclusion that Maxi had such a positive effect on the game from a Liverpool point of view. He calmness on the ball, ability to find space and ever increasing accuracy in front of goal make him one of the better players in the squad, and we can but hope that this is the first of many starts over the rest of the season.