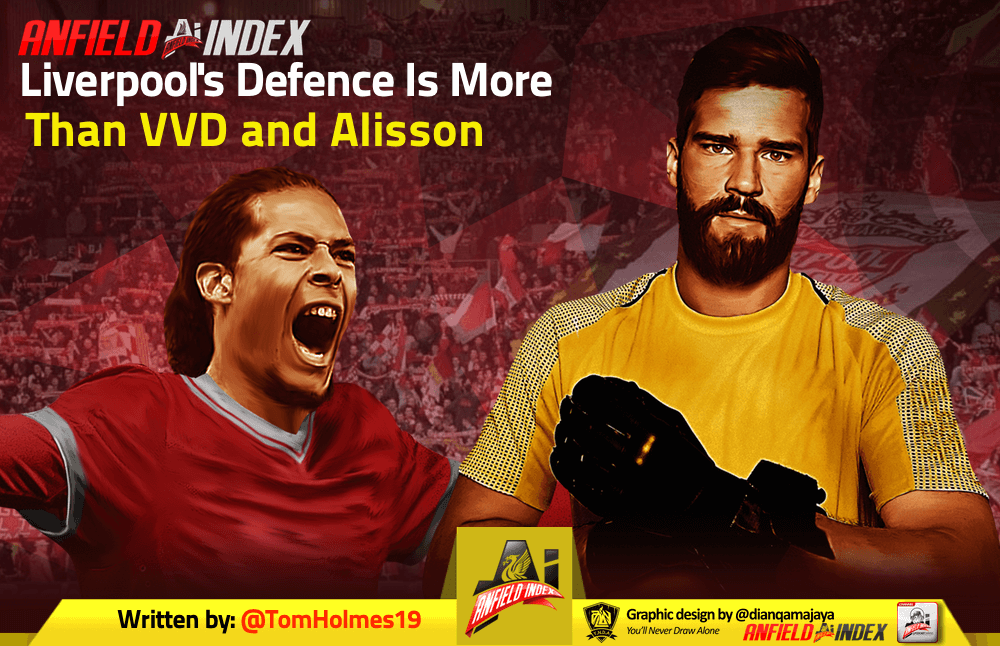 Liverpool's Defence Is More Than VVD and Alisson

It's true that Virgil Van Dijk is the best centre-back in the league. It's true that his impact on this Liverpool team has been absolutely tremendous, and it's true that his signing is one of the best that Liverpool have made in years.
Likewise, it's true that buying Alisson Becker was an absolutely crucial piece of the puzzle. Alisson has magnified the issues that Liverpool's previous keepers have made, immediately established himself as one of the league's top shot-stoppers and made a huge impact in how many goals Liverpool have conceded.
However, in my opinion, it's also true that the role that both of these players have played in Liverpool's defensive resurgence is being slightly overstated. Whilst both players are absolutely fantastic, and both are potentially the best in the league in their positions – although De Gea fans would disagree – there's more going on to show why Liverpool are conceding so few goals.
Let's start with Van Dijk, who has simply put been incredible, and turns in solid performances week in, week out. But there are weeks when Liverpool keep a clean sheet, either because the opposition were poor, where others around Van Dijk were excellent, or even just through a combination of factors, and it's usually VVD who gets the praise.
Again, this is usually and largely justified, because VVD really is that good. But it's easy to forget that those around him have to consistently deliver. More importantly, in my opinion, Jürgen Klopp isn't getting the credit he deserves for finding a way to organise the Reds' defence.
What's interesting is that for all the credit VVD gets for almost single-handedly turning around our defence, the shift in our defence had occurred before VVD even arrived. In the 14 game period between Liverpool's horrendous 4-1 defeat to Spurs and VVD's debut, Liverpool conceded just 10.69 xG, or 0.76 per game. That's actually lower than in the final 15 games of the season, in which VVD started 14 times – where Liverpool conceded 12.15 xG – or 0.81 per game.
Where it gets really interesting is that this season, Liverpool have conceded 17.46 xG from 22 games, or 0.79 per game. So Liverpool actually were marginally better defensively in the fourteen games preceding VVD's arrival than they were this season.
None of this, as I've said, is to undermine VVD's arrival or his impact. Clearly, the long term stability of this Liverpool defence is better with him in it, and the proof is in the pudding. xG is just one number to measure defensive output, and in those 14 games prior to VVD, the Reds still conceded 12 goals (albeit 6 of those against Man City and Arsenal). In the final 15 games, that was down to 10. And then the bigger leap, this season, to 10 goals conceded from 22 games, which is a huge upgrade.
And this brings us onto Alisson Becker. Here is where the impact appears to be huge. Liverpool have, as I've said, conceded 10 goals from 17.46 xG this season, giving them an astonishing rate of 1.75 expected goals per goal conceded, or 0.57 goals per expected goal.
But again, we can look at the defence as a whole for that. If you look at the % of saved big chances, the difference between Loris Karius and Alisson Becker isn't that high – with Karius at 35% and Alisson 37% (Mignolet was down at 16% lol). The difference is in the lack of goals shipped from non-big chances, with Alisson conceding just five goals in 22 games from chances that weren't clear cut, compared to Karius with eight in 19.
So we can see where Alisson has improved on Karius, but the difference isn't stark, and it's partially down to the types of chances that Liverpool are conceding, and how they're defending them.
We can see that a lot of credit has to go to other individuals. Andy Robertson is a huge upgrade on Alberto Moreno at left-back. Trent Alexander-Arnold has been able to nail down the right-back spot and has come on leaps and bounds. Joe Gomez has become a real talent in the last twelve months, having shown huge improvements in the centre-back spot. Whilst VVD's leadership and talent deserve some credit for the improvements of the likes of Gomez, they certainly deserve credit of their own. Even the likes of Joël Matip and Dejan Lovren have improved in the last year.
And that's down to a few factors. Having a largely settled back four full of quality individuals means that it's more than just the two best components, but obviously, those two being in there helps a great deal. The introduction of Fabinho has undoubtedly helped.
But overall, Klopp himself deserves probably more credit than he is getting at the moment. There have been clear changes to the way Liverpool depend, particularly off set-pieces and whilst having an aerial colossus has made a huge impact, there's clearly been a huge improvement from second balls, from set-pieces in general but also from open play and counter-attacks.
The shift to a midfield duo has made a massive difference too. In the 13 games in which Liverpool have played a 4-2-3-1 as opposed to a 4-3-3, the Reds have conceded just 4 goals and just 8.73 xG, compared to 6 goals and the same 8.73 xG in the other 9 games – although it does have to be noted that the 4-2-3-1 has largely been used against teams outside the top six.
What Klopp has done this season is found a way to make it very difficult for smaller teams to counter-attack, utilise set-pieces and break down Liverpool, with Burnley against a much-changed LFC side and Everton in the derby the only teams outside the top six to register more than one expected goal against the Reds this season.
And that does lead to more performances like the 1-0 win over Brighton, where Liverpool aren't playing their usual fluent football, but right now the trade-off is working in Liverpool's favour.
To reiterate, this doesn't negate the fantastic impact of Van Dijk and Alisson, both of whom have made a colossal impression on this Liverpool defence, and have allowed Klopp to play a slightly more conservative style, knowing that he can rely on his defence to do their jobs. But the conservative play has benefitted the defence too, and in many respects, has been a huge part of why VVD and Alisson have lived up to the hype – because Klopp is allowing them to play well by not putting either under too much pressure.
It's a great sign that Liverpool have the best defence in the Premier League, the best defender in the Premier League and easily one of the top two or three keepers. But the first point is not contingent on the latter two, and it does a disservice to Klopp, Robbo, Gomez, Fabinho and even if we're being honest Gini and Hendo, to suggest that it's all about VVD and Alisson.
Liverpool are a team that are defending like a team, rather than a series of individuals and it's terrific to see.
Okay, and it's a lot about dropping Simon Mignolet.