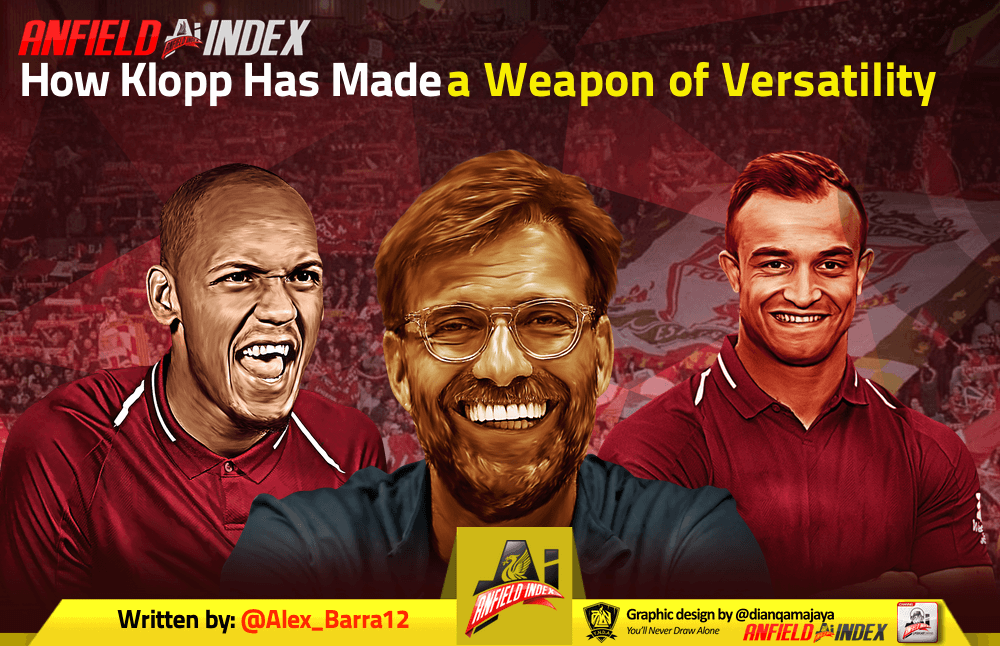 How Klopp Has Made a Weapon of Versatility
"He is a brilliant player and I am happy that he can play…he has a defending brain and can do it in different positions, it's good."
Klopp said of Fabinho following his impressive performance at centre back against Brighton. It was a performance emblematic of Klopp's plans coming to fruition.
Indeed, if the Reds' title challenge shows anything, it's that long-term planning, with the right investment and right appointments, works. Philosophies, they work too. A sense of the collective, without paying any credence to individual whims and egos, that works too. A strong part of that philosophy is that players should be flexible enough to play in multiple positions.
Fabinho, who is renowned not a defensive midfielder but as a right-back when it comes to his home country's national team, certainly fits that bill.

Initially debuting on the right side of the defence at Monaco, he only flourished as a #6 in the later seasons at the Principality, including the one which saw them win the Ligue 1 title. His ability to play the ball out from a deep position and aptitude at breaking up play meant he was a more than capable fit to slot in beside Virgil van Dijk against Brighton.
His goal-saving block against Pascal Groβ, a hallmark of a steadfast centre half.
What Klopp targeted in the summer was someone versatile, able to play in multiple positions, and allowing him the flexibility to operate with a smaller squad and multiple tactical systems.
Liverpool have been able to switch between the stapled 4-3-3 and more swashbuckling 4-2-3-1 this season, and have done so largely because of the intention of Klopp (and Michael Edwards) to sign players who can clearly play in more than one position.
The proof is in the pudding: look at all those who've prospered under Klopp.
Fabinho has played both in midfield, alongside Gini Wijnaldum and Jordan Henderson, as well as a centre half.
Henderson has been both progressive and deep-lying in the midfield setup.
Gini Wijnaldum has been the same, as well as moving into the front three at times, and even deputising at centre back alongside Emre Can in a back three against Brighton last season. It was a move that even surprised the two midfielders before the game, as Klopp admitted.
Naby Keita has been the deep midfielder in pre-season, then the most forward-thinking midfielder during the season, and has also played on the left of the attacking trio when needed.
Xherdan Shaqiri has played as the #10 in the 4-2-3-1, the third midfielder in the 4-3-3, and of course on both flanks in either formation.
Mohamed Salah has transformed from dynamic, goalscoring right winger into a proper #9.
Meanwhile, Roberto Firmino switches between both #9 and #10 with ease.
Sadio Mané plays on the left mainly but can operate anywhere in that attacking midfield trio.
And Joel Matip can adeptly deputise as a defensive midfielder when needed.
Then there's Alex-Oxlade Chamberlain – who was famous for his ability to play wherever he was told at Arsenal, including at right-back and sometimes even left-back. Klopp has turned that into something far more ideal when it comes to Oxlade-Chamberlain's skillset, using his tremendous energy and dribbling skills as the most attacking of a midfield three, or on the right of the front three.
Then there were the likes of Adam Lallana and Emre Can, who were more than capable in various positions. Lucas Leiva even played centre back. And then there are the transfer targets: most of whom are enunciated by their versatility. It was no secret that Nabil Fekir was nearly a Liverpool player, and the prospect of him being able to interchange between midfield and front three was most salivating of all.
It juxtaposes the likes of Christian Benteke, Daniel Sturridge and Danny Ings, all of whom are firmly strikers who require a certain system. Sturridge may well have adapted to Klopp's needs, in a way that Phil Coutinho never did – always seeming to prefer operating on the left side of the front three. Then there were the likes of Jordon Ibe and Joe Allen, who were only ever really cast for a certain role.
It's more than just positions, though. In Klopp's side, much like Pep Guardiola's, footballers need to think for themselves, to be able to do multiple things in any given situation.
It's the reason why Loris Karius was a preferable option to Simon Mignolet: because he could think with his feet as well as his hands, and is even more prominently the reason for the purchase of Alisson.
Then, factor in the academy kids that get thrown into the fray: the likes of Trent Alexander-Arnold (nominally a defensive midfielder, introduced as a right-back), Joe Gomez (nominally a centre-back, introduced as a right-back), Ki Jana-Hoever (nominally a right back, introduced out of necessity as a centre half) and Rafa Camacho (nominally a right midfielder, introduced as a right back.)
Klopp has built something special at Liverpool, but he's done so on the back of strong principles and a tremendous transfer strategy, prioritising versatility above many other attributes.
Philosophies need the right appointments to carry them out, and that's where Liverpool has succeeded above all.