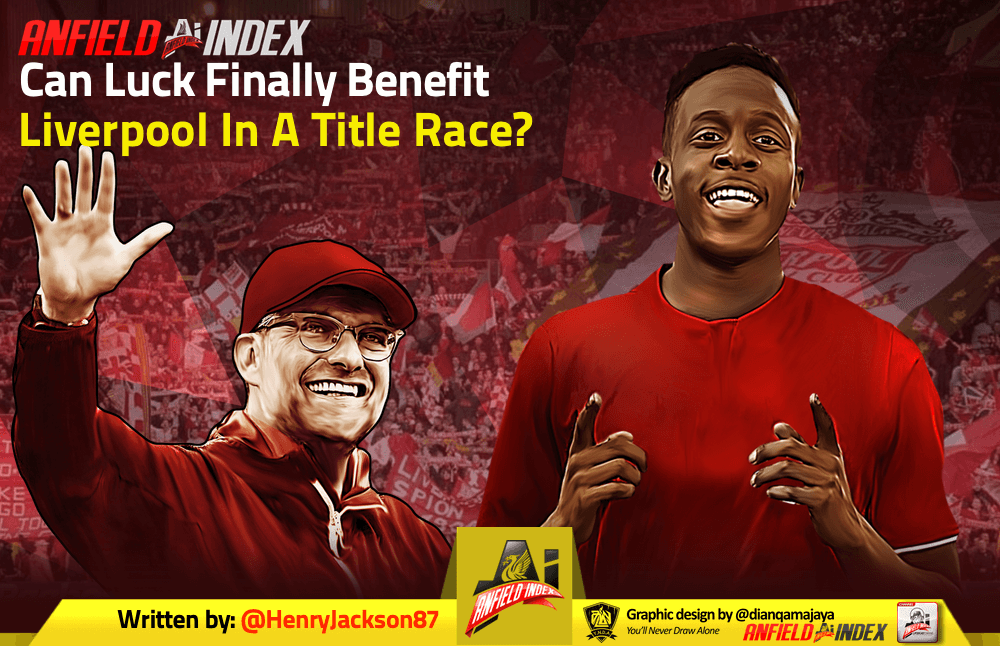 Can Luck Finally Benefit Liverpool In A Title Race?
Both Liverpool and Man City fans are being accused of having luck on their side this season, as the immature back-and-forth between the supporters continues.
For every City fan calling Mo Salah a 'diver', there is a Liverpool supporter incredulous that Vincent Kompany wasn't sent-off against the Reds, or that Wolves centre-back Willy Boly was shown his marching orders for a similar tackle at the Etihad.
The truth is that both have profited at different times.

Liverpool were fortunate that Riyad Mahrez's penalty flew over the crossbar back in October – a moment that could easily have swung the title race in City's favour.
Likewise, Virgil van Dijk's miss-hit volley against Everton would have flown into the Kop nine times out of 10, only to land awkwardly over Jordan Pickford's crossbar, leading to a potentially season-defining late winner by Divock Origi.
Had that not gone in, who knows how the table would look currently.
City, meanwhile, rode their luck when Jurgen Klopp's men made the trip to Manchester earlier this month, on an evening when Liverpool had an opportunity to pull 10 points clear.
Kompany could easily have picked up a red card for a reckless lunge on Salah, as mentioned, while John Stones' last-ditch goal-line clearance came seconds after Sadio Mane had hit the post, before the centre-back inadvertently nut-megged Salah on the line.
That was an unfortunate night for Liverpool, just as Pep Guardiola's side were a little unlucky to see Andros Townsend score a once-in-a-career strike against them, or to see Ricardo Pereira fire home a stunning late effort of his own for Leicester.
Luck defines any title race, even though those only able to watch the game with overly analytical goggles on will likely swat that opinion aside.
Those key moments going your way can make all the difference come May, whether it be freakish deflections, a lack of injuries or a terrible refereeing decision.
Just look at Liverpool's Champions League run in 2004/05 – a truly outstanding effort but luck galore, whether it be against Olympiakos (Steven Gerrard could have been sent-off), Chelsea (Luis Garcia's 'ghost goal') or AC Milan (too many nerve-shattering moments to mention).
Call it bias, but the Merseysiders have rarely, if ever, had the luxury of luck helping them along in a Premier League title race, however, on the rare occasion they have been in one.
They do feel slightly cursed in that respect, and while the brilliance of their rivals has also played a big part, misfortune has, too.
They were powerless to do anything about Arsenal winning their last 13 league games in a row back in 2001/02, despite Gerard Houllier's side winning 13 out of last 15, losing just once.
That Gunners side were gifted a late penalty against Tottenham at a crucial point in the run-in, for example, which Lauren somehow squirmed down the middle of the goal.
Fine margins.
In 2008/09, Liverpool found themselves up against a star-studded Man United side, falling short yet again without doing much wrong at all.
Youngster Federico Macheda netted a stoppage-time winner against Aston Villa that turned the tide completely, before Andrei Arshavin produced one of his few great performances for Arsenal, scoring four at Anfield in the 4-4 draw, despite Rafa Benitez's team dominating.
Why couldn't someone play like that against United?
Even in 2013/14, despite Liverpool often being dealt a good hand in terms of injuries, a woeful offside decision against Raheem Sterling away to City turned the game on it head, with the six-point swing huge in the grand scheme of things.
Steven Gerrard infamously slipped against Chelsea as well, as the Reds lay on the cusp of greatness, which was as cruel as it was unlucky.
It would be wrong to claim Liverpool didn't had luck in any of those campaigns, but the big moments and decisions have rarely worked to their benefit.
Leicester enjoyed massive fortune with injuries when they secured glory three years ago, when their starting lineup rolled off the tongue almost every week.
Chelsea were the same in 2016/17 when a staggering run of 13 consecutive victories allowed them to keep a battling Liverpool away from them until the Reds crumbled in the New Year, with consistency in personnel priceless for the Blues.
Kevin De Bruyne produced an unfathomable miss when City were 1-0 up midway through that winning run, and Chelsea ended up winning 3-1 at the Etihad.
Everything went right for them that year, as it so often does for the eventual champions.
These are just a very few select examples, of course – it would be a dissertation if I kept going – but it is difficult to think of a time when Liverpool were the envy of those around them in the fortune stakes.
All title wins are richly deserved at the end of the day, but they cannot be achieved without getting the rub of the green more often than not.
Using last year's Premier League as an example, ESPN's fascinating Luck Index, carried out by the University of Bath, concluded that the Reds were robbed of 12 points, making them the unluckiest team in the division.
United, on the other hand, benefited the most, earning six extra points through decisions being in their favour, and they finished second because of it.
So, will luck finally decide to be on Liverpool's side by the end of this title race?
On current evidence, Klopp's men are looking healthy in that respect, even though an injury crisis at the back is threatening to cause an issue.
Key men such as Alisson, Van Dijk, Andy Robertson, Roberto Firmino, Mane and Salah have all stayed injury-free, whereas City have had to make do without Fernandinho, Kevin De Bruyne and David Silva for significant spells.
The big moments, such as Mahrez's fluffed spot-kick, Origi's winner and a late penalty appeal for Tottenham waved away at Wembley have gone in their favour, even though things didn't at the Etihad.
Valuable points are yet to be dropped because of an official's incompetence and Liverpool's three draws to date, against Chelsea, City and Arsenal, have all been fair.
It has been a smooth ride, but then again, we are only in January, and recent bogey side Crystal Palace lie on the horizon this weekend.
The title battle between the Reds and City is set to be a thriller over the next 16 matches and luck will help determine the eventual winner.
Who will be robbed of a penalty late in a game? Which key man will suddenly be ruled out at a critical time? Will a goalkeeper have the game of his life at Anfield or the Etihad?
We're about to find out, but Liverpool deserve things to fall into place at long last, rather than see a rival go on a record-breaking run of form, injuries deplete them or someone else fall over at the worst possible time.
Buckle up and prepare for a tense four months.