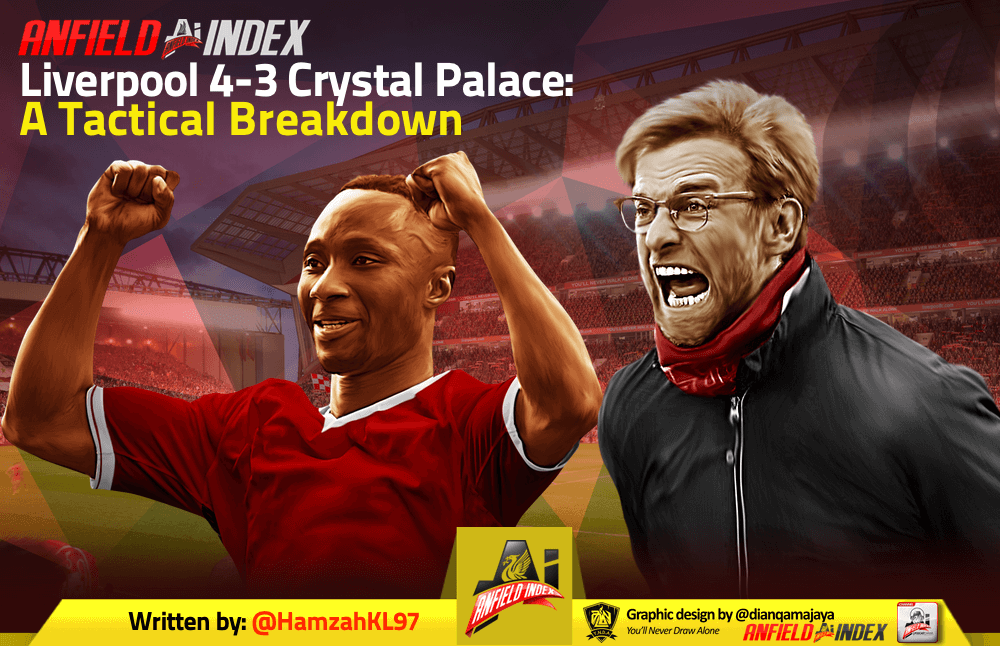 Liverpool 4-3 Crystal Palace: A Tactical Breakdown
Roy Hodgson and Crystal Palace. Hardly a fear-inspiring combination. Yet against Liverpool, and at Anfield, Hodgson's Crystal Palace were the first team in the league this season to score 3 goals against Liverpool. If anything this game only served to prove how nothing can be taken as given, with Milner receiving a red card, and Fabinho substituted late-on with an injury. Nonetheless, Liverpool made their way through the game, and we're looking at just how they did so.
Liverpool's setup
Jürgen Klopp decided to go with a 4-2-3-1 system, but not quite as you know it.
Trent Alexander-Arnold's injury forced Klopp's hand in some part – through playing Milner at right-back, who would likely be in one-on-one situations with Wilfried Zaha at some point during the match, it was clear that offering some support to Milner would be important. The 4-3-3 would likely do that, but in that system, as we know, Liverpool are less effective in breaking through low-block sides. Hence, the 4-2-3-1 seemed the natural option, but instead of Mané playing on the left side, he would feature on the right, where he could lend his defensive support and work to Milner; whilst on the left side, Naby Keïta came in, to function in the halfspace between the centre of the final third and the wing, and between the forward and the midfield line. In doing so, the left channel was left open for Robertson, whilst Keïta could function as a free midfielder, able to drift inside or wide, as Coutinho used to do in the 4-3-3.

Crystal Palace's setup
Hodgson elected to go with a 4-5-1 formation, a system which a number of managers have used in recent seasons against Liverpool at Anfield with success. The 4-5-1, when used as a low block, can be effective for it reduces the areas to which Liverpool's midfielders can pass through into the forwards. The back four, in particular, is tight, meaning that it is far harder for Liverpool to build up centrally and that the only vacant spaces will be behind the wide players (Zaha and Townsend), and outside of the fullbacks (Van Aanholt and Wan-Bissaka).
The game
The opening thirty minutes played as most would have expected. Liverpool controlled the ball, and held it in deeper areas, managing to break through on occasion with both Matip and Mané having chances inside the area.
Milner and Robertson pushed on into high positions out wide, in an attempt to create and exploit one-on-one opportunities against their opposite wide player or to take advantage of diagonal passes in behind.
These wide overloads were coupled with central ones too, as Matip picked the ball up from deep on a few occasions, and strode forwards, committing an opposition central midfielder, and thereby vacating space for other Liverpool players to move into.
But despite a set-piece chance for Van Dijk, and those two other chances noted earlier, Liverpool took a number of shots from outside of the area, as they attempted to find a way through the Crystal Palace low-block.
Shortly after a handball decision was given in favour of Crystal Palace, Liverpool attempted to press high up the field. McArthur did extremely well to work his way through the press, aided by a helpful deflection. From there, Crystal Palace moved the ball forward quickly, whilst Liverpool attempted to transition into their defensive shape, but with a number of forwards behind the ball, because of the failed press. Zaha ran down the left channel, up against Milner, who was unsupported. In a one-on-one situation, there are few better in the league than Zaha, and he raced past Milner, before crossing into the box, for Townsend to finish.
It was the first occasion in the match Zaha had managed to generate (and exploit), a one-on-one situation with his opposite fullback.
Half-time shortly followed and Jürgen Klopp reiterated his tactical instructions to the players, ordering more players to move forwards from the midfield third, into the final third, as he says in his post-match presser:
"[In the first half] we had not enough players in the decisive areas, with a lot of players in the preparing areas"
Noticeably, in the first-half, Salah was deeper than usual, linking up with Firmino in a deep role too. But at the beginning of the second half, Salah pushed up, against the Crystal Palace back line, Firmino took up an advanced position on the inside left channel, instead of roaming deeper, and Keïta began to position himself up against the Crystal Palace defensive line too, when either Firmino, Mané or Salah dropped.
This instruction in itself was largely the making of Liverpool's equaliser, with Salah suddenly in a position in which he could take advantage of deflections – as he did.
Henderson and Fabinho still looked to drive play forward, consistently looking in behind for passes, and taking an aggressive, proactive approach to their passing.
Within minutes though, Liverpool had found another gear, and Keïta on the left side, following a set-piece, found himself in space. Through attracting two players towards him and the ball, he created space for Firmino – who took advantage of the Crystal Palace players remaining in a line, as if they were anticipating a set-piece cross.
From this point onwards, Liverpool lost their shape and left themselves needlessly exposed, especially given they could afford to sit back and counter or control the game with the ball. Miner and Robertson remained especially high, and the compactness which Liverpool have used to ensure their defensive solidity and record this season simply was not there, in both central and wide areas.
This lack of shape and discipline led to a phase in which Crystal Palace earned a succession of corners, eventually scoring from one, but not after some last-ditch defending. From this point onwards, the game became a manic to and fro.
In such an open game, Liverpool will usually thrive, but in this instance, they needed a helping of good fortune from Speroni, and a smart piece of underhand gamesmanship from Robertson, leading up to his assist for Mané's goal.
Nonetheless, Liverpool dominated in terms of shots (19-9), and shots on target (9-3), but this performance and scoreline was a huge surprise to all involved. Tightening up and closing out games when in the lead has been a key feature of Liverpool's more mature style of play this season, however, in a season in which the defence has secured a number of results, it's pleasing to see the forwards return the favour in the one match in which the defence has not been up to scratch. With the return of Alexander-Arnold and Gomez in a few weeks though, Liverpool can expect a return to normality, however, if there is one positive to take from this game, it's that teams who previously were dead set on playing with a low-block against Liverpool may well see a glimmer of hope for themselves via this scoreline. And all the evidence this season suggests that this result was a mere blip. And so, good luck to them, should they decide to attack against Liverpool, for if Liverpool's forwards remain this sharp, there's only one result for teams coming to Anfield.