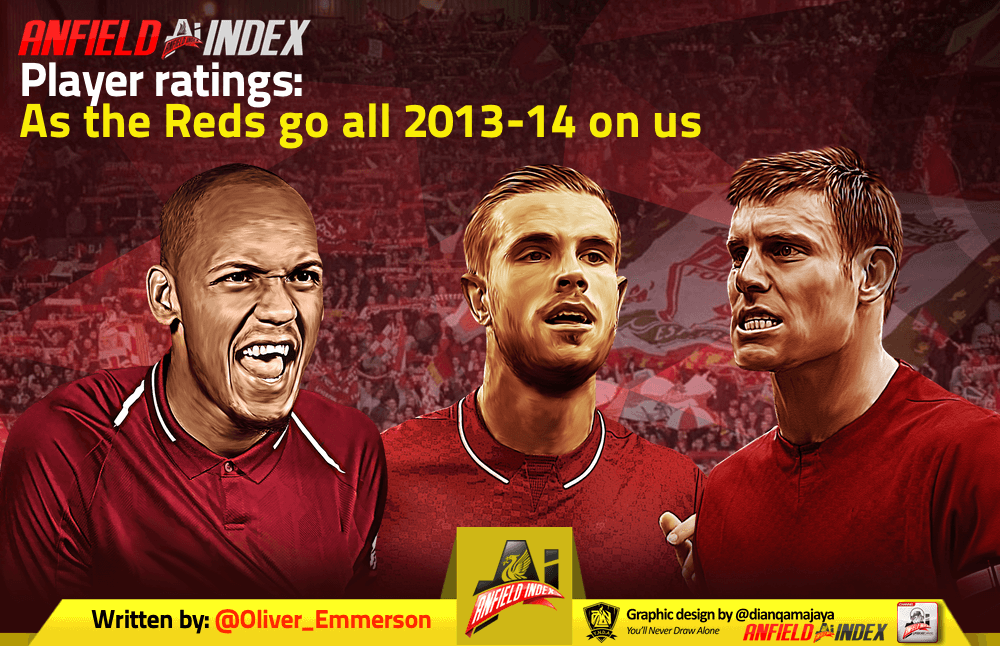 Player ratings as the Reds go all 2013-14 on us
I've got a good friend who supports Crystal Palace. If I didn't, I'd be doing rain dances in the garden in the hope they get relegated.
Never mind the owl that manages them, they're actually an alright club. Passionate fans, decent football, the legend that is Mamadou Sakho. I just can't hack playing them, I'm only 20 and my heart feels like it's about to blow.
Struggling to get my head around that one? We concede three but I can only really criticise one member of the defence. We score four, but did we attack that well? Three points though, another challenge passed. Catch us if you can, Citeh.

Onto the ratings. Difficult today.
Oh Milly
Alisson Becker (5): Nothing spectacular and nothing awful until stoppage time, where I think he should save Meyer's shot and save us all 30 seconds of arse twitching. Can't do anything about the first two, hell of a finish from Townsend for that opener.
James Milner (3): Feel sorry for the lad, the decision to put him up against their best player, who is also absolutely rapid, was atrocious. Most full-back's struggle against Zaha, at least play a quick one to try and stop him. Gets done for the first, then is sent off. Does nothing going forwards apart from get on the end of a ball to aid an absolutely hilarious third goal for the Reds.
Joel Matip (7): Weird one, isn't it? We conceded three at home to Palace and yet here I am giving our centre back a seven. Comes back into the side and handles himself well against long balls, steps into midfield with the ball well and enjoys a good afternoon.
Virgil van Dijk (6): Don't think he does much wrong either, if I'm being honest with you. Could maybe try and throw Ayew off him to better defend their goal from the corner, but is he risking giving away a penalty at 2-1 up? No, he isn't.
Andy Robertson (6): Was sound, think on reflection we should have given him a go at right-back and let the crazy Spaniard back in for a game.
Positive pivot performance
Jordan Henderson and Fabinho (7): Putting these two in tandem here because it'll absolutely ruin the Saturday's of those weirdo's who are constantly trying to put down one in favour of the other. Both played well, as I said Liverpool didn't defend that badly and the three goals weren't the fault of Henderson or Fabinho. Both good on the ball, nice and progressive. Hope Fabinho's okay.
Mohamed Salah wants this title
Naby Keita (5): Flat, couldn't do much. Game went a bit more mental after he went off, as if it wasn't mental beforehand. I'm not expecting him to do much on the left wing as he's a centre midfielder. Hope Klopp see's this and adjusts accordingly, but with Henderson, Fabinho and Wijnaldum all in good form you'd imagine Naby's best hope of impressing in his favoured position is with a switch back to 4-3-3 for the Champions League.
Mohamed Salah (9): Delivers again. Has fans cry arsing about him falling over easily, so what. Think he cares? The only thing he cares about is the league title. Majestic finish to level the game straight after half-time and then he makes 100% sure we go ahead by poking home, as 99.9% isn't always enough.
Sadio Mane (7): Dips in and out of the game, shock. But an absolutely beauty of a finish to seal it in stoppage time, at least until they went up the other end and scored.
Roberto Firmino (7): We needed him to start scoring an he did exactly that. Good lad. Loved his two minute spell at right back.