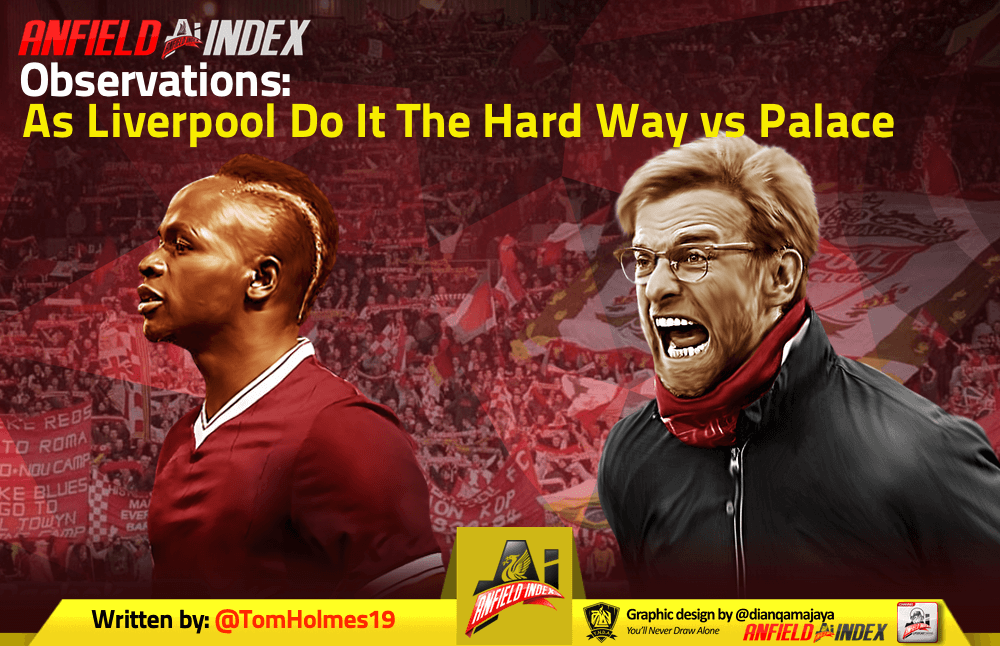 Observations as Liverpool Do It The Hard Way vs Palace
Liverpool hung on in a pulsating, incredible game against Crystal Palace at Anfield to keep the pressure on Man City by going seven points clear. Here are the observations from an unbelievable 4-3 win on a cold Saturday afternoon at Anfield.
Win At All Costs
It's impossible not to look at a game like this, where Liverpool were brilliant in spurts and tragic in others, and not think that it's the biggest win of the season. Obviously, every game is the biggest win when you win it, but holding on 4-3 against Palace, having fallen behind and been pegged back, feels like an absolutely huge result. In the aftermath of a game that's incredibly difficult to analyse, the overwhelming sensation is one of intense relief. This could have been the sort of game to unstick a team, but Liverpool held on in dramatic fashion, and keep the title charge going.
Defensive Structure and Control Collapse as Injuries and Ill-Discipline Strike
This was a game in which Liverpool ended up in a messy situation as they conceded their third goal. James Milner did a good job out of position at right-back until he finally succumbed to Wilf Zaha's trickery by getting his second yellow card; Jordan Henderson ended the game as the loan midfielder as Firmino and Lallana were shuttled in there following Fabinho's injury with Gini Wijnaldum out, and with Lovren and Gomez still out, Joël Matip was thrown in at the deep end on his own return from injury. This wasn't a great recipe for the Reds, and things threatened to fall apart. Palace's first goal was brilliant but their second was a simple set-piece routine, and Liverpool's defence had completely fallen apart as they raked in their third. Even Alisson and Van Dijk had bad games.

Mo Salah Delivers Again
It's getting increasingly difficult to find superlatives that haven't already been used to describe Liverpool's incandescent number eleven. Whilst both of his goals might appear to be tap-ins, it was once again a case of his own movement, desire and skill to generate the situations. The first goal was pure Salah – he found space inside the box and gambled on the ball landing at his feet, before pulling off a genuinely audacious finish. The second was more scrappy, but how many times have we seen Salah charging in, hoping to finish even when the ball is on the one-yard line – see his goal against Saints and the unfortunate goal-line clearance against City. The timing of the goals was also massive, especially the first – scoring so soon after half-time.
Salah's neat passing and turn of pace were also on display, as he made two or three incredible pieces of play in amongst what was a very odd game of football, with more highlights. Sadly, we also saw the negative side of his game as he was lucky to escape a booking for another horrendous dive. That's something he needs to work on.
Henderson and Matip Step Up
With Gini Wijnaldum out and both Joe Gomez and Dejan Lovren still out, Liverpool needed big performances in the heart of the field from Matip and Henderson and both delivered in spades. Matip was everywhere, winning multiple crucial challenges inside the box and largely faultless for the goals that the Reds conceded. Henderson meanwhile was turning over possession consistently in the middle third and playing more forward passes than he usually does, keeping Liverpool ticking over in the final third as well as mopping up effectively. This wasn't necessarily a game full of vintage performances from Liverpool, but these two raised their game and it made a big difference.
Mané Continues His Strange Season
Sadio Mané is having a strange spell for Liverpool, and this game continued to ask the questions as to why he's in the side, as well as delivering some answers. His creativity was non-existent, his decision-making and passing were very poor, his all-round play was found wanting. And yet, he also delivered a sensational finish that ended up being the match-winner, and it also has to be noted that his defensive work was incredible and easily the best of the front four. Whilst the talk of replacing him (or Naby Keita) with the currently struggling Xherdan Shaqiri has some merit, Shaqiri doesn't have the X-factor or the defensive aptitude that Mané possesses, as this game showed.