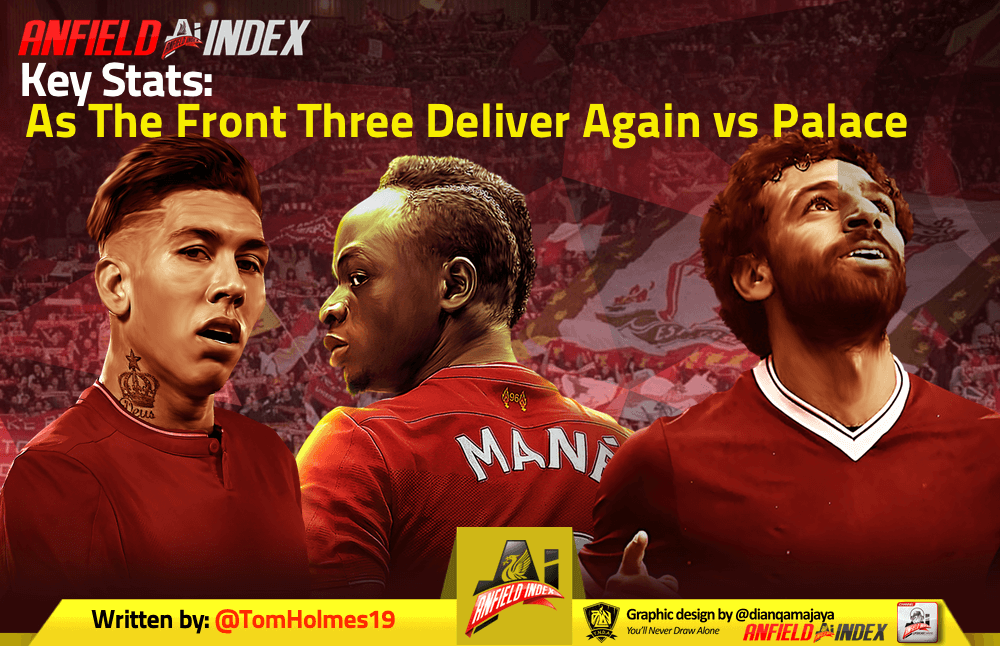 Key Stats As The Front Three Deliver Again vs Palace
Mo Salah scored twice as the front three combined to fire Liverpool past a resilient and excellent Crystal Palace side to keep Liverpool motoring in their title bid. But what were the key stats from a frenetic 4-3 win at Anfield?
A Tale of Two Milners
James Milner isn't a right-back. We knew that already, but it was evident in this game. In an attacking sense, Milner was excellent – he created four chances,  which was the most of either team; he was the only player to create a big chance; he was the highest dribbler on Liverpool's team with 2/2 and of course, he played a huge role in the third goal, as it was his cross that ended up being turned over the line by Salah, admittedly with a bit of help from Speroni.
But at the other end, Zaha ran Milner absolutely ragged. Milner was dribbled three times, completing just two of his five tackles and of course, giving away two very poor yellow cards that led to him being sent off, and Liverpool losing control of the game. Whilst Milner was important to Liverpool's attacking display, he was also their weak link in defence.

Matip Fills Gomez's Shoes
With Virgil Van Dijk having an off-day and Trent Alexander-Arnold, Dejan Lovren and Joe Gomez injured, there was a lot of pressure on Joël Matip and he delivered. Despite shipping three goals, Liverpool didn't ship any big chances in their 0.80 xGA and Matip was a huge part of that. He won all three of his tackles, won 6/9 headers, made four clearances, an interception and blocked two shots. I'm not a fan of defensive stats because generally, they're hot garbage, but when they stand out then they stand out, and it reflects, in my opinion, the fact that Joël Matip had a standout performance.
Up The Adversity Dodging Reds
Liverpool have thrived in adverse conditions this season. With injuries plaguing their team, this is the fifth time that Liverpool have conceded first this season in the PL and have now won three of those five games, also picking up a draw against Chelsea. Ten points from five games is 2 points per game, which is impressive, as it's better than Liverpool's average over the previous three seasons under Jürgen Klopp and better than the average of 16/17 and 17/18. The Reds have scored an impressive 14 goals in those five games, and have conceded just three more goals, eight in total.
Moreover, on the two occasions that Liverpool have gone down to ten men, against Watford and against Palace here, they've scored and conceded just once in the process. To not just see the game out with 10 men but go on to kill the game is incredibly impressive stuff from Klopp's men.
Anfield Hoodoo Over?
Crystal Palace have a good record at Anfield, and so does Roy Hodgson, but Liverpool may have finally put that ghost to bed, courtesy of Sadio Mané's incredible 7th goal in ten games against Palace – this is the fourth game in a row that Sadio has scored against this opponent. Salah also loves a Palace game, now with three goals and two assists against them.  Make sure you check out free bet offers like these to see whether Liverpool can continue this fantastic run so far this season.
In fact, for all the talk of how Palace have won three of their last four games at Anfield, and indeed Palace were the last team to win in the Premier League at Anfield back in April of 2017, that's now four games in a row that Liverpool have seen off Palace, although it hasn't ever been easy.