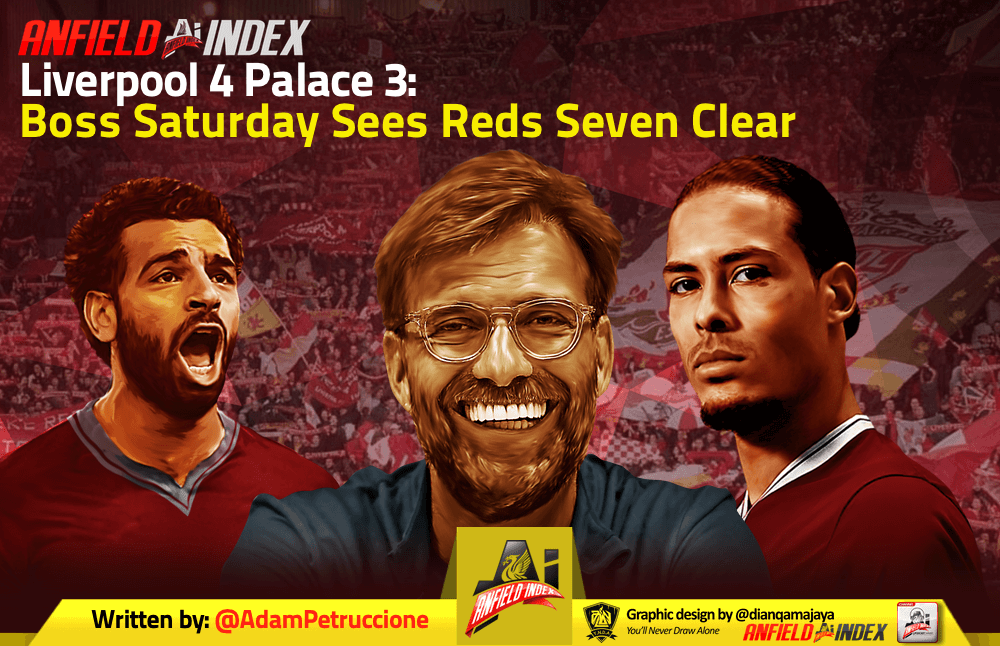 Liverpool 4 Palace 3: Boss Saturday Sees Reds Seven Clear, For Now
Tell you what, I'm spent after that one. Maybe a drink and some Springsteen lyrics can help us all mellow out. Why Bruce? He's The Boss and we're boss, so…
Lights out tonight
Trouble in the heartland
Got a head-on collision
Smashin' in my guts, man…
How were your intestines holding up after that one? Plenty of experienced Liverpool supporters were getting flashbacks after this one. With another week to go before young cornerstones, Trent and Gomez return, the right side was left vulnerable.
I feel sick right now. Too many flashback to throwing things away. Even with all the matches left to go.

— Kev Hegarty (@KevHegarty) January 19, 2019
Milner at right back against Zaha was always going to be a problem and sure enough, it was essentially a car crash. Palace's first (yes there were multiple goals) came from the former United man beating James Milner into the box and cutting back to Townsend, flying into the area to finish under Alisson. Henderson was left out of position on the counter after appeals for handball at the other end. Moss didn't see the touch from Tompkins even though his hands were over his head. So much for Penaltypool…
The narrative of the first half was really all about Naby Keita. The player we waited two years for was not impressing the Anfield faithful, looking a step slow and out of sync with the rest of the eleven. Without recovery pace against a quick team, Keita needed to be impactful going forward and never seemed to make the right decisions. The truth is though that Naby Keita was putting in strong performances in the opening weeks of the season, so that form really just needs to be rediscovered with more time on the pitch. Any claims of a busted transfer at this point are wildly overblown.
I don't give a damn
For the same old played out scenes
I don't give a damn
For just the in betweens
Panic was solidly setting in with Liverpool supporters, down 0-1 at half. "It feels like one of those days…" was a popular take. I get that we've been through a lot of false dawns these past few seasons, but come on folks, let's enjoy the beautiful tenacity and drive of this squad until they show that they're not worthy of it. These brief moments of struggle are just the prelude to the celebration. And speaking of played out scenes, Mo Salah was kicked. End of.
Supporters of rival clubs can pretend all they want that their players don't go down when kicked or pulled in the box, but all of that noise is just in-betweens if we can stay on top of the league for. 15 more matches.
Another dive by Salah to add to the collection. Zaha would get crucified for that pic.twitter.com/P5SRPkjR7P

— J⚡️ (@J__CPFC) January 19, 2019
Poor man wanna be rich
Rich man wanna be king
And a king ain't satisfied
Till he rules everything
We remember what it was like to have our club fold in situations like this because our ascent has been so steep. A year or two ago Liverpool would have been happy to be in the hunt for a trophy, any trophy, but now we're happy to bail out of cup competitions as long as it leaves us a better shot at Europe's top two crowns, the Premier League title and the Champions League. Thankfully we have a King who will stop at nothing to keep us on that path. After missing out on penalty shouts in the first half, Mo Salah plucked a Van Dijk lobbed out of the air and flung a shot past an ancient looking Speroni just one minute into the second half.
Seven minutes later, Naby Keita fed an innocent looking ball into Bobby Firmino at the left corner of the 18-yard box. Just a shoulder shimmy and a slow roller into the corner and we were leading, sending Anfield into delirium. Usually, replacement 'keepers play out of their skin against Liverpool, but Speroni was doing his best to break that trend.
And that should have been it. We've seen out so many matches this year once we've taken a lead into the second half, but Crystal Palace and our old buddy Roy Hodgson were up for the fight. In the 65th minute, a Milivojevic corner found an unmarked Tompkins to equalize at 2-2. Virgil Van Dijk and Fabinho were screened off and Keita was lost in the trees, unable to stop the easiest goal Liverpool have allowed in months.
More "It feels like one of those days," comments flooded Twitter.
We have the Egyptian King and he ain't gonna be satisfied until he rules everything. James Milner took a break from chasing Zaha around, flipped a ball towards goal from just right of goal and the Palace 'keeper made a meal of it again. The ball was headed into the net, but Mo Salah remembered the would-be goal at City that missed by a centimetre and didn't leave anything to chance. Even United supporters were appreciating Salah after his 50th Premier League notch.
Hate to say it but Salah showing AGAIN why he's the best player in the league

— Mark Goldbridge (@markgoldbridge) January 19, 2019
3-2 at 75 minutes. Surely that would be enough for the team with the best defence since 04/05 Chelsea… No, The Hodge would not go easy.
A wayward ball from Jordan Henderson eluded Bobby Firmino and truthfully, both were to blame, leaving Zaha free to sprint in. James Milner, already on one yellow was left to dive in and ultimately got there second, earning himself a Ribena an early shower. For a few stressful moments, a ten man Liverpool had Firmino at right back and Lallana in central midfield after Fabinho was forced off.
Milner sent off. pic.twitter.com/UTRlbzMtf7

— The Redmen TV (@TheRedmenTV) January 19, 2019
Sadio Mané, stepped into the spotlight, getting on the end of a Mo Salah counter and with the world ready for him to put the ball away… he hit it wide. But, as things usually go for Mané, he would get another opportunity. In injury time Robertson and Sadio were still sprinting around the pitch, and the newly extended left-back pulled a ball back in play from the touchline freeing Mané for a casual strike under Speroni to make it 4-2.
Just to keep things interesting, Palace scored again moments later through Max Meyer who scored past a diving Rafa Camacho. Alisson got a hand to it, but he must have felt like they earned it, as he allowed the ball past him and into the net, giving Liverpool supporters heart palpitations all over the globe.
Thank fuck that's over

— Kauser Soze (@NinaKauser) January 19, 2019
I believe in the love that you gave me
I believe in the faith that could save me
I believe in the hope
And I pray that some day
It may raise me above these
If you didn't believe before, Reds, come on up for the rising, because this Liverpool team, at the very least, is Palace-proof. A biased ref, a fluke goal, an injury bug, a manager too stubborn to add to the squad… none of that seems to be able to slow this train down. This is a different kind of Liverpool that hasn't been seen in a generation. When things look bleak, they have extra notches to go to, able to crank it up to eleven whenever needed.
Lad fuming in the Ship & Mitre that we conceded three goals. 'You don't win leagues like that'. Probably a flat earther. #LFC

— Graeme Kelly (@GraemeKelly1) January 19, 2019
Things should return to regular order in the coming weeks as we get our regular right-backs back. This adventure was fun and all, and it will add to the story at the end of the season, but 15 more boring wins would suit me just fine.
Not to worry fellow Reds, we will rise above these. With a 7 point lead going into Sunday and reinforcements on the way, this is going to be our year. It just might not come in the stress-free fashion we'd prefer.
And don't @ me, but… It feels like one of those years.
Up the Boss Reds