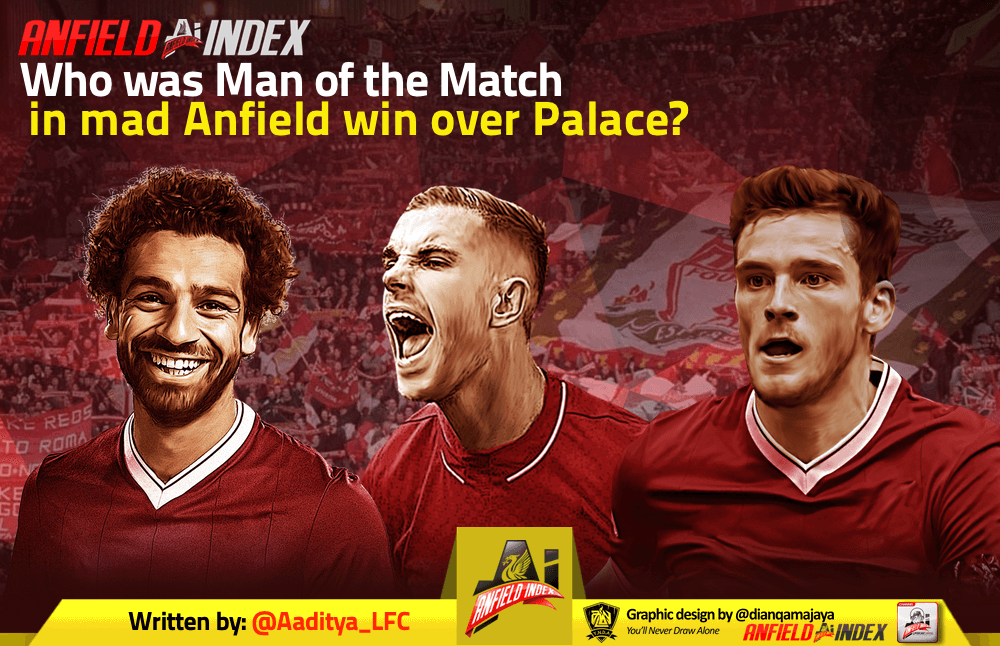 Who was Man of the Match in mad Anfield win over Palace?
What can you say after a win like that? No, really, why did it have to go back to Liverpool giving heart attacks again? It was all going along smoothly; managing games, keeping clean sheets, winning serenely. Why revert to old Liverpool?
Well, it was a one-off. That's for certain, at least based on the days available at hand. Crystal Palace's xG from the game stood at 1.0, and they really didn't have what you'd call big Chandra to score from.
Conceding three goals would rule out the goalkeeper from being Man of the Match, then. Getting sent off would rule James Milner out, too. The centre-backs weren't exactly at their best, so we might be safely able to rule them out as well.

Jordan Henderson and Fabinho were superb in the middle of the park. They started attacks off, they pinged cross-field passes at will, and to perfection. They kept the game moving on. None of that slow, sideways passing thing that Henderson is so renowned for. So, good on you, skipper!
Mo Salah is an obvious contender for the Man of the Match award, too, what with another Premier League brace. He scored his second from maybe less than an inch ito, but he still had to be there in time. His first, though. Let's talk about the finish, and how easy he made it look.
Virgil van Dijk's shot was going nowhere. Then, it hits a defender, loops up and there he was. Lurking. Sniffing around, as he always is, for more goals. He wants to score. All the time. So, he's taking no chances with the finish. He's assumed that Julian Speroni is charging at him to collect the ball, so he attempts a deft flick with the outside of his left boot. The ball obeys the master's instruction and sits in the bottom corner of the Kop End net. It was poetry. Poetry in motion.
Speaking of motion, let's talk about Roberto Firmino and his perpetual motion. Another game, another big goal, another relentless performance. As per normal. He also found a new mate to dance with. And he also played at right-back.
But in truth, there was only one Man of the Match. That was Andy Robertson. Does he ever feel tired? Is it possible that he's a bit leggy and might stop running?
Hopefully, that's a question to which the answer is in the negative for the foreseeable future.
Once again, as has been the case in many of these games against sides defending deep in a compact block, the Reds' outlet was in switching the play to their full-backs. In this game, Robertson was always available. Henderson pinged it wide, he was there to collect. So too from Fabinho, from Matip, from anyone.
He left Andros Townsend in a daze by the end. Townsend's role in the game was reduced to just being aen additional defensive body to cope with the threat of Robertson.
The Scot had several opportunities in the first half, when he could've shot, but took the safer option, or in one case, was foiled by Naby Keita going for the same ball as he was going for.
But he was never going to stop. As he showed in second-half injury time. The ball was barely an inch away from going out of play, but there he was. After 90 minutes of running. Stretching every sinew of his body to keep the ball in play, and finding Mane in the process, leading to Liverpool's fourth goal on the day.
There are shouts that he may be the best in the world in his position. Let's not get into that, for now. Let's just revel in the joy of three points and another top-notch Andy Robertson performance.