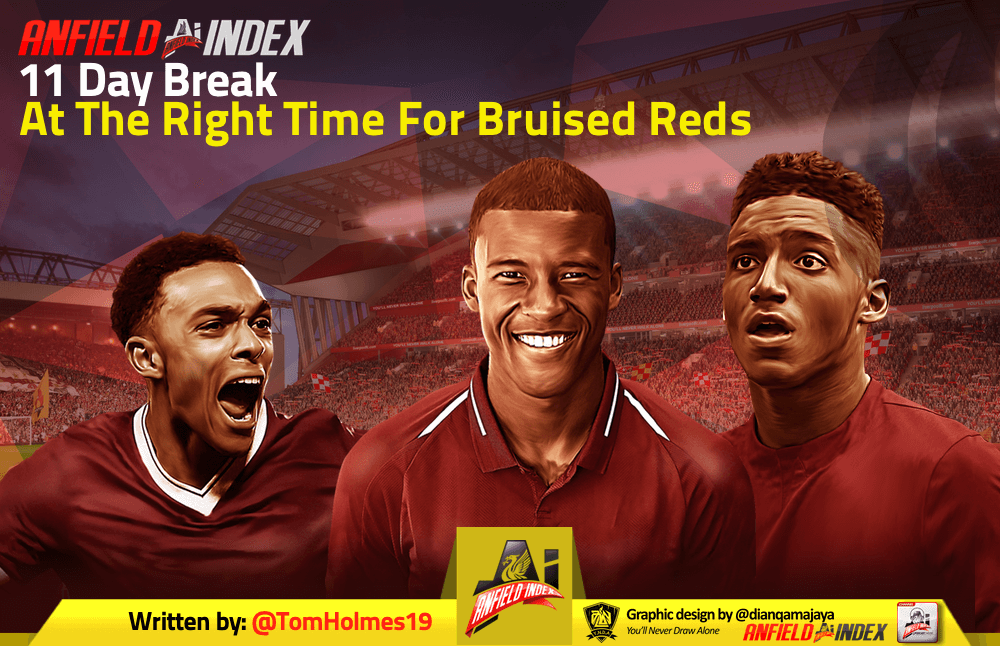 11 Day Break At The Right Time For Bruised Reds
Liverpool survived an incredible game of football to see off Crystal Palace 4-3 at Anfield. But it was a game that left the already struggling Reds bloodied, bruised and increasingly threadbare, with Rafa Camacho finishing the game at right-back, Bobby Firmino and Adam Lallana in central midfield, and Joël Matip played his first full ninety minutes since breaking his collarbone back in early December against Napoli.
It's fair to say then, that the last thing Liverpool need would be another game in three days' time, followed by an FA Cup game next weekend, all before playing Leicester City on the 30th of January. But that's not what's going to happen, as defeat to Chelsea in the Carabao in September, coupled with our defeat to Wolves a couple of weeks ago, means that Liverpool now have 11 days off until that tussle against the Foxes, also at Anfield.
This break has probably come at the perfect time for Liverpool. We know how much of a pain January has been previously, and simply picking up two wins from our last two games has made a big difference to stem the flow. But those wins have been far from straightforward, as we held on for a 1-0 win over Brighton and then drunkenly punched past Crystal Palace in a way more reminiscent of a Brendan Rodgers fixture than the mature, intelligent tactics that worked so well against Brighton.
Mentally, after another taxing game, with Liverpool still having to deal with the pressure of being league-leaders, it'll be good for the players to get away from it all, find a way to regroup and go again ahead of what will be a challenging period of games against Leicester, West Ham and Bournemouth, all of which are a must-win.
But it's physically where the Reds will most benefit from an 11 day break – as well as a five day break between Leicester and West Ham – which will be on the Monday night instead of at the weekend. The Reds' injury list currently contains Gini Wijnaldum, Fabinho, Trent Alexander-Arnold, Dejan Lovren and Joe Gomez, alongside obviously Alex Oxlade-Chamberlain – who obviously won't be back for several months at least.
But of the rest of those on that list, it's expected that with 11 days to recover, Trent, Gini and Lovren should be ready to go against Leicester, whilst Fabinho and Gomez could also be back. None of them have been definitively been ruled out – except for of course the suspended Milner – meaning with over two weeks until Liverpool's game against West Ham, the Reds are in a good position to get through their current mini injury-crisis relatively unscathed, and with no cup games to worry about, it hopefully shouldn't get worse before it gets better.
The other point is that it gives Klopp plenty of time to tactically work and prepare for the specific task offered by the Leicester game – a task that could certainly be complicated if Leicester sack Claude Puel in the next week.
Compare this to Man City, who are still in all four competitions. Granted, they have a second leg against Burton off the back of a 9-0 first leg win, but Pep might still play several first-team players, and then City have to play Burnley in the FA Cup on Saturday, before their game against Newcastle a week on Tuesday, which is followed by back to back games against big teams in Arsenal and Chelsea.
Minutes in the legs is minutes in the legs and Liverpool will be grateful for a bit of rest, and a chance to work on their tactics and attitude ahead of the next phase of the run-in, something that Man City don't currently have the luxury of doing.
The other thing that it does is gives supporters a break. Whilst it's true that plenty of LFC fans will be going absolutely stir-crazy next weekend, it'll also be a nice break from the heart-stopping, pulsating, nerve-shredding games that the Reds have undergone in the last few weeks. Whilst nobody was losing any sleep over the Wolves defeat, the game against City felt like a title-decider in many respects, and the two victories that have followed have both been absolutely horrible to endure in their own little ways.
Sometimes having a week just to sit on where the club is, how the club is doing and enjoy being four points clear at the top of the league again is a good thing, and it gives the fans a chance just to relax and take the weight off their shoulders for a weekend, even if that's not quite going to be the case for the team, as they'll no doubt be training hard even as we relax.
This is the perfect time of the year for a mini-break, and has underlined the importance of Liverpool's departure from the two domestic cup competitions. Whilst you absolutely want to win everything you can, it's clear that the priority this year is the two big competitions – the PL and the UCL – and having some time to regroup ahead of the next big batch of fixtures, that could see any possible number of outcomes before Liverpool's two clutch games against Bayern and United, is absolutely the best case scenario.
Let's hope we make good use of it, and have our squad where we want it for the run in, as Liverpool have ten clutch games between Leicester on 30th January and the international break at the back-end of March, a stretch of 45 days featuring a trip to Old Trafford, both legs against Bayern and a Merseyside Derby at Goodison. Whilst there's another mini-break between Bournemouth and Bayern, it's still crucial that the Reds are well set for that critical period.
In any case, we've got a week off, which means I get to spend a week watching Mo Salah's highlights reel, attempting to lower my blood pressure and praying to the masseur working on Joe Gomez's leg. Up the Reds.