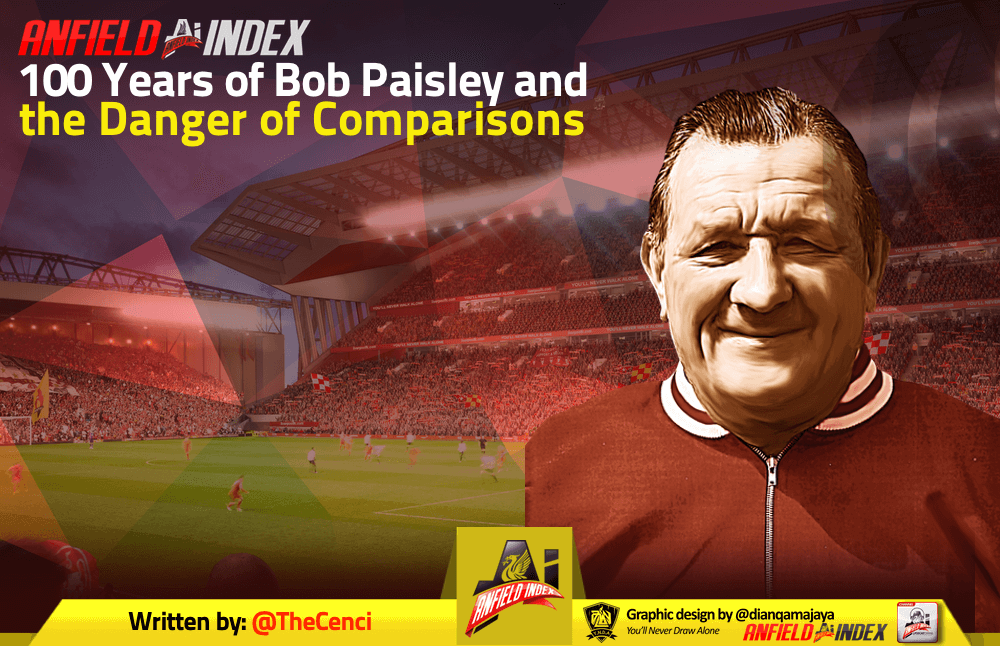 100 Years of Bob Paisley and the Danger of Comparisons
Before the home win at Crystal Palace—a game which saw Red hearts beat all the faster for the first time in a while—the ground paid tribute to Bob Paisley, who was born 100 years ago this week. At half-time, Anfield witnessed a cavalcade of his best players such as Kenny Dalglish, Graeme Souness, Jimmy Case, Phil Neal and, greatest of all, Ian Callaghan, come on to the pitch to rightly praise the soft-spoken Geordie.
I've no doubt that such a celebration will be sneered at in some quarters. After all, we, as a club, are routinely pilloried for our devotion to the past. Chelsea fans often claim that while we have a history, they have a future. Likewise, most City fans would prefer to talk about David Silva than recount tales of Tony Book and Colin Bell.
Fair enough. According to Tony Soprano 'remember when' is the lowest form of conversation, but it's a little unfair to criticise any fan who has seen how perfection works and simply wants it replicated here and now. We older sweats are lucky enough to have witnessed those sides and the man in the dugout first hand. You can't blame us for wanting to hark back with moist eyes.

In any case, talk of the greats can often be to our detriment. I mean, how the hell does a modern manager meant to grade against one of the greatest names in the game?
One criticism I have some sympathy for is the usual need to over-praise our players and staff and to subsequently compare them to the patriarchs of the past. Take Brendan Rodgers' first press conference as Liverpool boss for example. The new man sat down, answered a few questions and then went back to the day job. Simple, yes?
Hmm.
One forumite, and he wasn't alone, said of his speech:
'That could have been Shankly talking in an Irish accent.'
There you go. Bill Shankly. First press conference. Day one. Not a ball kicked and we're already going for Bill Shankly.
What's more, it got worse.
As the 2013-14 season progressed the meme of Brendan talking to a ghostlike Shankly began to pervade social media. It made me retch, frankly.  Not for the idea of Brendan being a son of Shankly as such, but because of the unfairness of expectation. How the hell do you live with that? No one is Bill Shankly. Not even Bob Paisley and he was Bob Paisley, for God's sake!
I honestly hope this doesn't happen to Jurgen Klopp.
So far the comparisons have been few, but if we do reach the Promised Land in May there'll be voices harking back to Shankly's first title in 1964 or some such despite their battles being nothing like similar.
Bill Shankly dragged the club up from the old Second Division and marshalled an army of support to catapult us to a division which we've never left. Bob Paisley masterminded a side against the greatest sides in Europe and came back with the one true European Cup three times—all while wearing carpet slippers, cardigans and carrying a mug of Bovril.
Jurgen Klopp not only has to lift a Liverpool side famous for over-spending and underperforming for the majority of the Sky era, but he has to somehow be marked up against those men. It won't work. He's Jurgen Klopp and no one else. Mostly fantastic, occasionally maddening but always our man. He's not the next Paisley or Shankly. He's Jurgen Klopp and no comparisons are necessary.
The other side of this coin is the use of the term 'legend'. Let's be clear here. In the strictest sense, no one here is a legend. Not yet.  Legends win things and though this is most confident many a Red has felt when it comes to crossing the final hurdle, our lads have yet to win anything.  They're great and we love them, but they're not worthy of that title yet.
Ah, I know what you're thinking.  'Does that mean Djimi Traore—Champions League winner after all—is more of a legend than Mo Salah?' Erm, I don't know. Probably not, but you see the point I'm making. I love Andy Robertson with a passion which is barely human, but his place in the pantheon of Anfield legends isn't ready yet. He's just the best left back we've had since Steve Nicol. Praise enough. Let's hold back before we start issuing out laurels and spraying champagne about the place.
He IS great though. No question of that.
So, I beg you. Enjoy the fact that Bill and Bob recreated this club. They put us on the map and gave us the blood red kit and Keegan and Kenny and trophies and glory and song, but let's give these lads—our lads—a chance to find their feet before we start handing out the robes of the immortals. We can only get hurt that way.
No one will be happier than me if one day the club open 'the Klopp Stand' in forty years or whatever, but let's let them breathe first.
In the meantime, just remember that Bob Paisley was our manager. That alone should be enough to lighten the hardest heart.