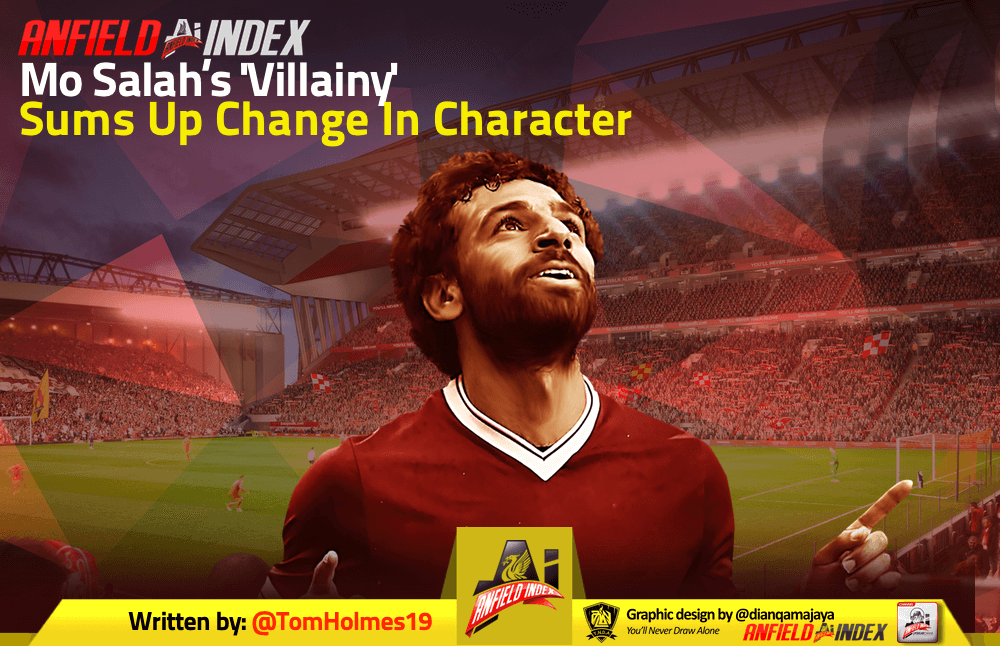 Mo Salah's 'Villainy' Sums Up Change In Character

When Sergio Ramos hauled Mo Salah to the ground in Kiev last May, ending his participation in the Champions League final, you could be forgiven for a familiar feeling entered the mind.
Nice guys finish last.
Salah, a great person, hugely sporting footballer and icon in his homeland, was cut down in his prime by one of the most cynical players in the history of the game.
The Egyptian's tears were tough to watch as he left the field and the unfair nature of it all left a particularly sour taste, on a night that threatened to be one of the greatest in Liverpool's history.
It was clear that Salah hasn't taken kindly to the incident, even appearing frosty in Ramos' presence at the Ballon d'Or awards late last year, months after it had occurred.
He has changed since that heartbreaking moment.
The 26-year-old has cut an angrier presence, with an extra bit between his teeth and a seeming determination to right last season's wrongs.
Those endless beaming smiles that existed in 2017/18 are not always as prominent and he is playing the game more like a hardened veteran than the exuberant youth of last year.
He isn't forever sulking like a moody teen, by any means, and is still a happy enough presence, but it doesn't feel as though we are watching the quite same individual from last season.
That's no bad thing.
Even his playing style has changed, having wreaked havoc from a wider position last year, often finding himself heavily involved in Liverpool's build-up play.
Now, Salah has been turned into more of an ice-cold hitman up front, albeit still taking up right-sided positions at times, scoring vital goals and holding his nerve in ruthless fashion.
Perhaps the best example of Salah's change in character is his current lack of popularity among many fans outside of Liverpool, and some of a certain blue persuasion in the city.
That couldn't possibly be partly down to the Reds being top of the Premier League, could it? Surely not.
All of a sudden, he finds himself being lambasted left, right and centre for his supposed diving antics, earning him legions of detractors in the process.
This is all a narrative that is being predictably overblown, of course – Salah's only genuine dive came last Saturday against Crystal Palace – with the penalties he has won all fouls, regardless of how soft they were.
Liverpool's No.11 also isn't helping himself, though, and he looks more willing to play the game on the edge more now, a little like Luis Suarez.
This time last year he was not consistently going to ground so easily and he actually saw a number of stonewall penalty decisions go against him. He was too fair on occasions.
He seems to have made a concerted effort to change this part of his game, which is never going to go down well with non-Reds.
Salah was generally universally loved in his debut season at Anfield – even some Man United and Everton supporters admitted to harbouring a begrudging affection towards him – and he felt like the new darling of the Premier League.
That is swiftly changing, however, with his aforementioned likability to the masses traded for a more determined, win-at-all-costs outlook.
Salah is now being viewed as somebody playing on the edge of the rules – the thought of his sportsmanship being called into question this time last year is unthinkable.
He won't care one bit about the booing that is now likely to follow him at away grounds, though, such is the inner strength he has built up since Ramos robbed him of starring in the biggest club game of his career and representing Egypt at a World Cup fully fit.
It's as if he's realised you get nothing in this game for being too nice.
In fact, as Jordan Henderson recently alluded to, Salah is the type of character who will thrive from such negativity heading in his direction.
Cristiano Ronaldo was similar when he returned from the 2006 World Cup after his infamous 'wink' after Wayne Rooney's sending off, thriving off thousands around him willing him to fail.
Suarez in 2013/14 is possibly the best example in the Premier League, producing one of the all-time great Liverpool campaigns by an individual when many opposition crowds hurled abuse week in, week out.
Salah became a different player against Palace as soon as their players surrounded him after his dive, with an anger etched on his face and two goals later coming his way.
Prior to that incident he had been a peripheral figure, so opposing players and supporters would be best advised not to jolt him into life if he is having quiet day.
By all means, keep doing it, lads!
Perhaps Salah has always been this focused, ruthless and occasionally angry, with his new persona overblown, but from the outside looking in, it has been more apparent this season.
It is great to see, too, before this is seen as being critical of him.
The fact that he is suddenly a bit snide, rubbing opponents' players, managers and supporters up the wrong way, not to mention Richard Keys and Andy Gray, is a positive.
Liverpool have needed to be a little more nasty and become masters of the dark arts in order to gain an extra edge – Salah is becoming the poster boy for it.