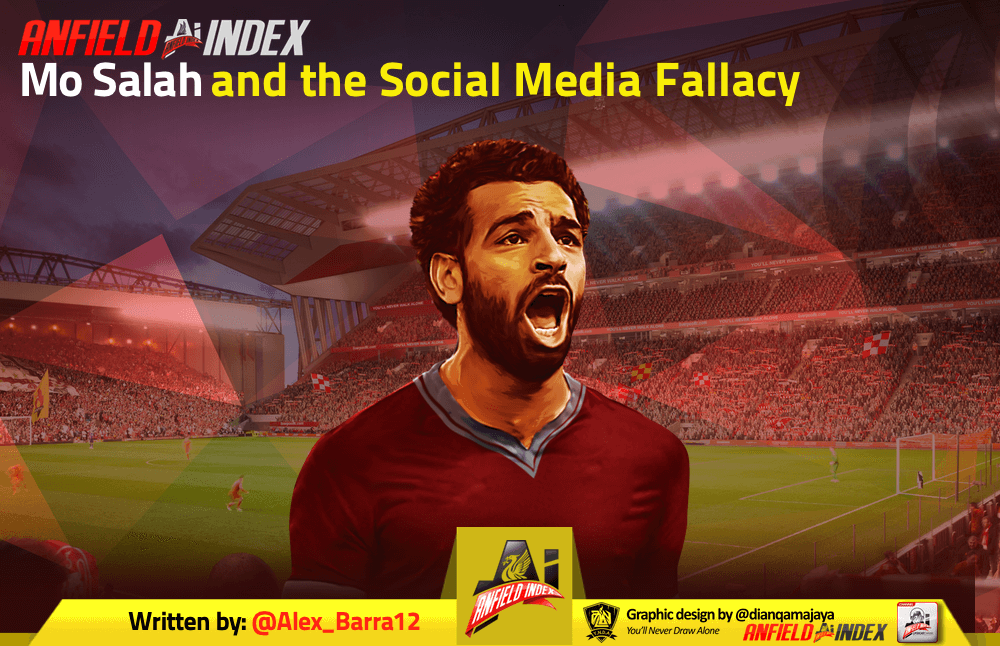 Mo Salah and the Social Media Fallacy
"2019 Resolution: time to get in touch, for real."
That was Mohamed Salah's last ever tweet. His social media presence vanished, disappearing into the vast void of Internet information that once was.
Salah's deletion of all social media accounts has brought with it a series of questions. Why would he do such a thing? Is he cracking under the pressure of such intense scrutiny for winning penalties? Does this mean he'll score even more goals now he's done browsing Reddit at 2AM in the morning? Will we ever see another amusing interaction between the Egyptian King and Dejan Lovren?

All probably very important questions that few people have answers to. But it should have brought about a far more pressing question.
Should anyone really be that bothered?
Now, this won't turn into a woe-is-the-world, ranting condemnation of social media's presence in the world, and here's why.
See, social media's a brilliant thing. Take this football club, for example. Through all the complaining, all the talk of agendas, and every assertion that there is only one correct opinion (and it's usually yours), there is the elation of seeing the Reds score a goal. Then, in the heat of the moment, you can share said elation within an echo chamber of people sharing that same elation. At that point, everyone's just an insanely happy Liverpool supporter. Then, after the game, you can vent your opinions, you can have constructive conversations discussing major talking points, you can become an active member of the discourse, not simply someone watching from afar, letting everyone else have their say on television and rolling your eyes when their opinion is clearly ill-informed.
Liverpool Twitter – and social media more widely – is a pristine example of how you can create active communities based on shared interests.
So, why such reverence for the players themselves? What does that achieve?
Theoretically, Mo Salah's radio silence means the severing of a connection between the fans and the man they lionise.
Realistically, it means absolutely nothing at all. Because those connections, the ones people think they have by engaging with players on social media, they don't really exist.
But, to fans, a selfie and funny caption is enough. Because every fan wants a view into the life of a footballer, they want a window through which they can look and see all the inner workings of these people's lives.
Mo Salah and Dejan Lovren emblemised this with their popular interactions on Instagram, letting the normal people in on the "bromance" and giving an insight into the togetherness and mateship of Liverpool's players.
It's the entire premise of gossip magazines, and yet it's still unnecessary. Because no matter how close fans think they're getting, the reality is that social media is curated. It's always been curated, it always will be curated.
Clubs tell their players to actively avoid engaging with fans on Twitter individually. They'll give players prescribed messages to put out; a contractual obligation as much as anything. Is that real, in any way?
Just look at Victor Anichebe.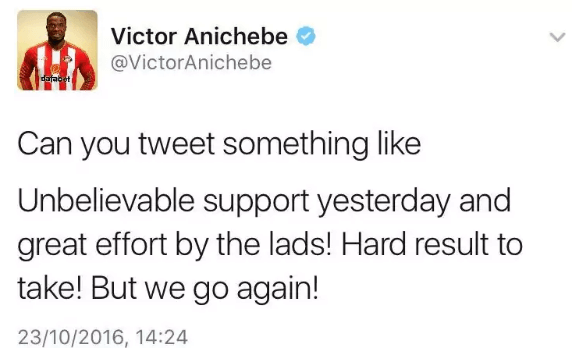 That connection binding fans to players is, on the whole, fake. It doesn't really exist, so much as it allows for a player to market things to their willing and eager disciples in the name of a meaningful connection. Or, in the case of Mo Salah, release a very public statement about his image rights in Egypt, which happened around the time of the World Cup in 2018. Social Media is a platform to be used, to manufacture closeness between fans and players.
Every tweet or Instagram post is curated, to the point where players hire social media managers to do all the work for them.
And why should they be criticised for that? Mo Salah, for instance, has been subjugated to a variety of abuse for perceived diving. Loris Karius was subjugated to far worse following his disaster show at Kiev, and Lucas Leiva even went as far as replying to criticism on Twitter when he wrote "don't you get tired to criticise me mate? Enjoy the win today and clean sheet."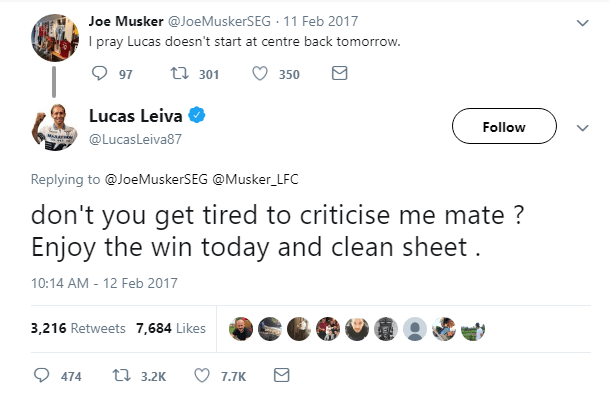 Who does that help? Nobody, it simply reinforces the rift between those who supported Lucas and those who shared the opinion he shouldn't be playing at centre back.
Then there was Ryan Babel and his incredibly enlightened view on women.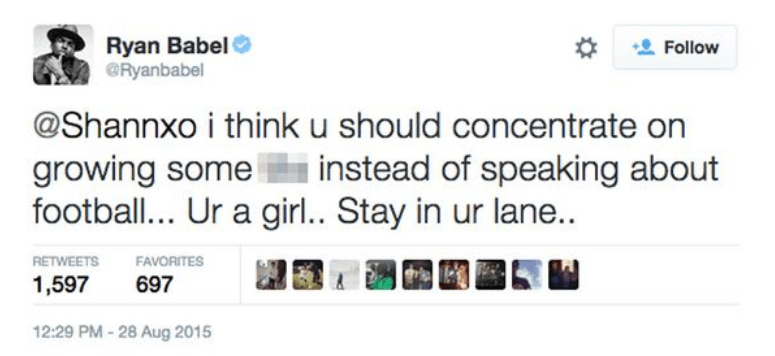 That's not to say it's entirely useless. Social media is a tremendous platform for raising awareness, and a superb tool to get an important message across. Look at Raheem Sterling, speaking out about the plainly racially motivated criticism of Tosin Adarabioyo for indulging in a lavish lifestyle, while Phil Foden got away scot-free. That was social media at it's finest.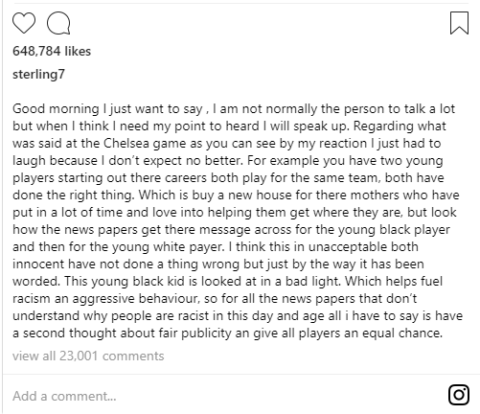 It also showed exactly what Twitter is for. It's a discourse, a place to have important discussions that usually end up nowhere, and a community bringing people together, bonding over a shared interest, a shared passion.
It does let you laugh as John W. Henry's "Oh and sign Reus!" tweet gets brought back to life for the eighteenth time, in just as perfect context as the last. For contrived views into the lives of footballers, LFCTV has you covered.
It does not give you an insight into the life of a footballer. It does not represent a genuine connection to a human being who'll never actually talk to you.
For those, you should probably look up from your phone. Maybe follow Mo's advice, so talk to someone. For real.