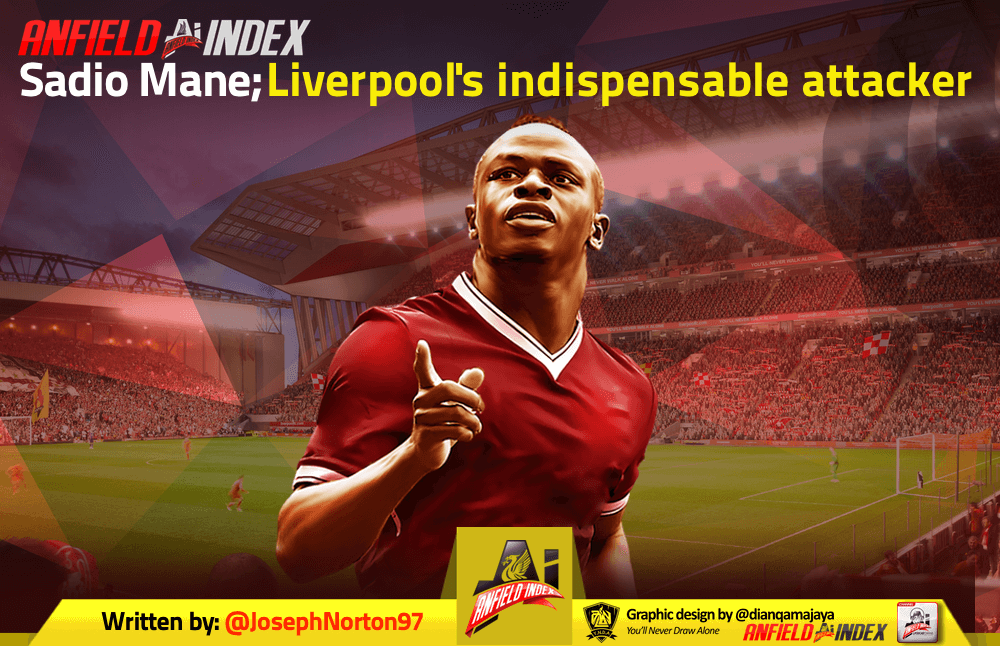 Sadio Mane: Liverpool's Indispensable Attacker

Sadio Mane has not scored in 18 of his last 23 appearances for Liverpool – that is quite some stat. In isolation this is nowhere near good enough for a wide-forward. However, what Mane brings to this side is something which very few attacking players in world football could offer. Whether he's playing on the left of a front three, left of a midfield four or right of a midfield four, Mane can be trusted. Because of this versatility and reliability, the Senegalese international is an integral part of Jurgen Klopp's magnificent Reds and his importance should not be underestimated. Sadio Mane is indispensable to this Liverpool team.
His qualities are there for all to see. He's dynamic, has great technique and has brilliant movement. But for me, the most impressive attribute is Mane's reliability. Teammates will play the ball into Sadio's feet and trust him to retain possession – this is crucial, especially when he plays in a midfield four and ends up deep in Liverpool's half. Although our number ten is an impressive dribbler there are plenty of wingers in the Premier League who are better than him at this; Sane, Rashford, Hazard and Martial to name a few. However, none of these players would be asked to do or be anywhere near as effective at doing what Mane does in this Liverpool side. One thing is being a great dribbler the other is knowing the right time to use this skill set. Mane is brilliant at this. We often see Andy Robertson fizz the ball into his feet, deep in the Liverpool half with little in front of him. Making the right decision whether to dribble or keep possession – by either passing or slowing the game down is very difficult but more often than not he gets it spot on. This is particularly crucial when he's asked to play on the right or left of a midfield four as he finds himself in these defensive areas fairly frequently.
Another attribute which makes Mane stand out compared with other wingers is his work rate and decision making in a defensive sense. This has allowed Salah to play higher when the Reds play a front three and has enabled Klopp to trust him in a four-man midfield. Sadio's defensive positioning is crucial when he plays on the right or left in a 4-2-3-1. If the ball is on the opposite side of the pitch he essentially becomes a third midfield as he tucks in to provide the Reds with some defensive stability – something most wingers simply would not do on a consistent basis. His decision making of when to track opposition full-backs and when to allow them to freely maraud forward is also great. If our defence is overloaded then he'll follow his man to give us extra security, whereas, when he knows we have enough numbers at the back he'll allow his full-back to bomb on while he semi-cheats by tucking in but not following his man fully. This gives the team a fantastic out-ball, a constant counter-attacking threat and a link to our forward line. This kind of discipline and intelligence is difficult to educate a midfielder to do let alone an attacker. Sadio Mane really is a special player.
Mane's versatility in a defensive sense has been more important than it has ever been this season. Klopp has regularly switched between a 4-3-3 and a 4-2-3-1 and this transition has been fairly seamless. The Senegalese international's role in this should not be underestimated.
If we take a look at Liverpool's number 10's stats he's played 21 times (1757 minutes) in the league scoring 9 goals and registering 1 assist. Those are some pretty healthy numbers for a wide-forward especially one who has been asked to be as adaptable as Mane has been. It is unfair to compare Sadio's output to the likes of Sterling and Sane because they both play as out and out wingers in Pep Guardiola's Manchester City side and have differing roles and responsibilities out of possession. However, if we look at a player such as Willian who is asked to play a similar role to what Mane does when Liverpool play a 4-3-3, it is clear to see how good of a player he is. When Willian plays on the right of a 4-3-3 with Hazard on the left – although he has been playing more centrally recently – it is the Brazilian who has greater defensive responsibility than his teammate Hazard. This allows the Belgian to semi-cheat and stay high while Willian tucks round on the cover to make a midfield four as Chelsea transition into their defensive phase. Willian has made 20 appearances in the league (1512 minutes) but has only managed three goals and three assists – considerably worse numbers than Mane.
I think we would all agree both players possess very similar attributes but for Mane to have a better output than the Brazilian, given the number of positions he has been asked to play this season, is nothing short of remarkable. Like the majority of the squad, questions can be asked of his performances in Europe where he has only registered a solitary goal but on the whole he is quietly having a very good season.
As mentioned, Mane's most impressive quality is his versatility and adaptability to carry out differing roles in both an offensive and defensive sense. Although to some people, playing on the left of a 4-3-3 or right/left of a 4-2-3-1  may not seem like too much of a change, there are plenty of players who can't adapt their game to be effective in these varying positions. When playing in these roles, the pictures you are seeing in front of you are completely different and you're not able to develop combinations and an instinctive relationship with your teammates. For many players, this would lead to their performances dropping off as they adapt to new positions. This simply has not been the case with Mane who has continued to play at an extremely high level.
Although Sadio can frustrate us fans at times especially in games when it looks like whatever he tries he just will not score – how did he not bag a hat trick in the Merseyside derby? There is no doubt that Mane is an integral part of this fluid, dynamic and electrifying Liverpool attack. But perhaps more impressive is the stability and reliability he provides for our defence. Because of this and his unbelievable versatility, Sadio Mane is an indispensable player to Jurgen Klopp.