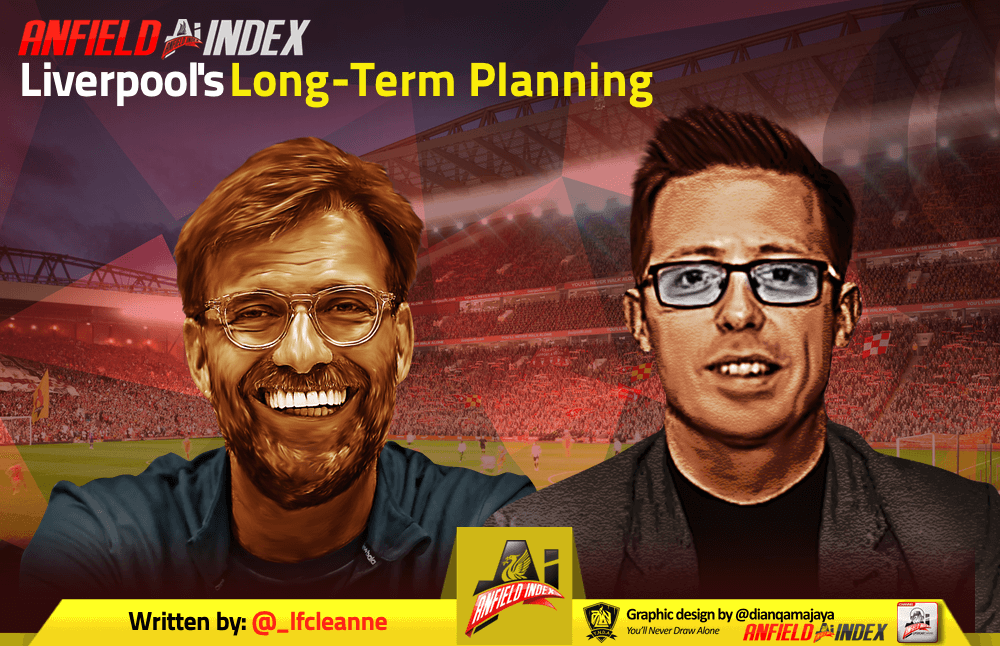 Liverpool's Long-Term Planning
Football teams can enjoy success in one of two ways: an immediate gain via trophies that eventually peter out into a transitional phase where the club must effectively 'go again' or a long-term vision, a five-year plan of progression towards consistent triumph.
In the past, Liverpool would fall under the first category, showing plenty of quality in individual seasons such as 2013/14. As good as Brendan Rodgers' side were that year, benefitting from the electric attacking combination of Luis Suarez and Daniel Sturridge, the positive strides were short-lived.
Enduring a frustrating sixth-placed finish the following year, a harrowing 25 points behind Champions Chelsea, Liverpool crashed back down to reality, tasked with rebuilding following the departures of Luis Suarez. The later recruitments of Rickie Lambert and Mario Balotelli would signal the beginning of Rodgers' demise; a manager with an out-dated philosophy who couldn't deliver the heights expected of such an illustrious club.

Now though, things couldn't be more different.
Since the very first day of Jurgen Klopp's reign, Liverpool have embarked on a vision, a plan to move the club from hit-and-miss to frequent challengers. Indeed, the German's vision is becoming increasingly apparent, ensuring his top players are retained for years to come. Building a strong and unmoveable spine, he's set to harness the potential of a supremely talented squadron.
Andy Robertson and Trent Alexander-Arnold are the latest two to join an impressive list of player who've committed their long-term futures, penning pen to paper on five-year deals.
Meanwhile, Alisson has firmly established himself as No.1 since his summer move. Joe Gomez, considered by many to embody the very future of Liverpool's defensive picture, was rewarded with a new deal in December after an excellent first-half to the current campaign.
All marshalled under the leadership of Virgil van Dijk, there is a strong defensive shape in place for the foreseeable future, turning what was once a huge area of weakness into a solid foundation for success.
Alisson Becker – 2024
Andy Robertson – 2024
Virgil van Dijk – 2023
Joe Gomez – 2024
Alex Oxlade-Chamberlain -2022
Fabinho – 2023
Naby Keita -2023
Mohamed Salah – 2023
Sadio Mane – 2023
Roberto Firmino -2023
Xherdan Shaqiri – 2023

The future is bright at Liverpool ✍️ pic.twitter.com/eAV5WZhHez

— Liverpool FC News (@LivEchoLFC) January 18, 2019
Alongside the growing influence of Fabinho in midfield, Klopp has a plethora of midfield riches to choose from, including Naby Keita who, albeit yet to hit his stride, possesses the quality to make a real mark on England's top-flight. The upcoming return of Oxlade-Chamberlain alongside the experience of James Milner and Jordan Henderson reflect the options now available at Anfield, with the manager now able to adapt his philosophy to specific opponents.
Perhaps most importantly is the commitment of the front-three, all of whom have signed deals until 2023. An indication of the progression of the club, who have moved from a stepping stone on the route to bigger ventures to a real destination for players across the world, Liverpool now possess the pulling power to keep their star men at the club.
Of course, as we all know the longevity of contracts can hold little value in the modern game; Philippe Coutinho's contract was supposed to tie him to Anfield until 2022, but it serves as an indication of Klopp's long-term vision.
This team, Jurgen's team, looked well equipped for the long haul.