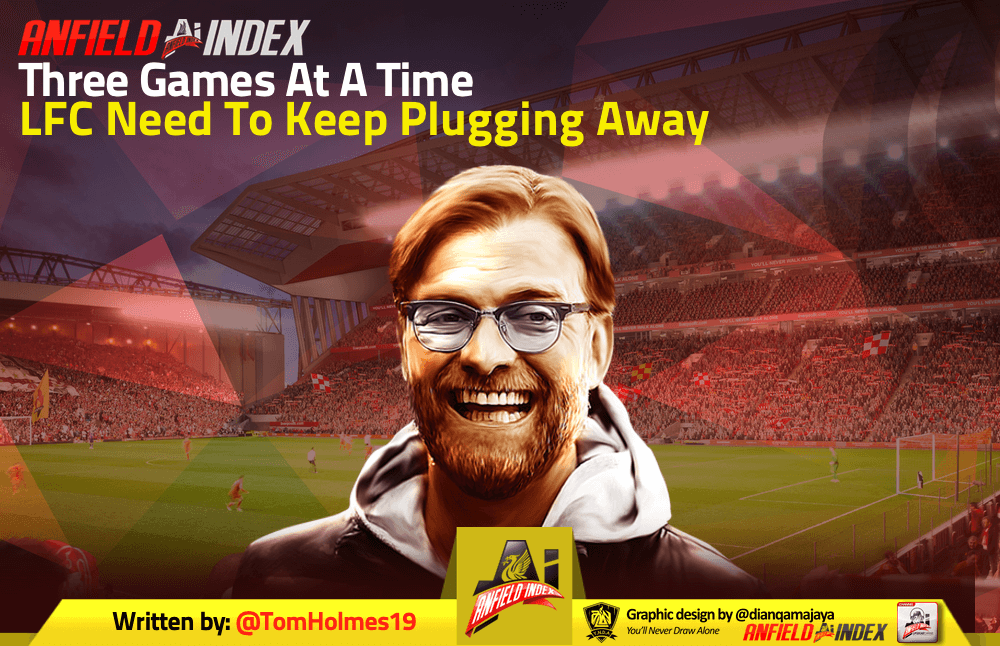 Three Games At A Time - Liverpool Need To Keep Plugging Away
Every stage of a Premier League title race is crucial. I say that now to get it out of the way. The start was crucial – Liverpool winning their first six games of the season set the baseline. When the start is done, the next period leading up to Christmas is crucial – Liverpool managed to win nine games in a row including 7 in a row in December. The post-Christmas spell is critical, and I've already written about this spell of five games post-City – two of which Liverpool have already navigated – is crucial.
So when I say that the next three game period is crucial, I am of course, talking in both completely fair terms and complete nonsense. No three-game period is more crucial than any other, with the caveat of course that beating your main title rivals and other big clubs sets you at a more substantial advantage than winning three other games. Nevertheless, it remains true that the next three games will be crucial.
Fresh from a ten-day break when they play Leicester, Liverpool will play three games over the following ten, before another ten days off. Man City of course, have had and will have, no such luxury, as they took apart Burton in the Carabao Cup to ensure that they reached the final, and then this weekend pummelled Burnley to reach the next round of the FA Cup. So whilst the Reds won't be playing on the weekend of the 16th of Feb, City will.

A lot has been made of the fact that Liverpool will play after Man City in seven of the next nine Premier League gameweeks. But this doesn't take into account a few things. For starters, City will probably have an extra league game to play after that period comes to an end, as unless both Manchester clubs get knocked out in the next stage of the FA Cup – which is extremely unlikely – their game on the 16th March will be postponed.
So City will have that Manchester Derby later on in the season, and we already know that since they have the Carabao Cup final with Chelsea on the 24th February, they'll have their league game against Everton shoehorned in between their league games against Arsenal and Chelsea on the 6th of February.
Psychologically, playing first does offer an advantage in theory, but you'd have to say that if Liverpool can catch up by seeing off Man United on the 24th Feb (or even get a point to be honest) and then Fulham on 17th March, being able to extend the lead and put pressure on City to catch up in their extended midweek fixtures does also give Liverpool a potentially bigger advantage. And that advantage can hopefully offset the negatives of playing second. Moreover, in terms of physically, playing second can benefit Liverpool in terms of their UCL fixtures, although City will be able to take it easier against Schalke than Liverpool will against Bayern.
And this swills right back to the next three game period – a period in which Liverpool can hopefully take advantage and put them into the right space to attack March. With exactly five days between each of the games, Liverpool can take on Leicester, West Ham and Bournemouth in a good space, which will hopefully result in them being able to keep their lead at the top of the table.
For me, another reason that these three games remain critical is that four points is a decent lead, but it's also a very tantalising one. The next team to draw blood will deal the next big psychological blow. If City drop points against Chelsea or Arsenal, the gap could grow wider and wider whilst they wrestle with other competitions. However, if Liverpool drop points and City can navigate their own sticky little four-game period, then the gap will be within one game, or worse City could be in front, and City could pick up silverware in the meantime.
In other words, the situation of the Premier League title race could be incredibly different when the two teams next play at exactly the same time at the end of February, and the next month of football will be huge.
For Liverpool, as Klopp keeps saying, it's about doing their own thing and doing it right. But the gap between seven points and one is absolutely huge, which means that the next team to drop points could be the decisive one. Of course, that's not always how it works, but as much as they will look to tunnel vision, Liverpool will be desperate to keep their advantage beyond that of one game, and leave themselves room for a slip-up, particularly with an eye on that game at Old Trafford.
The title race is shaking up very nicely indeed, but with Man City facing two of the top six in the next four games, it's extremely important that Liverpool at least hold their advantage, and don't lose ground. To be suddenly only one or two points ahead with an extra game against the top six in hand would be a blow, whereas on the other hand, it could be big for them to get through to the next mini-break with their lead intact, or even having taken advantage of City's sticky fixture list.
As I say, none of this will be directly affecting the team as much as supporters, as they are focused on what they are doing. But seeing your biggest rival navigate tricky games must have some small effect, especially if we do end up dropping points first.
With the lead as it is, delicate and yet tangible – real daylight but awareness that that could disappear at any time – Liverpool just have to keep winning. They have three very winnable games coming up – two of them at Anfield – and simply put, it's crucial that they win those.
And then the ones after that and the ones after that. Every game is crucial, after-all. Some are just more immediately crucial than others.