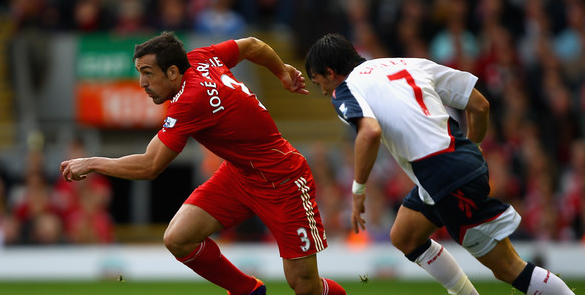 Jose Enrique | Premier League Left Back Statistical Comparison

Before Jose Enrique signed this summer Liverpool FC supporters were calling out for a left back that would add balance and strength to the side. The balance required was to ensure that they were able to defend and also provide a suitable outlet on left overlapping the left winger or passing / creating from deep.
In June we looked at a Left Back comparison which detailed statistics for three players linked to Liverpool FC; Jose Enrique, Gael Clichy and Leighton Baines. We also included Patrice Evra and Ashley Cole as we saw them as standard bearers for Left Backs in the Premier League. Interestingly enough Gael Clichy came out impressively in terms of defending and Leighton Baines was the choice for an attack minded full back. Jose Enrique was largely ignored despite having some impressive tackling and dribbling statistics.
However Jose Enrique, the man we like to call The Beast, was the man signed to take over our left back slot and we're going to compare Jose Enrique's stats with his rivals in the Premier League in this article. After a quick poll via our Twitter account, @AnfieldIndex, we came up with the following names; Patrice Evra, Gael Clichy, Leighton Baines, Assou-Ekotto, Ashley Cole & Ryan Taylor.
Ryan Taylor has been chosen because of Newcastle's excellent run so far this season and the fact that they have kept four clean sheets and have one of the best defences in the leagues. This may be down to their excellent goalkeeper however the back four deserve a hell of a lot of credit.
Defending
First up are their defensive statistics, take a look at the table below: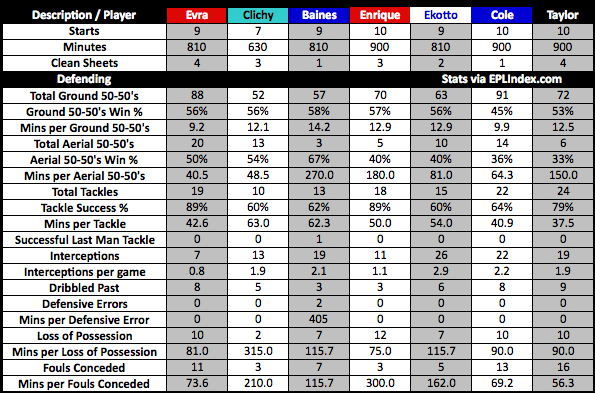 The statistics that we usually look for are the total tackles and tackle success %. As stated in the table above Patrice Evra and Jose Enrique both have achieved a tackle success of 89%. Patrice edges Jose in this one when you break down into two decimal places with Evra having just over 89.4% and Jose at around 88.89%. Still it's very impressive from Jose and you can see the difference he has made to Liverpool FC's left hand side. The right flank of Liverpool's team was the stronger last season however it's clear this year that the left is much, much stronger.
From the rest of the players, surprisingly Ryan Taylor was third winning 79% of his tackles and the quartet of Cole, Baines, Ekotto and Clichy all managed a percentage in their sixties for winning tackles which is considerably lower than the leaders in this attribute.
Moving onto Ground Possession Duels (50-50s) Ashley Cole was involved in the most ground possession duels however he only 45% of them, which is the lowest out of the left backs covered. Ryan Taylor is next on 53% and the rest of the pack are very, very close in terms of percentage won for ground duels. Cole, Ekotto, Clichy and Evra all sit on 56% whilst Enrique managed to win 57% and Everton's Leighton Baines topped the lot with 58%.
The aerial duels statistics are a little misleading as many of the left backs covered haven't attempted many aerial duels. Of those that the best percentage won is of 54% however you wouldn't really expect your full backs to be winning many aerial duels so anything above 50% would be a decent statistic.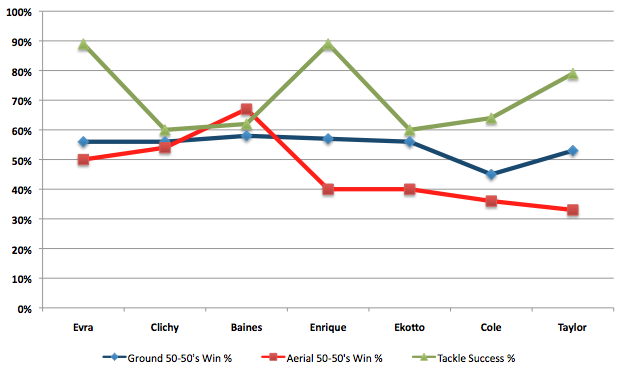 I thought I'd display the tackle success and duel stats in a line chart to see if any thing stands out when viewing the stats in this format. Immediately I noticed how close the lines were for players like Baines and Clichy. When looking at Jose Enrique in this chart you can see that he's excellent at tackling, around the average for ground duels and well below par for aerial duels so nothing new there.
It's just interesting to see how some of the lines group together for players, which to me shows that the player is consistent in all aspects but this does not necessarily mean that they are better than the others. As you can see  from the chart all of Gael Clichy's stats are within the 50%-60% range and Leighton Baines' stats range between 58%-67% so whilst they are consistent in all of the attributes displayed they do not go over the 70% mark for any of them. Whereas Jose Enrique excels in tackling success, matches their ground duel win percentage and only loses out on aerial duels and in our opinion winning aerial duels aren't really the main aspect for a full back, these are more necessary for centre-backs.
As far as reading the game, it seems as though Spurs left back Ekotto has the best statistics in this field as the stats show that he has intercepted the ball 26 times. Next up are Ashley Cole (22), Leighton Baines & Ryan Taylor (both 19). The other two left backs, Enrique and Evra, were short on interceptions.
Jose Enrique is the least dribbled past player in the list so far. Yes, he's level with Leighton Baines in this stat however he's played a full 90 minutes more. Ryan Taylor is the player that has been dribbled past the most followed by stalwarts Evra and Cole who may be showing their age now as shown in the Chelsea 3 Arsenal 5 game where Walcott dribbled past Ashley Cole a few times.
Enrique is also player that is conceding the least amount of fouls. He's only given away three fouls and his minutes per foul conceded is at 300 minutes. This is the best rate out of the players compared followed by Clichy who is only giving a foul away every 210 minutes.
Strength
It was quite difficult to find statistics that would show Jose Enrique's strength. Whilst watching the Enrique playing against West Brom on the weekend and I noticed how he protects / shields a ball out of play whilst his opponent is desperately trying to keep the ball in. Luckily Opta record these stats and although they don't really show a player's strength I thought it was something to research and luckily the results have come up trumps! Take a look!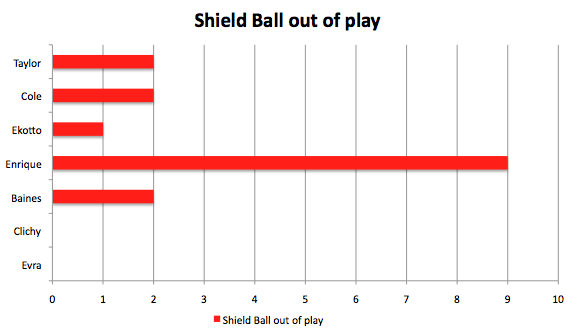 Passing
Unfortunately when it comes to losing possession Jose is the worst. He has given the ball away the most and is averaging a loss of possession every 75 minutes with Evra coming second on 81 minutes. This is definitely an area in which Enrique can improve on as well as loss of possession. Enrique is losing possession the most out of those compared, however from watching him play this season these are mostly passes in attacking areas or mis-controls further forward rather than at the back. This leads onto our passing section.
The following line chart shows that Enrique's passing in the attacking half is where he is let down.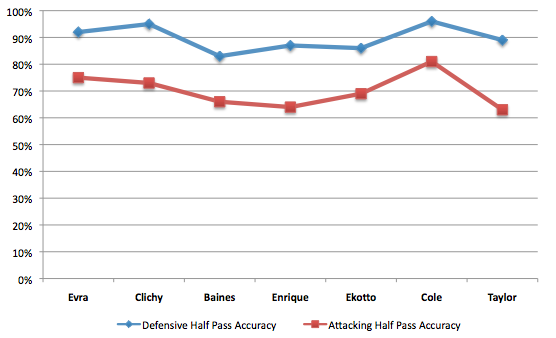 As you can see in the chart above, it's the attacking half passing accuracy that is letting Jose Enrique down. He's managed to complete 64% of these passes which is marginally better than Ryan Taylor who has completed 63%. The other rivals are fairing better with Ekotto on 69%, Evra & Clichy in the 70's whilst Ashley Cole is really impressing with an 81% pass completion in the attacking half as well as 96% in the defensive half. I've not really concentrated on the defensive half passes as you'd expect these to be high as the back four usually spread the ball back and forth between each other skewing their statistics somewhat.
However more context is required when comparing the passing accuracy in either zone. We should really try to find out how often the players are passing in either half. We believe that Jose Enrique is playing his football much further up the pitch rather than in his own half which is why his passing accuracy is low and why he's more likely to have passes intercepted or lose possession as his opponents will be pressuring him whilst in he's in their half. Let's have a look at the bar chart below to show the distribution of passes between defensive half and attacking half.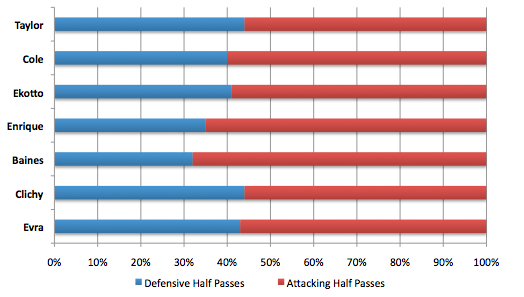 As you can see from the bar chart above Leighton Baines and Jose Enrique are the players that are predominantly passing the ball more in the oppositions half. Leighton attempts 68% of his passes in the attacking half whilst Jose Enrique is on 65%. This can go someway to explaining the line chart above which shows that both of these left backs have rather low attacking half pass completions. The fact is that the more you're playing in the oppositions half the more congested the areas will be (especially with most of your own midfield and attack in the half to0) and therefore you'll be more likely to lose the ball via misplaced pass or lack of control.
What these two charts do show is that that Jose Enrique is playing his football in the attacking half, where we'd like him to be and he's not a player that is going to sit back and watch the rest of the side do the work. His defending statistics are solid enough especially with his tackling being very high, therefore he's balancing his play very well. In contrast to Jose Enrique and Leighton Baines the charts also show that whilst Evra, Clichy and Cole are producing higher pass accuracy figures, they are also playing the ball much more in defensive areas which will obviously help their statistics somewhat as they will not be as adventurous as Baines or Enrique.
I know what you're all thinking, well the statistically minded ones anyway, you're thinking how many passes in the final third are these left backs attempting in the final third as compared to their overall totals. Well I've got a radar chart for you to look at, here it is: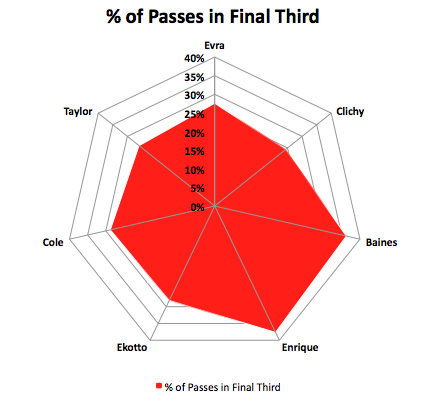 The radar chart above clearly shows that Jose Enrique's percentage of passes in the final third is the highest out of all of the left backs compared. He is managing 38% of his total passes (including crosses) in the final third which is very impressive for a left back. Leighton Baines was next with 36% which is equally impressive, so far Leighton Baines is being presented very well in this comparison and we haven't even hit the attacking stats as of yet! Ekotto, Cole & Evra are next, all achieving just below 30% whilst Clichy and Taylor prop up the rest on 24% and 26% respectively.
Pass direction is another way to show how direct some of these players are and the bar chart below will show that Jose Enrique and Leighton Baines once again dominate here. Jose Enrique passes forward the most with an astonishing 78% of his passes going forwards. Baines comines in second on 76.7%. Assou Ekotto and Ryan Taylor are managing percentages in the lower 70% which is still impressive however the three veteran left backs of the Premier League Cole, Clichy and Evra are producing percentages in the mid-low 60's. Here's another bar chart to show in which direction these players are passing: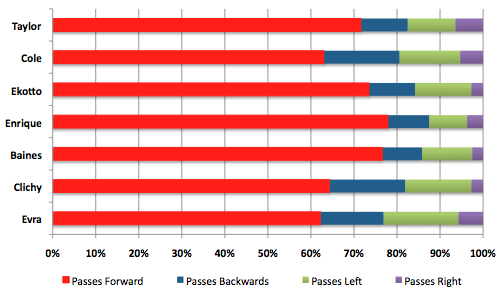 So how's Jose Enrique doing so far? He's near the top of the tackling stats and also playing almost 40% of his football in the final third, an exceptional stat. Especially when you have players like Jordan Henderson approximately playing 30% of his passes in the final third and Downing playing 43% of his passes in the final third so Enrique is only 5% behind our left winger, pretty impressive.
Attacking
Attacking statistics are the ones that a lot of our readers take interest in:
How many chances did he create?

How many goal assists does he have?
These are just a couple of questions that we get asked on our twitter account so we'll try to answer these first. Here's a look at the full attacking stats for the seven players chosen today.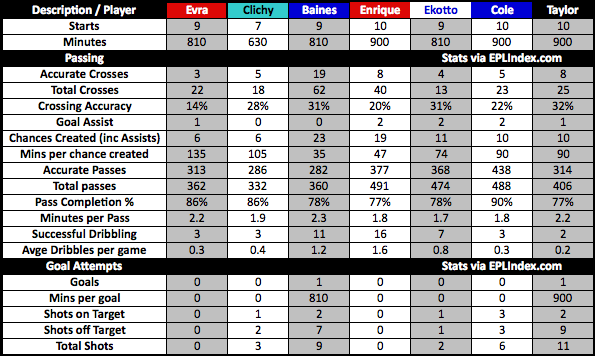 There are some very interesting stats displayed in the table above. First was that Ryan Taylor has the highest accuracy in crossing, although he's attempted less than half of the crosses that Leighton Baines has who just one percent behind on 31%. Assou Ekotto also manages to find a team mate with a cross 31% of the time, however his total crosses were a sixth of Leighton Baines' total. For me I'd say Leighton Baines is top dog here as he's consistently managing to find a teammate with his crosses despite crossing much more than his rivals.
In terms of creativity Jose Enrique is doing very well alongside Assou Ekotto and Ashley Cole with two assists, however he almost doubles their creativity output as he created 19 chances in comparison to 11 and 10 from his rivals from Spurs and Chelsea. The major surprise here is that Leighton Baines hasn't even managed an assist this season and he dominated this area last season. He still does have the highest chances created which in my opinion translates to the fact that Everton just aren't putting away the chances he creates.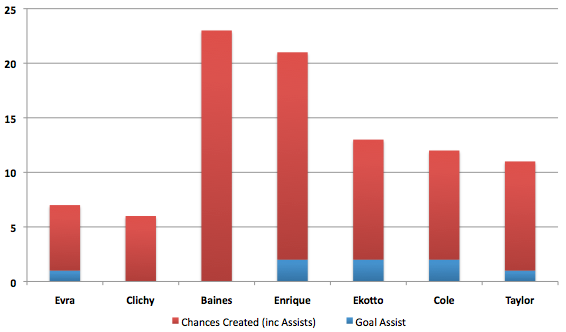 The column chart above clearly shows how well Enrique is doing for Liverpool FC this season and it's interesting to note how he did last year for Newcastle United. At Newcastle Jose Enrique created 30 chances (inc assists) and only assisted one goal in 30 matches. However he's already managed two assists for Liverpool FC and in 10 matches is well on the way to creating more than 30 chances as he has created 19 already this season.
It's not surprising at all to see that Jose is at the top of the pile for taking on players and dribbling past players. We've seen him skip past players and it's great to have a defender who has this ability. Liverpool FC have been lacking this on the left for a long, long time. In fact I'm not even sure they've had a player who could perform it as often as Jose Enrique does. Whilst analysing the stats I came upon an interesting correlation between chances created and successful dribbles and we've tried to display this in the line chart below.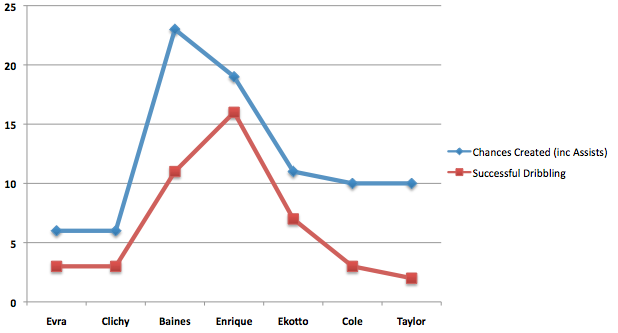 As you can see from above the lines are almost identical in shape and may be pointing to the fact that the more offensive players i.e. those willing to take on players and beat them, are creating much more chances than those that aren't. This statement is certainly true when it comes to Ekotto, Baines and Jose Enrique. However Cole and Taylor may disprove the statement as they are creating a few more chances than Evra and Clichy despite having similar successful dribbles.  It was just an interesting trend I thought I'd share with you!
Only two of the left backs have scored goals so this is an area that we believe Jose Enrique could definitely improve in. Opta have not even recorded any shots on target for Jose although I'm sure he had one that was saved by Ben Foster against West Brom although Opta could have recorded this as a cross.
Summary
Well it's time to summarise how Jose Enrique has done so far in his first ten games for Liverpool FC and I'm very pleased to say that he's surpassed all expectations and has impressed one and all. A lot of followers on twitter were commenting on the fact that there was no need for this article as they knew how superb Enrique had been but it's nice to see how well he is doing in comparison to his rivals.
A few of the things we've learnt about Jose Enrique in the course of this article:
A tackle success of 88.89%, second only to Patrice Evra, but a distance away from the rest.
Dribbled past the least, 3 times in ten games.
Shields the ball out of play the more than his rivals, displaying his strength (best I could do!).
Plays the majority of his game in the oppositions half – 65% of all of his passes to be precise.
Plays the highest amount of passes in the Final Third as compared to his rivals.
Astonishingly plays 78% of his passes forward, a higher percentage than his rivals.
Has already created more goals for Liverpool FC in comparison to last season at Newcastle United.
Is well on the way to create a lot more chances than last year (19 in 10 games with LFC, 30 in 36 games with NUFC).
Has achieved the most successful dribbles out of those compared so far this season.
Needs to start taking a few shots on goal!
If you've enjoyed this article or think we have missed something please do leave a comment or follow us on twitter:
@AnfieldIndex