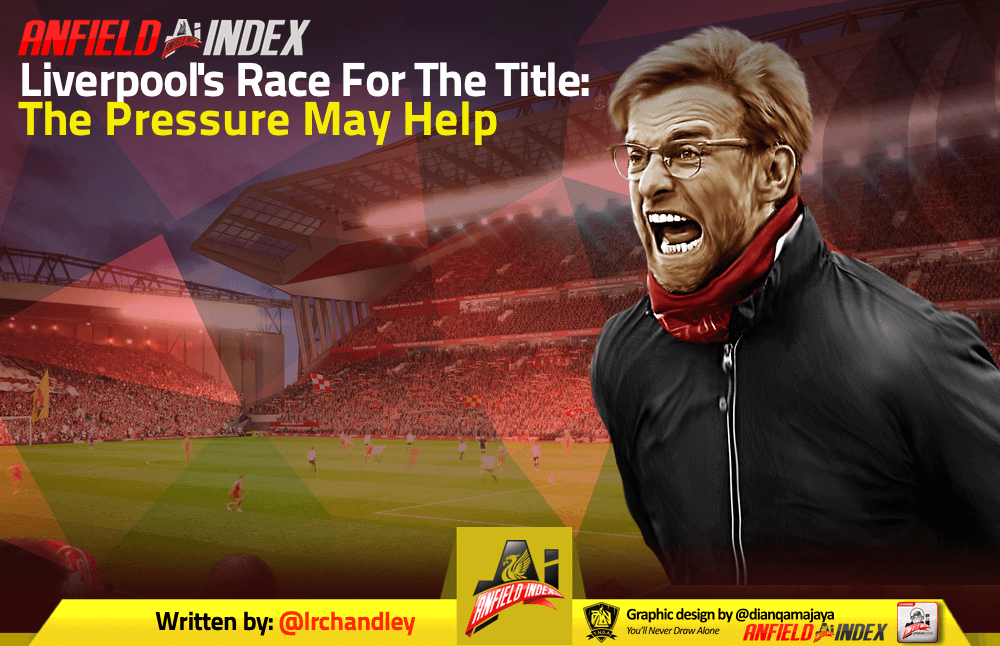 Liverpool's Race For The Title: The Pressure May Help

During the (admittedly very few) title races we've been involved in recently there's been a lot of 'they might drop points here!' and 'maybe we can make up the ground there!' when looking towards our closest rivals. As if we're sort of expecting it to happen and we're counting on others to mess up, less than ourselves to be strong and steady and powerful. The charge in 08/09 was always looking to Manchester United to drop points, and 13/14 always felt a little on edge. Our poor defence always meant that it was likely we would need help from the fixture gods. Those, however, were usual, normal, run-of-the-mill title races. They were title races before the seemingly crippling domination of Pep Guardiola and Manchester City. They were title races before 100 points became a thing.
The pressure of the new era of the Premier League means that City are the team to beat, but save for a couple of dodgy results pre-Christmas from them and last night's loss to Newcastle, we find ourselves as currently the team at the top of the table, five points clear even with our draw to Leicester City fresh in the memory. Whilst we may be the team being chased, the fact is that as well as their points total last year, the 6 Manchester City results after our game with them on 3rd January were 7-0, 9-0, 3-0, 0-3, 0-1 and 5-0. And whilst we're still early on in the season, we should – save for a huge collapse in the wake of a poor result – see City continue to heavily dominate most sides in the league. So where does that leave Liverpool?
Well, in short, it means right now it looks like we can't let ourselves mess up, we can't let up and we can't take our foot off the gas. Sure, we had a small slip vs Leicester, but put that down to rhythm and conditions.
Although the pressure of knowing City are potentially the best side in Europe is there, the fact that we know we can not really afford to drop points actually pushes us to work harder. And it's this competition that improves sides. Look at PSG and look at Bayern Munich. With no competition domestically, one side hasn't reached the semi-final of the Champions League since 1995 (way before their take-over) in PSG, and the other side are suffering one of their least competitive seasons in recent memory in Bayern (they're still second, but their goals for and against are low compared to usual and their performances have become stale). Whilst we may not believe City will drop points (more on this later), we are pushed to strive for our absolute best each game. Whether that is to win convincingly or battle towards victory, we know what we have to do. Whilst a loss for us and a win for City in the same game week would still keep us ahead, we would still be too close for comfort. And it's this intense need for wins and to find victory in any situation that will improve us as a side.
Having this mindset amongst the squad keeps the team single-minded in their ruthless and relentless search for our first Premier League title. The problem with previous title races, as said earlier, was the tease of the chance that our rival could drop points. United in '09 and City in '14 were imperfect. They could drop points. And whilst this City side could drop points, it is within the realms of possibility that they go through the Premier League season from here on in with a 100% record (even with the shock of the Newcastle result). That leaves us with a small margin for error considering it is still pretty early in the season. Something that, as said earlier, will give us a wonderful clarity of task. It really is, on the face of it anyway, win or bust.