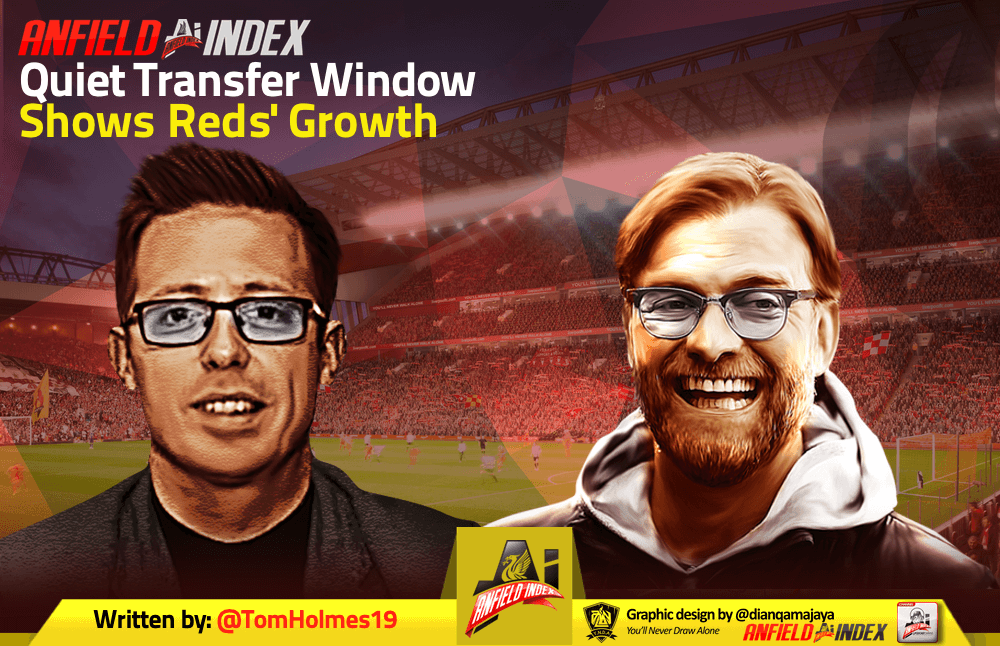 Quiet Transfer Window Shows Reds' Growth
I hate transfer windows. I've said it before and I'll say it again. A solid third of the year – and that's just when it's open – dedicated to incessant droning about every player under the sun, consistent links and, worst of all, complaining about things that haven't even happened yet.
"Why on earth haven't Liverpool signed any players yet?" bemoans Steve, 14, from Huddersfield, on 1st July (this is a random example so apologies if your name is Steve, you're 14 or you're from Huddersfield). "It's an absolute disgrace if we don't bring in a centre-back by the end of August, there's only eight sodding weeks left in the window."
Etc. etc.

So naturally, I was dreading the January transfer window, since it's a whole month where Klopp is almost guaranteed not to spend money – VVD last window being the big trend-bucker but that was entirely situational and something we could have predicted. There were absolutely no signs going into this window that there was anyone Liverpool wanted to jump on in this window.
The Pulisic discussion made sense, as bringing in someone in the summer but securing their signature this window was always the most likely scenario for the Reds to sign someone, but it became fairly obvious fairly quickly that Liverpool wanted nothing to do with the American winger at the price that Chelsea were paying for him.
But other than that brief flirt early in the window, there's been no indications that Liverpool were going to dip their toes into the transfer market waters, not even to try and secure the services of Timo Werner or Rabiot, two players who have been talked about a lot this window, although not necessarily to do with LFC or with any real urgency.
But what's been refreshing is that despite it not being so much a quiet window as a silent one – the biggest news stories throughout January have been the other usual big-hitters: a defensive injury crisis and a pointless debate about the merits of the FA Cup – Liverpool fans seem to be largely okay with that.
Don't get me wrong, there's been the usual clamouring for Liverpool to bin off Matip and/or Lovren in order to buy at least one centre-back who is title-winning quality – I'm not getting into that here but long story short I 100% agree we need a new CB in the summer but January isn't the time to bring one in. But other than that, there's been no real sense of outrage that Liverpool haven't bought the Coutinho replacement that is never coming – this would be the third window in a row that Fekir aside the Reds have made no real attempt to replace Phil and most likely won't in the summer.
And whilst that's partly down to the fact that the squad is stronger in a lot of areas – consistently bringing in top talent tends to do that – it's also down to a number of other factors. There is a genuine belief that this Liverpool team can win the league with the squad that they have, and whilst there are areas that people want to see improved in the summer – depth in defence, an attacking-midfield and a rotation option for the front three – there's a recognition that none of these areas are so crippling that they'll cost us the league unless there's a serious injury crisis in the next few months (and serious injury crises tend to cripple most title challenges, depth or not).
But whilst the lack of enthusiasm in this window is partly down to faith in the squad, it's also down to faith in the manager. Klopp has repeatedly reiterated that he doesn't like to buy in January, and in previous years he's taken an absolute hammering because he hasn't bought as many players as people would like. Nevertheless, slowly but surely, there's been a reinforcement that the manager, along with Edwards and the rest of the recruitment team, do in fact know what they're doing. Shocking I know.
There's a renewed understanding that the atmosphere around the team is a big part of the reason for the success, and overhauling it every window upsets that. Bringing players in in January doesn't necessarily upset the squad, but unless the player is a genuine game-changer, it will take them time to settle in. Simply put, there aren't really many Van Dijks out there anymore – players who can be jettisoned straight into Liverpool's starting eleven and make a huge difference.
And if we're being completely honest, this all stems from Liverpool's league form. Whilst there are far more analytical reasons why supporters aren't that clamorous in this window, the simple fact is that their team started January top of the league and will end it top of the league. When a team is performing as well as this one has been – coming into the month off the back of eight straight wins in December, people tend to care less about transfers and more on when the Reds are next on the field.
At the time of writing this, it's the penultimate day of the window, and do you think any Liverpool fans are keen to talk about Timo Werner? Well yes, but I suspect they're more likely still buzzing about City's loss the previous night, and aching to get to Anfield for the Reds' game against Leicester City. When there's this much to be excited about on the field, the attitude towards lads who don't play for Liverpool, unless they're as mentioned genuine game-changers, tends to be a bit more laissez-faire.
I bring back the subject of game-changers, because I think that's such a salient point here. Before Van Dijk's arrival last year, Liverpool were crying out for a central defender. Then, in the back half of last season, it was painfully obvious that our midfield needed reinforcements and that we needed a goalkeeper.
Now, there's no obvious spot in the starting eleven where someone would race into the starting eleven. We've got one of the best keepers around, our full-backs are incredibly exciting and well-loved, Van Dijk is partnered by one of Europe's fastest developing young centre-backs, the front three are still boss, and between Fabinho finding his form, the sudden appreciation of Gini Wijnaldum and the options of Xherdan Shaqiri and when he finds his own feet Naby Keita, means that even midfield would need a genuinely world class talent to break into it.
The point here isn't that the squad can't be improved, as I've already mentioned it can. But that there are no obvious spots up for grabs in our starting team, not without bringing in a Messi/Ronaldo level talent, which at this stage is unlikely. As such, the players that we're linked with, the likes of Werner who would be an excellent option, a defender to rotate with VVD and Big Joe, and to a lesser extent the likes of Rabiot and maybe Sessegnon, are players that are very talented, and could make a big difference to our team over time. But they aren't necessary – at least not at the moment and not to the extent that we needed Fabinho, VVD or Alisson.
So here's me writing an article on a transfer window that has absolutely flown by, and done so largely completely under the radar. Which is exactly the way I like it. No hysterics, no panic, no frustrating clamour. Just the Reds, doing their stuff, and keeping everyone enjoying the ride. I'm hoping it will be similar in the summer, that we can get our two or three bits of business done early and I can enjoy a month or so not even having to think about what we're doing.
Up the Reds.