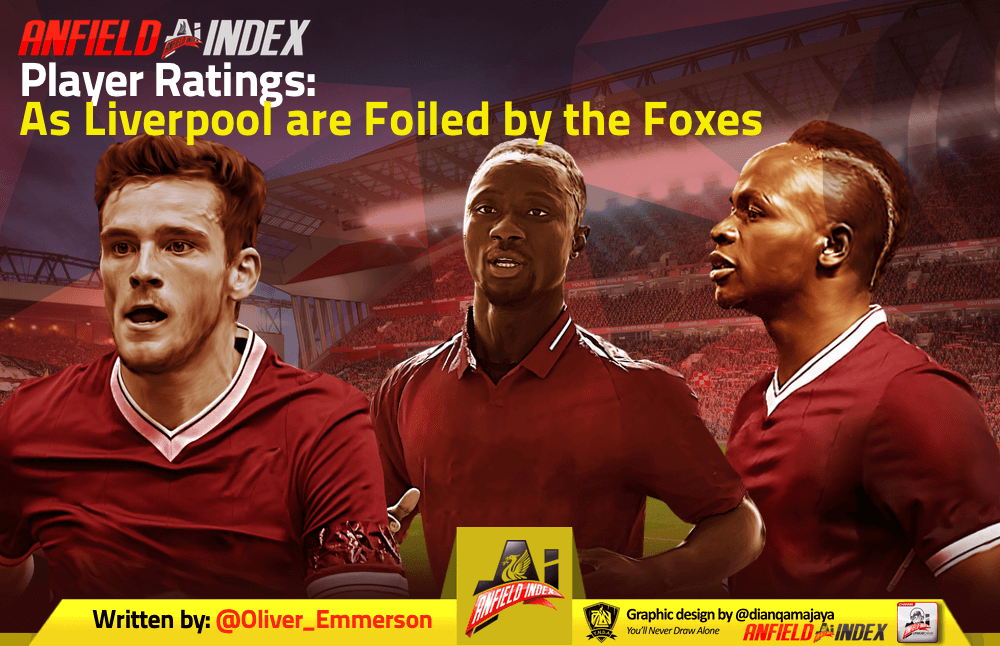 Player ratings as Liverpool are foiled by the Foxes
Where to start with that one? A point gained, two points lost? Klopp's substitutions? The refereeing? The pitch?
Liverpool go five points clear. In a week where Manchester City played away at one of the worst teams in the league, we've extended our lead.
Yet, it could have been so much more. Sadio Mané's early goal had us set up for a perfect evening, only for Slabhead Maguire to spoil everyone's fun.

1-1 and onto the next one, I suppose. Here's your ratings.
Alisson shows his best and his worst
Alisson Becker (6): Bloody hell, has he seen snow before? Couldn't get to grips with things early on, some woeful decisions with his kicking. Once he'd sorted that out, he was back to his best. Swept really well behind the defence three or four times, with one excellent save to prevent a Firmino own goal.
Jordan Henderson (5): Don't want to pin too much of the blame on him given he's not a right back, but he didn't impress tonight. Being lost positionally is one I'll allow however the on-ball play was excruciatingly poor.
Joel Matip (6): Drives through midfield a lot, sometimes it works. Adds something difference which I like. Quiet at the back.
Virgil van Dijk (6): Not really sure about Virg tonight. Marshalled the side, pinged some nice passes about. However, wasn't sure he looked as composed as usual in defence. Are we blaming him for the goal a little? Perhaps, although it looks like he's trying to play offside and Wijnaldum is slow to get out. I'm blaming…
Andy Robertson (4): Come on mate. Things are going swimmingly, breeze it into half-time. Comes in with a stupid challenge that reeks of Alberto Moreno's worst and if it had been our Spaniard committing such a title race atrocity, you'd all want him to be castigated. So there you are, four out of ten.
Signs of promise from Naby
Gini Wijnaldum (6): Battled well in midfield with a number of turnovers but not anything that stood out highly.
Naby Keita (7): Kept it tidy and probed in the first half before coming alive when we needed him in the second, would have won a penalty if the referee wasn't trying to make himself the hero. No idea why he was taken off. Literally none. Wijnaldum to right back and Fabinho on for Henderson made much more sense.
Xherdan Shaqiri (5): Prefer him off the bench, hugely. On his heels a little, unsure where to be. The problem is, now we're in a 4-2-3-1 there's not really anyone else to start unless you put Keita out of position, which hasn't worked.
Not Salah's night
Sadio Mané (8): Absolutely cracking goal, in fairness. Will probably get forgotten about but the way he jinked his body before accurately rifling into the bottom corner is top class.
Roberto Firmino (7): Aside from Keita, looked most likely to win the game in the second half. One nice dribble and shot that troubled Schmeichel.
Mohamed Salah (5): Not his night. Forget it, bag a few against West Ham.
Klopp's substitutes are a mixed bag
Fabinho (6): Good when he came on, helped the midfield cause. Want to see him with Keita soon, and at least with Wijnaldum against West Ham.
Adam Lallana (4): Really nice lad but an absolute waste of a shirt at this point, offers absolutely nothing productive. Needs cutting from the wage bill at the end of the season.
Daniel Sturridge (5): Handballs it and makes me sad.