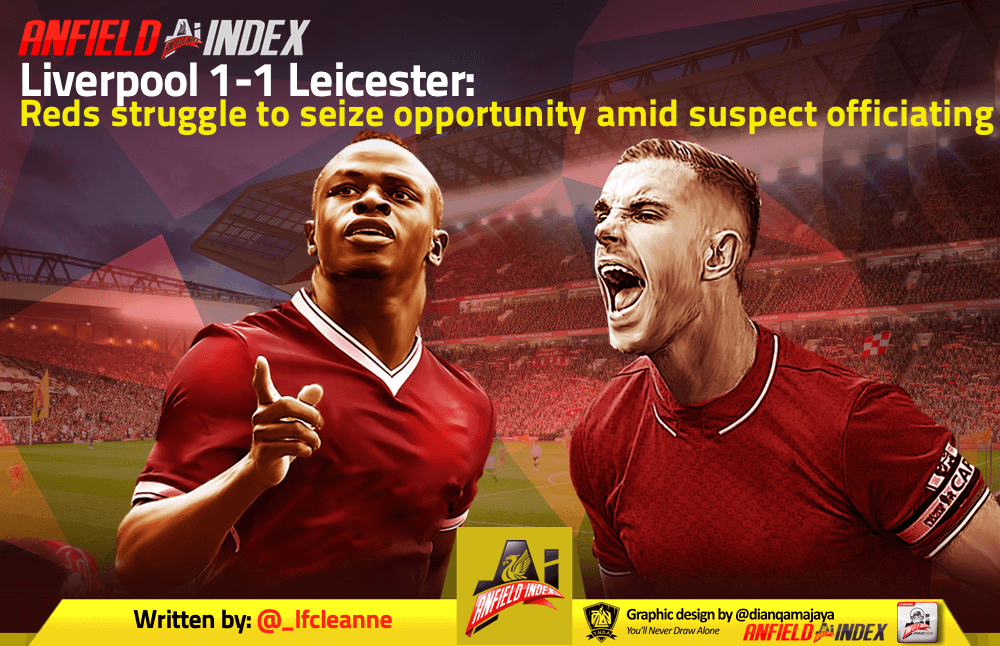 Observations as Reds struggle to seize opportunity amid suspect officiating
Rafa Benitez became an even greater figure in the eyes of Liverpool fans on Tuesday night after guiding Newcastle to a surprise 2-1 victory against Premier League holders Manchester City, coming back from behind to give Klopp's side the opportunity to extend their position at the top to seven points. A golden opportunity to go into February with some extra breathing room, the Reds failed to make the opportunity count, stuttering against a resilient Leicester City side in a frustrating 1-1 draw.
Sadio Mane's early opener promised to bust the game wide open, giving Liverpool the best possible start and putting the away side firmly on the back foot, but defensive frailties would later be exposed as Harry Maguire ghosted in at the back post to convert from close range. Huffing and puffing in the second half, Leicester were never truly threatened – in part due to some incredibly suspect officiating – leaving Jurgen Klopp five points ahead of Pep Guardiola heading into the new month. Here are the observations from the match.
Fine margins and suspect officiating
Cast your mind back to Liverpool's defeat at the Etihad. A night of fine margins having been denied an equaliser by literally inches, this was very much a case of deja vue as Martin Atkinson and co. struggled to get a grip on the content. First, Harry Maguire was incredibly fortunate to avoid a red card after hauling down Sadio Mane, who would have otherwise run through on goal unopposed. He would, of course, go on to grab Leicester's equaliser before Naby Keita was adjudged to not have been brought down inside the area despite a blatant stomp on his toe. A later offside call on Sadio Mane inside the area would rub salt in the wound on a night where few refereeing decisions went the home team's way. However, such complaints shouldn't overcloud what was a frustrating performance from a Liverpool side who have delivered so much more this season.

Trent Alexander-Arnold a big miss
With Fabinho missing the build-up to the tie through illness, Jordan Henderson was given the nod at right-back in a back-four that caught the attention of many. Clearly a vulnerability in a side that have shown few avenues of exploitation this season, Leicester were quick to pounce, fixating their attacking moves down the Liverpool captain's flank. A relatively bright start that saw him venture forward and deliver deep crosses into the box aside, it was a hard night for the England international, who was forced to camp out inside his own-half such was the pace and exuberance of the away side.
Indeed, this was a night that really showed just how crucial Trent Alexander-Arnold has become for the Reds. Defensively strong and quick in the tackle, he possesses the pace to recover when caught out by his opposite number while his attacking abilities and marauding runs have added an extra dimension to Klopp's team this season – something that would've been incredibly useful in a second-half that saw Leicester fall deeper and deeper into their own half. The Scouser is currently injured but fans will be praying on a swift return for the games ahead amid somewhat of a right-back 'crisis'.
Not enough ingenuity on a night that called for creative football
Liverpool have hardly been the fluent side we saw last season, operating in a more pragmatic and controlled manner, taking their time to carve open the opposition. Such was the case against Brighton and Crystal Palace most recently, with the team taking their time to break through and score to grab much needed three points. However, there was no such luck here as Liverpool struggled to show any ingenuity and creativity in a midfield that had promised to do just that. The selection of Xherdan Shaqiri and Naby Keita, who was finally utilised through the middle, did little to break down and stretch a well-disciplined Leicester defence who were content to sit back in numbers, frustrating the home crowd.
This was a night where you needed your Fabinho's or Oxlade-Chamberlain's, someone to drive forward at the heart of the defence and force players out of position, thereby creating space for their teammates. Sadly, none such qualities were on show.
Set-pieces squandered
A defence marshalled by the height and dominance of Joel Matip and Virgil van Dijk should pose a real threat from set-pieces in theory. In theory…
Time and time again the Reds squandered their opportunities to make their chances count from dead-ball situations, struggling to beat the first man or whip the ball into dangerous areas. There was only one real headed chance of memory for either, with Joel Matip's header going off target in the second half as Liverpool attempted to pile on the pressure. It's something that could, and quite frankly should be a real source of danger for this side as we've seen in the past, but here it provided the perfect summation of the performance – not good enough.
Still, five points clear…
The silver lining is, of course, that Liverpool are now five points clear at the top following Manchester City's defeat against Newcastle. Albeit not the seven points they would've hoped to be, it still represents an incredibly healthy position for Klopp's side heading into February. They remain very much in the ascendency with their fate in their own hands for what remains of the season. Improvement is of course needed, but this is a position any Liverpool fan would've taken at the start of the season.