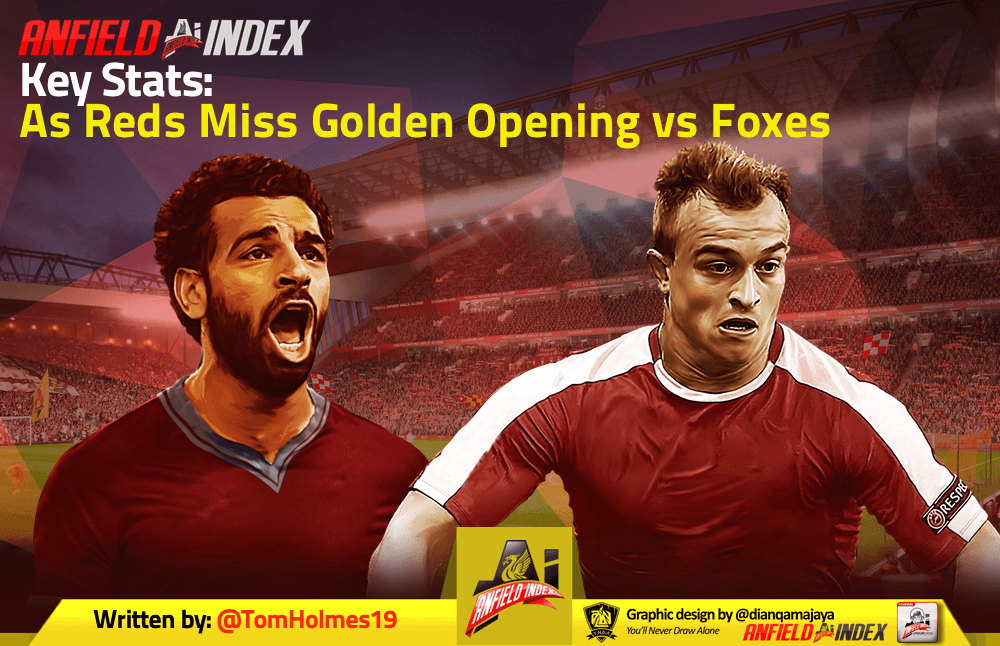 Key Stats As Reds Miss Golden Opening vs Foxes
Well, that was bad, wasn't it? Liverpool dropped points to a side outside the top six for the first time with a disappointing 1-1 draw with Leicester City. But what were the key stats from a cold, and horrible night inside Anfield?
Lacklustre Reds Fail To Fire
As far as attacking performances go, this was bad. Liverpool mustered just ten shots, compared to their PL average of 15, with just seven of those coming from open play and just four of those seven inside the box. Two of those four came inside the first five minutes.
But worse was the quality of the chances. Not a single big chance, not a single chance above 0.1 xG. Total xG of 0.55, the Reds' second-lowest of the season after the 0-0 draw with Man City. Adam Lallana came off the bench to a team high of 0.11 xA, both chances he created coming from corners, with Sadio's 0.10 xA from two chances the highest from open play.

Overall, this was a very stifled performance, and Leicester deserve a lot of credit for that, but Liverpool's attack failed to kick into gear.
Shaqiri Struggling
Xherdan Shaqiri's form is certainly becoming something of a worry, as he has now completely failed to fire since Christmas. His xA/90 is now 0.12 this season, and he's created just one big chance all season, creating just eight chances worth 0.47 in his last ten appearances. He's also had just two shots in his last five games, netting just once since his heroic sub appearance at Old Trafford.
At the moment, he just isn't adding anything to the team. Creatively, he's nowhere near where he should be, his dribbling skills are seemingly non-existent, with 0.5 dribbles per 90, lower than Trent, Fabinho and Milner amongst others, and whilst he's chipped in with some vital goals, he needs to start adding more to his all-round game. And quickly. In this game, he had 0 shots, didn't even attempt a take-on, created one chance from a corner and nothing from open play. Shocking.
Took On And Beaten
This was one of the worst sets of dribbling defending numbers I've seen from a Liverpool team this season. Naby Keita was the worst culprit, as he was 0/4 on tackles, with Firmino ahead of him 0/3, Shaqiri 1/3 and Henderson 0/2. Leicester completed 15 dribbles, which is almost double Liverpool's average conceded dribbles this season – 7.7.
It says it all about direct Leicester were and how strong their attacking display was that Joël Matip was forced into seven tackles. Although he won six of them, having your centre-back making loads of tackles is generally not considered a good thing.
Van Dijk still hasn't been dribbled in the Premier League through this season by the way.
xG Tells Its Own Story
Liverpool have won the xG in 20 of their 24 games this season. They've won 19 of those 20 matches, losing to City 2-1 despite a narrow lead on xG. What's interesting is that Liverpool have drawn every single game that they've had lower xG than their opponents in – including this one as Leicester notched 1.09 compared to our 0.55. What does that say about us this season? That we've been a tad lucky when we've performed badly? That's certainly true as City missed a penalty against us and Leicester could have put us away today, badly missing at least one golden opening.
Does it also say that we're resilient and don't lose easily? Very possibly. But what does it say about Liverpool that they've not won a single game this season where they've had lower xG than their opponents?
To be honest, we're probably better off focusing on the fact that Liverpool have won the game and the xG 19 times this season. This was a shocking performance and a bad result, but we're still a brilliant team.