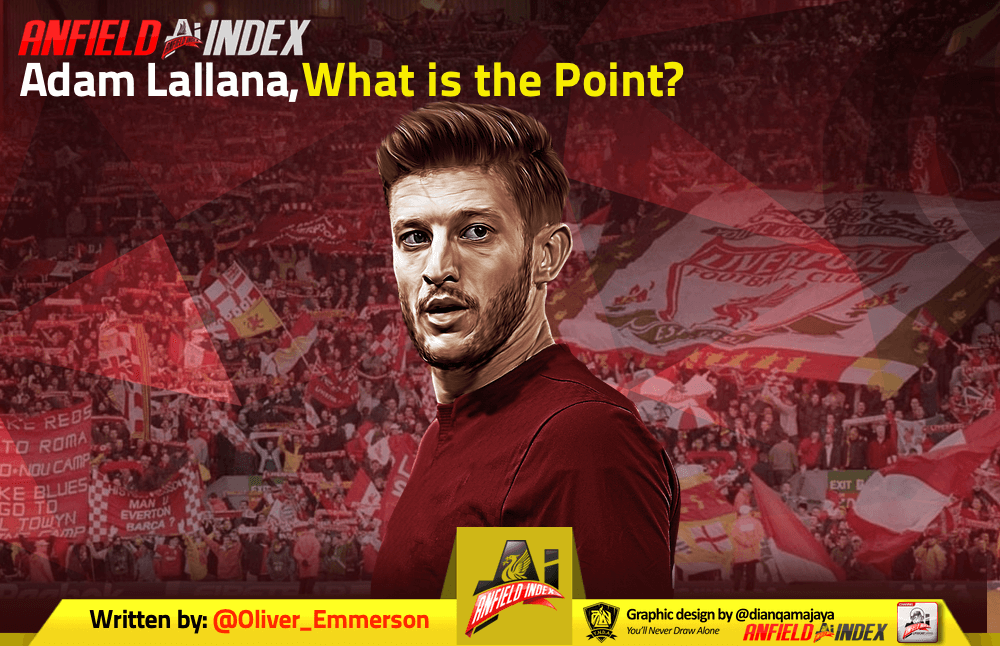 Adam Lallana, What is the Point?

Seriously though, what is the point? You've read the title, you may or may not agree with the sentiment it offers but either way you're now expecting to read a piece of writing justifying whether or not there is actually any point in Liverpool's continual employment of their number 20.
Yet here I sit, staring deeply at my laptop, wondering how to describe or even justify a sigh? An expression of 'meh', the reaction completely devoid of emotion that engulfs my body 99% of the time Adam Lallana comes onto the pitch.
In fairness, it is a rare occurrence. A string of unfortunate injuries combined with admittedly better players coming along have left Jurgen Klopp's next door neighbour down the pecking order on L4, mostly assigned to making up the numbers in cup competitions or coming off the bench to run the clock down in the dying minutes of edgy 1-0's.
It's the third use of Lallana, mind, that does prompt me into showing some emotion.
Lallana's lack of end product makes him no impact sub
When Adam Lallana is brought on as an 'impact substitute', I don't rant or rave. Neither am I filled with excitement, a glowing face.
My reaction is more of a shy man who asked for his steak to be medium-well in a restaurant, only for it to be brought out medium.
I'm too nice to kick up a fuss about the whole thing, I wanted a steak and I got one close enough to how I ordered it, but it'll bug me a little for the next week.
In the Lallana scenario, I wanted a substitute and I got one but it just wasn't right, despite chef Klopp's best attempts.
Now, I don't want to tear poor Adam apart. He's an extremely talented footballer, with a graceful touch that's so pleasing to watch when Liverpool are at their best, in full flow.
We saw that in 2016-17, as he enjoyed overwhelmingly the finest months of his Liverpool career during the Autumn, making a habit of chipping in with goals from third man run's as he operated just behind the triumvirate of Roberto Firmino, Sadio Mane and Philippe Coutinho.
Unfortunately, it's impossible to describe that form as anything other than an anomaly in what's been an underwhelming four and a half year's on Merseyside for Lallana. To say he was living up to his £25M price-tag, around £45-50M in today's money, before that few months in 2016 was generous, and he's barely contributed since.
One goal contribution since the start of last season is a figure doing the rounds, I believe it's true. There's some uncertainty around the minutes played given some stats providers don't include injury time, some separate competitions, blah blah (stuff the Under Pressure team are geniuses with, me not so much).
However, the general consensus is that it's one goal or assists in at least (AT LEAST!) 2000 minutes for Lallana.
Olivier Giroud, Adama Traore, Xherdan Shaqiri. These are game-changing, impact substitutes that teams make when they haven't got a squad stacked with world class talents (hi, Manchester City).
Lallana's impact off the bench is about as potent as a limp deer fighting a steroid enthused polar bear.
Bar a Cruyff turn here (yes, we notice them Adam) or a late challenge there, there's very little to actually notice about Lallana's performances – which is the problem.
Whilst there's no problem with fading into a sporadic role as the colleagues around you become better equipped to do the job of winning the Premier League, there must be an adaption into a useful squad player that Lallana hasn't fulfilled.
Leicester performance another disappointment
He's never fit when we need him to be, an injury just before the cup game against Wolves last month the latest example, while his cameo performance against Leicester City was the latest piece of evidence that he doesn't cut the mustard when Liverpool need someone off the bench to break a team down.
It's not that he did anything particularly terribly, he just did nothing. And when your job is to be a spark, to create, that is bad.
Seeing Naby Keita, who had enjoyed a lively start to the second half, taken off for him was disappointing enough, that dissatisfaction with Klopp's change only compounded by the empty performance that Lallana put in.
Liverpool's strength in depth has improved but remains lacking when compared to the team they're trying to oust as champions, and you must wonder that if Lallana continues to produce such performances when needed, what is the point of him?