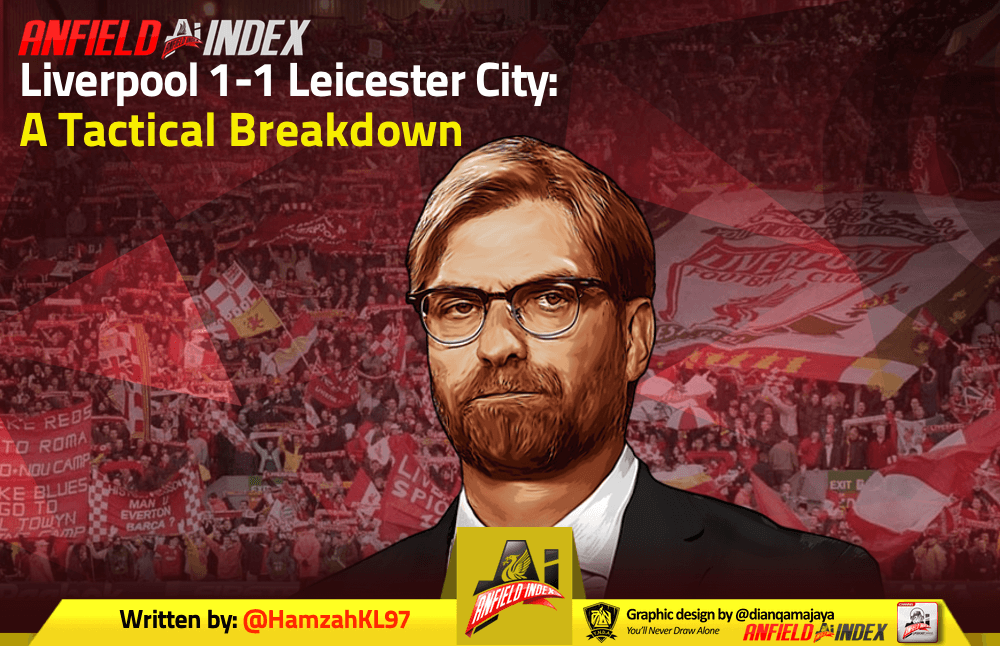 Liverpool 1-1 Leicester City: A Tactical Breakdown
With a number of injuries and a suspension to deal with, even after the team sheets were announced, it was unclear exactly how Liverpool would set up. Initial reports indicated Gini Wijnaldum would fill in at right-back, in Alexander-Arnold's absence, but instead, it was club captain, Jordan Henderson who would feature there, and Naby Keïta who would function as one of the pivots in the 4-2-3-1 system.
Liverpool's setup
Henderson and Robertson played as the Liverpool full-backs, and functioned tactically as the full-backs normally do when Liverpool play at Anfield; that is, both were wide and high when in possession, as they looked to provide width in which Liverpool could work around the Leicester 4-5-1.

In midfield, Keïta partnered Wijnaldum in a deeper role than those we've seen him play most of this season. It gave him fewer opportunities to take advanced positions up but allowed him greater freedom to move the ball forward, with either his passing or dribbling – as he did to great effect in the second half, only to be denied a penalty.
Salah and Firmino found themselves a little deeper than usual, a consequence of Leicester's defensive block – but as recent post-match interviews with Jürgen Klopp have shown, they were likely too deep for his liking, and the lack of aggression both on and off the ball from Shaqiri left the creative burden upon Mané, on the left side.
Leicester's setup
Leicester started the game in a 4-5-1 formation, but after the opening twenty minutes, shifted into a far more effective 4-4-1-1. Puel instructed his team to press high up the field, and then drop off into a low block, from which they would look to counter-attack with long passes in behind. They also looked to target the channel inside and outside of Henderson, who did not receive sufficient protection from Shaqiri on the right side.
The game
Within the first six minutes, Liverpool fired off three shots, and following Mané's superb goal, the game only seemed to be heading one way. For around twenty minutes, Liverpool controlled the game with ease, attacking as and when they wanted to.
As soon as Leicester changed their system though, the direction of the game changed drastically. Chance creation dried up, as Liverpool's found themselves struggling to retain possession in the final third, and instead dropped back deeper in be involved in the game.
From the twentieth until the seventieth minute, Liverpool only managed to get a single shot away, and it was blocked. Leicester, meanwhile had four in that period, with, two of which were "big chances".
What was clear in this game though was a lack of creative direction from Liverpool. Despite holding the ball in the middle and final third, Liverpool struggled to involve Salah in the game meaningfully and struggled to manipulate space, and engineer chances. But this is hardly irregular. Indeed, on a number of occasions this season, including games such as Brighton and Everton at home, Liverpool have created fairly little, but have managed to either pounce on mistakes, or use their defensive quality to ride out tough moments, deny opposition teams chances, and see out games effectively. However, against Leicester, only three of Liverpool's first-choice back five were available, and a reported illness and challenging conditions hardly aided the team in its efforts. But whilst Liverpool's defence has been impeccable more often than not this season, the lack of protection afforded by the 4-2-3-1 in transition, especially in the wide areas, meant that, Gray and Madison were able to generate a few opportunities where they could attack the full-back in a one on one, or get inside of them – as Madison tried to do with Henderson. But Henderson's inclusion at right-back was not the real problem, indeed, had Clyne played, Liverpool would likely have had next to no difference in terms of offensive output, or perhaps a decrease, whilst the goal conceded was more so a product of Van Dijk momentarily getting caught, as he starts in a zonal position – for the first phase of the set-piece – but does not shift into a man-marking position – unaware of Maguire, in behind him.
However, in games such as this one, where teams sit back extremely tight and counter-attack, and do so against a Liverpool team lacking some of its creative players – such as Alexander-Arnold, it's very likely that a team will actually generate very few chances, and will simply have to be clinical in those few moments it does have. Unfortunately for Liverpool, beyond the goal itself, which was a remarkable piece of skill by the persistently effervescent and delightful Mané, Liverpool's two biggest chances were not decided by themselves, but instead by the referee. Mané's break beyond Maguire in the first-half was one of the only opportunities Liverpool's forwards were able to run into space, in beyond the centre-backs (as they did against Leicester last season, at Anfield). Similarly, Keïta's run from deep, into the box was a piece of superb skill, committing players, and generating an opportunity from a fairly innocuous position. The only shame was that the referee did not give the penalty.
Klopp's assessment was largely in line with this assessment too, and he drew attention to the two key refereeing decisions, but also the need for Liverpool to "accelerate [the speed of their play] in decisive areas (i.e. in the final third, and when getting the ball into key players in the penalty area)". He also noted the need to pass through Leicester's compact system, and in this regard, the absence of Fabinho in the starting XI, due to an injury, was significant – and his impact on the game, when he was substituted on, was immediate and impressive, as he exerted control, purpose and forward direction to Liverpool's play. Sturridge and Lallana, both strapped for minutes, did not quite make the same impact, likely due to a lack of sharpness, and an eagerness to force an opportunity, in the face of a robust Leicester side.
In tactical terms, Leicester were more than good value for a draw. Their plan from the twentieth minute to the seventieth worked extremely well, as they restricted Liverpool's chances, and opportunities to counter-press too. But in terms of the key events of the game, Liverpool had enough to win, and on another day, with identical situations, Liverpool may well have secured the three points – as happened in those games cited earlier – but this conclusion is contingent upon the referee making accurate decisions. Nonetheless, Liverpool still have some issues they need to iron out, especially with regard to the positioning of their forwards, indeed, if both Firmino and Salah drop deep, it largely negates the offensive aspect of the 4-2-3-1 system, which was supposedly meant to be more suitable than the 4-3-3 for breaking down defensive sides.
There have been a number of games this season where Liverpool have not created much, and have still won. This was not one of those days. However, Liverpool can count themselves fortunate that it has not cost them in this title race. But with 14 games to go, Liverpool are still in the driving seat, but the sooner the first-choice defence can start together again, the better, for without Gomez and Alexander-Arnold, Liverpool's propensity to be utterly ruthless and efficient in defence is diminished, and it is these individuals who will likely make the difference in close games, for it will likely be the team which makes the least mistakes from here that goes on to win the league.