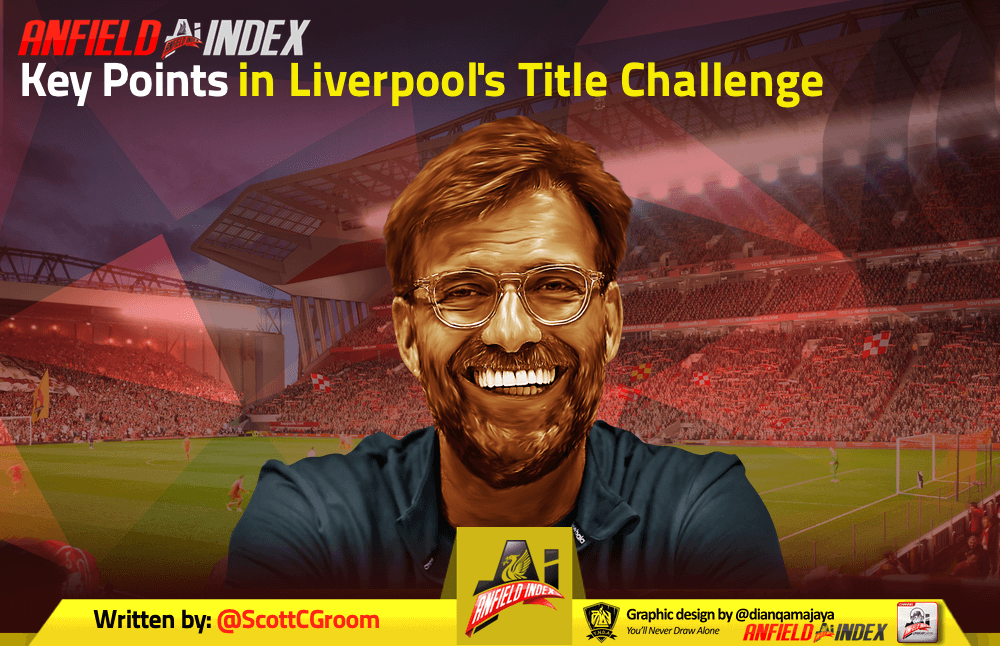 Key Points in Liverpool's Title Challenge

It wasn't the result we were all hoping for against Leicester at Anfield.
In the wake of an unexpected slip-up from City, the snowy, sub-zero Merseyside night presented a perfect opportunity for Liverpool to further freeze out their nearest title rivals by moving seven points clear at the top.
It wasn't to be, and a 1-1 draw ensured Klopp's side edged to five points clear of Guardiola's reigning champions.
It was a point gained rather than two lost upon reflection, but it felt like a huge chance to edge closer to a first league title since 1991 had gone begging.
Yet there are fourteen games remaining, with Liverpool only needing twelve wins to secure that elusive title – but there are some crunch fixtures to come in that time. Here, I take a look at which weeks could prove the most pivotal between now and May (and I'm not for once referencing City dropping points because that's something we can't bank on).
Manchester United (A), 24 February
It's always a fixture that catches the eye when the fixture lists are released. The oldest and biggest rivalry in English football is fierce and ferocious, and this one will be the same.
United will desperately want to stop the Reds getting their hands on the title; even if that means inadvertently gifting it to City.
This, along with their undeniably impressive form under Solksjær, makes them dangerous. I'd take a draw from this fixture, but it means that no further slip-ups can be had elsewhere. Coming away from Old Trafford on the back of a defeat would be demoralising in terms of points and morale.
Everton (A), 3 March
Another huge, huge rivalry at another crucial point in the season.
While Liverpool have a brilliant record against their neighbours from across Stanley Park, and they have endured tough times of late, you can never call this fixture. Look at the game at Anfield earlier this season; it was headed towards a stalemate until Pickford handed it to us on a plate. Look at Mané's last-minute strike two years ago; it took us all game to break them down.
It's always a tricky task to face The Toffees, and they too would also love to stop us winning the league. Let's not let that happen.
Spurs (H), 31 March
Could Spurs still be in the title race? They're only seven points adrift of Liverpool, so they could still be sniffing around come the end of March. And they are no easy team to get a result off, despite Liverpool's stellar record against them.
And if this is a must-win game come this stage, Spurs are one of the last teams you want to come up against, especially when they've got a fully fit squad with the likes of Kane, Son, Eriksson and Moura there to punish any poorer performances.
Chelsea (H), 13 April
We've been here before. Chelsea. At Anfield. Right at the end of the season with a title on the line.
This could be the match that Liverpool clinch the title. It'll be a massively jittery afternoon if that's the case, especially considering Liverpool's history with Chelsea.
Ideally, we'd like to have things done and dusted by then, but it might not happen – because we're not going to allow ourselves to think about City's results.
Chelsea pose a major threat and would be a horrible side to come up against knowing you need the win. Imagine Hazard still tearing around the pitch with the score at 1-0 to Liverpool. Hearts would be in mouths all over the place.
But don't get me wrong, it'd be so sweet to clinch it against Sarri's men. Imagine that.