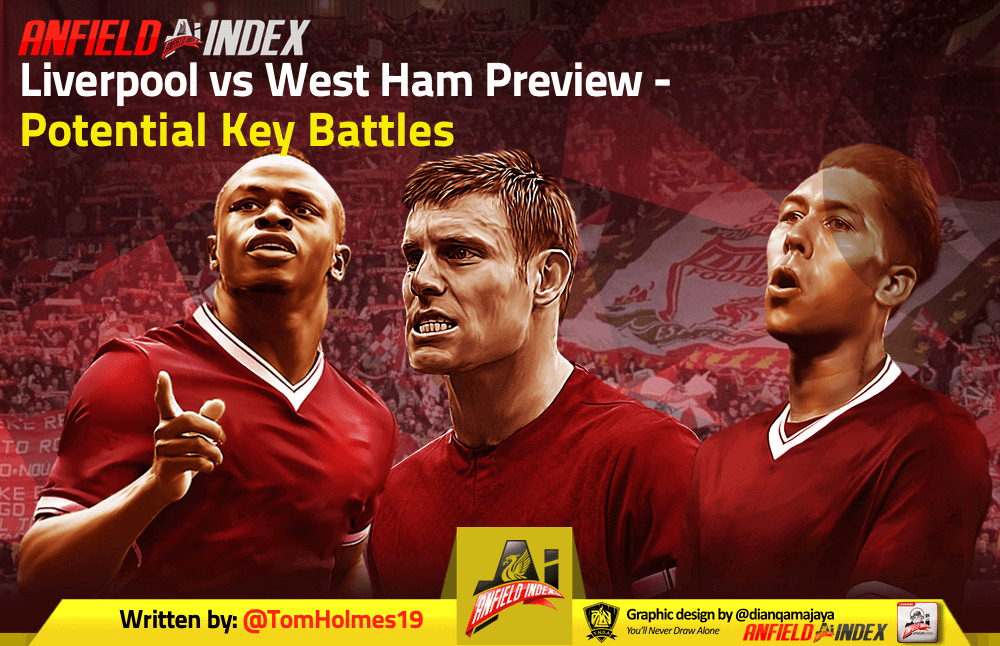 Liverpool vs West Ham Preview - Potential Key Battles
Liverpool go into their game with West Ham on Monday night off the back of their first dropped points against a team outside the top six this season. Despite that, however, the Reds have managed to stretch their advantage at the top of the Premier League to 5 points, as Man City face Arsenal at the weekend, and then Everton in midweek. Liverpool need to make sure that they get back to winning ways against West Ham, one way or the other.
There are injury worries for both sides, with Liverpool still shorn of Trent Alexander-Arnold and the news of Joe Gomez's injury being worse than thought is also a blow for the Reds, leaving them short of viable options at right-back. Meanwhile, Marko Arnautovic faces a battle to be fit, with the likes of Cresswell, Nasri, and Fabianski all maybe's. Yarmolenko, Reid, Balbuena and Wilshere will all be missing too.
So what are some of the potential key battles from this game?

Felipe Anderson vs James Milner
This one will be huge. Liverpool's right-back options as mentioned are worrying, and Milner is expected to slot back in following his suspension against Leicester. But he was given a torrid time by Wilf Zaha a couple of weeks ago, and Felipe Anderson is an incredibly tricky player, and easily West Ham's most vibrant attacking threat if Arnautovic isn't deemed fit to start.
However, Milner will also burst forwards, and whilst Anderson might be West Ham's critical player in attack, he'll also have to do a lot of the grunt work tracking Milner, and Liverpool might be able to turn a problem area into an advantage. That said, it is a strong area of Anderson's game, so it's something Klopp will have to be wary of, and transitions could really hurt Liverpool if they let him get free down the left.
Sadio Mané vs Pablo Zabaleta
Pablo Zabaleta has had a bit of a resurgence at West Ham this season, but at 34 years old, he's no spring chicken and hardly blessed with pace. The lightning-fast Sadio Mané then could give him endless problems if he's allowed to isolate Zabaleta one on one.
Mané has scored the last two goals Liverpool have scored and is playing his way into a good nick of form, which could mean that he's in prime position to be a vital attacking outlet in this game. Another point worth noting is that Zabaleta likes to get up and down the pitch and contribute to attacks, and Sadio is becoming a fantastic defensive option on that flank, and is strong in the press, so targeting Zabaleta both on and off the ball could be a key tactic for the Reds.
Roberto Firmino vs Declan Rice
Declan Rice is a critical player for West Ham in their midfield. His performance against Arsenal is exactly what teams like West Ham need to beat teams like Arsenal or Liverpool – fantastic defensive nous and strength combined with a bit of quality in the final third. And from Liverpool's perspective, Rice is the one who has to be considered in that midfield. Bobby is probably the player who is most likely to battle him consistently, dropping off into the holes between attack and midfield, where Rice stifled Arsenal effectively, and where Liverpool have struggled at times this season.
However, pressing Rice could be a good way of creating problems for West Ham. He's a young player with a lot of pressure on his shoulders, and upsetting his rhythm could be a good way of upsetting West Ham. Bobby getting one-up on him is a key part of how Liverpool can win the game.