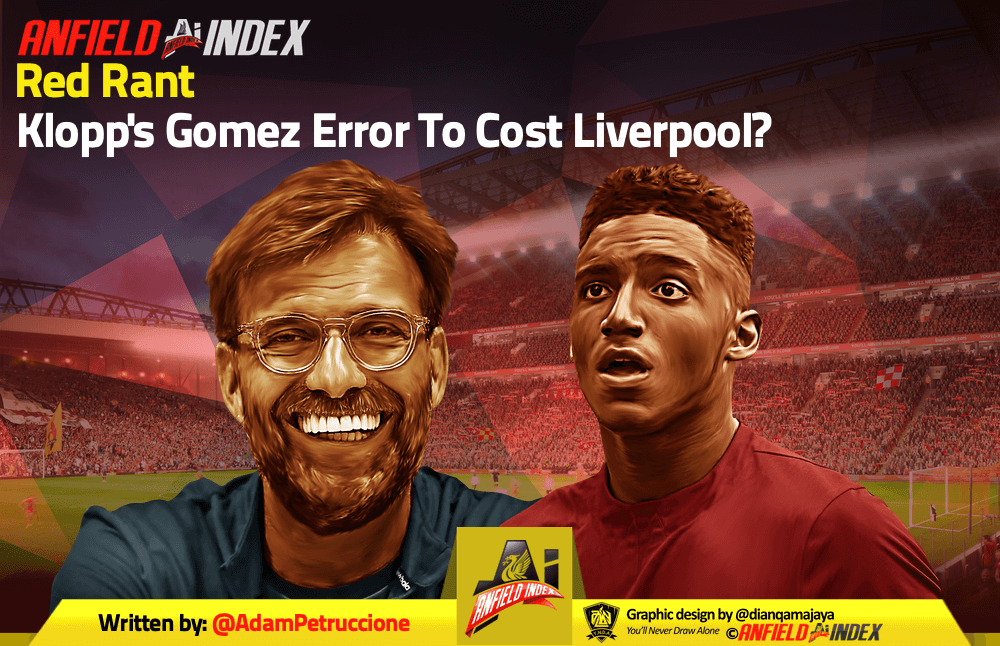 Red Rant - Klopp's Gomez Error To Cost Liverpool?
Through these frigid few days, even pessimistic Liverpool supporters were reluctantly cosying up to the idea that The Reds, 5 points ahead with 14 matches to go, are the presumptive favourites to win their first title in the Premier League era.
Turns out. We can't have nice things.
After beginning the season with what looked on paper to be something called squad depth. A term that Liverpool has been unfamiliar with for a generation. Previous key starters like Clyne, Moreno, Matip, Mignolet, Sturridge and Origi became our bench. But, it turns out that squad depth for a team trying to get a top-four position is vastly different than squad depth when trying to beat Manchester City to a Premier League title while having another go at the Champions League.
Any injury to at least seven of our starting positions would have Reds crying into their Carlsbergs all over the world. The drop-off from any of the front three to their substitute would be panic-inducing. Robertson and Trent Alexander-Arnold will need to go 16-21 straight matches to close out the season. At the back, Liverpool is down to Virgil Van Dijk (suspended for the first leg against Bayern) and Joel Matip, who came back early as it is from a collar-bone break. Dejan Lovren is still out and Joe Gomez, according to news breaking on Friday night, could be facing surgery.
Who could have forecasted serious injury for Joe Gomez, playing full-back? He's only suffered *checks notes* all of his serious injuries with Liverpool while playing at fullback.
Across the pond, my home-town Knicks made news this week by trading their own "unicorn" and franchise player for a bag of balls. New York received surprisingly low value for their young star because he is a 7 foot, 3-inch man who plays like a guard and is recovering from an ACL tear. Players that size never play that way and stay healthy. Players of unusual size for their position tend to get injured. Other league execs knew this.
Joe Gomez is 6' 2" and thick as a tree trunk. Jurgen Klopp preferred him at full-back, even to Trent-Alexander-Arnold in big matches. And, it would be one thing to use Gomez as a Neymar stopper in one-off matches and then resume regularly scheduled programming with him next to Virgil van Dijk. That's the pairing that makes us all feel warm inside. However, Klopp began playing his English international at right-back with regularity; something only Liverpool's fantastically insane manager would do with Gomez representing 1/2 of the best centre-back pairing in all of Europe.
And so it was that on the 5th of December, in the year of our Lord 2018, instead of using Joel Matip to outright rest Joe Gomez away to powerhouse Burnley, Jurgen Klopp put his young star on the wing and 23 minutes later he fell to the turf after chasing a Henderson ball to the end-line, some 80 yards from where he does his best work.
Initial fears were that his season could be over. Liverpool's vaunted PR team, long dormant during a season of good news, sprung into action. We were told it was not as bad as first feared. Just a simple break. Back in six weeks. He'll be back soon. Right around the corner. Then just as the transfer window closes, Eureka! The medical team discovered that exact day, by some wild coincidence, that Joe Gomez was injured more seriously than initially reported and "probably" will need further surgery.
Think of the level of cowardice it takes to keep running that story out there that Gomez is just about back, rather than have Liverpool executives actually face a tiny bit of pressure from media and supporters while the transfer window was still open. Everything is fine. Everything is going to plan. Oh, the transfer window is shut, now we'll tell you the real story.
Speaking of Liverpool's public relations department, one of their long-term projects has been to paper over whatever on God's green earth happened with Nathaniel Clyne. The truly damning thing about Clyne is that whatever put him in Klopp's dog-house happened more than a year ago. Instead of moving him last January, Liverpool held onto him. Instead of moving him in the summer and bringing in more fullback cover, Liverpool held onto Clyne. Journalists assumed Clyne was an example of great depth that LFC had for the first time in years. The reality was that he was on the outside as much as Lazar Markovic was. Only a rash of injuries and suspensions forced Klopp to roll Clyne out against United and two weeks later he was loaned to Bournemouth.
The half-measure approach is what is really galling about Michael Edwards and Jurgen Klopp's approach to this situation. If Nathaniel Clyne went full Balotelli (never go full Balotelli) one weekend then Klopp had a decision to make. Either send the guy packing or mend fences and deal with it. Instead, they split the difference and kept Clyne in exile only to loan him out just as injuries made him absolutely necessary.
So, now that the January 2019 is over, the world knows that Clyne and Klopp weren't besties and Brexit still means Brexit, everyone is asking the obvious question, why didn't the club do something in January if they intended to send Clyne out, knew Gomez had a serious injury and Trent followed that up with an injury of his own?
The gloriously spurious response is, "team chemistry." Jurgen Klopp has to get that team chemistry just right, and nothing else matters. As patchwork defenders face off against Felipe Anderson, Josh King, Kingsley Coman and Anthony Martial in the next few weeks, let's see how far chemistry gets us. Hopefully, we're not all left needing a group hug.
The approach from the powers that be to the Joe Gomez – Nathaniel Clyne situation has not been befitting of a club that is desperate to win its first league title in a generation and first Champions League since Istanbul. All the hard work, all of the building that has been going on at Liverpool should be culminating at this moment in time. I can guarantee you beyond a shadow of a doubt that Michael Edwards has identified a fullback who will be acquired in the summer window as Alberto Moreno walks out of our lives. How difficult would it have been to move that player up a couple of months? Would that really disrupt our beloved chemistry all that much? Liverpool, this version of Liverpool at the top of their powers, could have done something. Yes, we always want one more, but this was obvious and easy.
And so, we roll the dice. Five points up on "the best team in Europe," with a league title in our sights and hopes of Champions League revenge, we roll the dice. Banking on consistent health, 16-21 consecutive starts for already worn legs, we roll the dice.
Luck be a lady Monday Night.
Up The Reds.