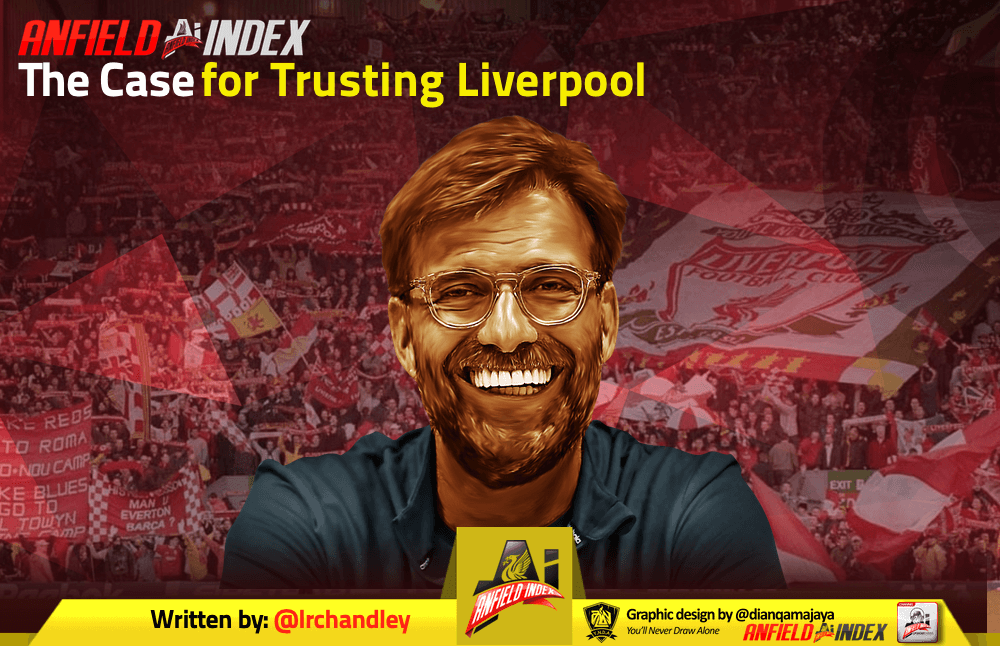 The Case for Trusting Liverpool
Maybe it's because it's been a while getting here, but if you believe Twitter, every day is a bit of a meltdown at Liverpool during this year's title race.
I for one am being slightly cautious in this season's race because it's only just turned February. Sure, we're clear at the top of the table, but I know things can change in the space a week or so at this stage. I'm not pessimistic, I'm just holding my horses. Having said that, I do allow myself to get excited during a game, or when City drop points (Thanks, Rafa) because, well, I'm a fan. And that's what it's all about.
Other Liverpool fans do act differently, though. They're more highly strung and generally dramatic. That's not a criticism as such (there's no single way to support a club, no matter what the next person who disagrees with you says in reply to the next point you make) but merely an observation. We could blame the title race, or we could blame the higher stakes that we're involved in recently with this manager, this side and this era. Every fall is harder, every point dropped is a greater distance conceded and every injury more devastating than the last. The stakes are great.
Liverpool fans, in this respect, are not alone. As viral videos dominate the internet we see more extreme versions of emotions by the hour. Arsenal Fan TV (occasionally), Paddy Power (often) and even Sky Sports News (usually) have become caricatures, reporting every piece of news or opinion as if both gospel and fact. And whilst our fanbase will never be free of being hypercritical (I class positivity in this as well as negativity), the recent history with Jurgen Klopp means that our side deserves a little better than we often give it. Our side deserves our trust.
As so often said, trust is a quality that is earned, not expected. Jurgen Klopp knew this when he joined the club in October 2015, when his famous "doubters into believers" line was first heard across the pages and pages of newspaper, forum and website. It was a good soundbite and a great summary of exactly what he needed to achieve if things were to change around Anfield.
Slowly, surely, Klopp hit markers in his quest to please Liverpool fans and deliver success back to the club. The link between the players and the fans became stronger, with the performances on the field helping, whilst a couple of cup finals (albeit on the wrong end of the result) proved to us that our side was on the right track. The following year we qualified for the Champions League once more, and last season continued that new tradition, whilst also reaching a third final under the German. Progress had arrived. Doubters were now believers.
But it is with believing that you get expectation. We now believe we expect to win. We believe and expect to compete. The stellar transfer business of the Klopp era is another way we've gone from doubters to believers after years or Stewart Downing's and Paul Konchesky's. We now always expect to improve. It's a big club mentality, and that is what Liverpool have been missing for too long. But expecting everything for nothing makes a fanbase spoilt. And that's not what this squad deserves.
Sometimes we need to trust. In a world of short-term thinking, to trust is to commit to something that sometimes goes against your general thinking. I, for one, am not happy that our defensive back-up may cost us, but Klopp, and the players he chooses to deputise deserve to be trusted, even if it is against what feels like my better judgement. Instead of being knee-jerk, I have to trust the side and the manager and the staff and the owners until they are proven wrong. Wrong not to have gone into the transfer market, wrong to have chosen a formation, wrong to have fallen short. We can't only be believers when it suits us, then doubters when things get hard. At this stage of the season, we all need to pull in the same direction.
Trusting blindly is stupidity, and trusting with a lack of evidence is merely faith. But taking into account everything that this side has achieved to raise expectations, this trust is the type that has been earned and is warranted. So next time you see a selection you don't like or when the going starts getting tough, remember that our club deserves a little better. So trust our manager to do what he does best, and our players to bring us success.