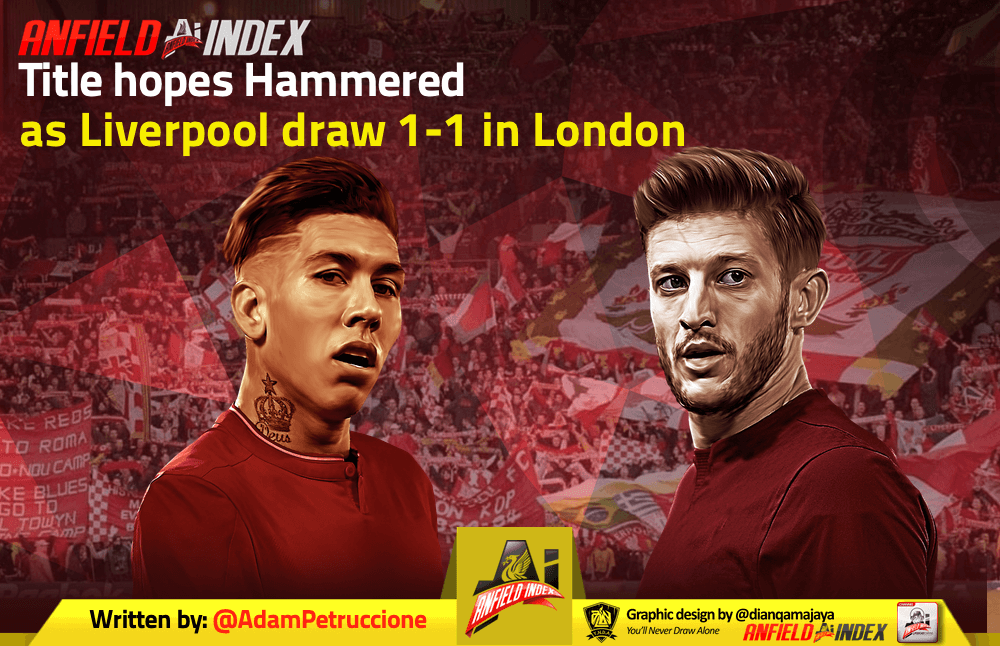 Title hopes Hammered as Liverpool draw 1-1 in London.
Remember the sweet tranquility of those 1-0 snooze-fests that we used to complain about early in the season? How much would you give for a few of those now?
Jurgen Klopp set Liverpool up with a few surprises. Gini Wijnaldum and Jordan Henderson were absent with injuries, leaving a skeleton crew with Adam Lallana starting in midfield and James Milner at right-back. A strong enough eleven none the less, embarked on an up and down affair with both teams getting good looks early on.
Sadio Mané struck first through Adam Lallana splitting two defenders on the right, Milner getting away with an assist from an off-side position. A quick turn and fire from Mané took much of the tension off of Liverpool… or it should have, as it should have against Leicester.

However, six minutes later The Reds' set piece defence let them down again. Antonio sprinted around the right side of the wall, a step ahead of Naby Keita, and finished smartly into the far corner, past a diving Alisson.
Back and forth, up and down, end to end Liverpool would go without really creating much of anything. The pace made for exhausting viewing, to say nothing of the players on the pitch. Liverpool were trying lots of one-touch stuff and low percentage crosses with none of it coming off. A Mané header was the best chance to go ahead, but it went right at Fabianski.
With Joel Matip looking like the best attacking player in checkered grey, Liverpool needed a miracle. Would Shaqiri be able to provide the spark? A Divock Origi special perhaps? With 20 minutes to go things were looking grim for the away team.
Andy Carroll coming on is a thing that happened.
A free-kick pinged off of Virgil van Dijk's chest nearly provided a chance for the winner, but he was a half step slow, still not right since the team's Dubai break. Naby Keita provided some gasps from the crowd with some dazzling dribbles late, but like most things on this evening, it all fizzled in the end.
The match ended with Origi one-on-one with the keeper, but it was not to be. Three points clear and clearly struggling. Major changes are needed before Bournemouth if Liverpool intend to stay in this race.
Manchester City visit Everton on Wednesday, who will be in no mood to do The Reds any favours. A win would put City top of the table on goal difference with Liverpool having to wait until Saturday to battle back.
If Jurgen Klopp's injury reports are to be believed anymore, Bournemouth could see the return of Wijnaldum, Henderson and Trent Alexander-Arnold. Inspiration is needed from somewhere. The news of Joe Gomez' injury setback cast a negative light over the proceedings, but that shouldn't have translated to the team with so much at stake. There is a lackadaisical aspect to the last few matches that the club needs to shake. Anyone parachuted in from outer-space would not believe Liverpool had so much to play for. Casual balls and slow reactions abound in a moment where you would think minds would be sharp.
Liverpool still have everything to play for and City have shown they are not the juggernaut we once thought.
Saturday at Anfield, we go again.