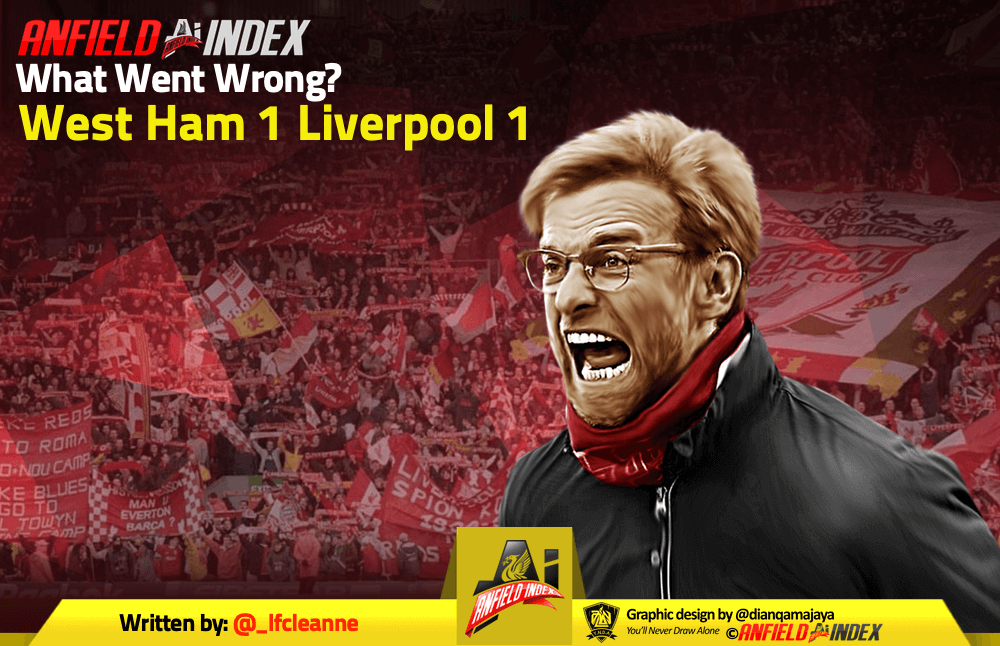 West Ham 1-1 Liverpool: What Went Wrong?
Liverpool battled out another frustrating stalemate, recording a second successive 1-1 draw, this time against West Ham. Considered by some an opportunity scorned, enabling Manchester City a route back into the Premier League title race (although they were never really out of it were they) and others another point in a patch where the team are clearly struggling, there remains mixed emotions across the park about how the table is shaping up in the early stages of February.
Like the Leicester City game on Wednesday, it was Sadio Mane who broke the deadlock at the London stadium, benefitting from a calamitous offside decision to calmly slot home, but truth be told it was a small spark on a night where Jurgen Klopp's side showed worryingly little.
Any and all shouts for the team to come back swinging with a big result went swiftly out the window, with West Ham exposing an injury-stricken team to grab a valuable point and reduce the gap at the top to just three points – a situation that enables Manchester City a shot at going top with a win against Everton.
Anxiety looming on and off the field
Every title run has its ups and downs, it's twists and turns. Indeed, City's defeat to Newcastle and Liverpool's resulting 1-1 draw with the Foxes proved just that. Thus, while two disappointing games in succession, while a worry, won't be the last chapter in the title race.
What Liverpool must be careful of though, is letting their desire of reaching the promise land cloud their journey. Virgil van Dijk was spot on when he told Liverpool fans to cool their angst, with pressure clearly mounting for players and spectators as the games go by. Again, that's only a natural element of any title run-in but it's how teams deal with that tentative anxiety that makes or breaks them.
At the moment there appears to be a nervousness that's preventing Liverpool from regaining their mojo. Groans and cries of 'bottling the league' after every measly result are testament to the problem; there is an impatience and anxiousness looming on and off the field, a barrier to the collective momentum Liverpool must brew in order to find success.
After all, this is a team that are three points clear at the top of the table with 13 games remaining – a position any fan would've taken at the beginning of the season.
Chances missed and points squandered, of course, but this team's fate is in their own hands. Don't let fear ruin that.
Injuries taking their toll
Far from the explosive, reactive performance many had been hoping for, a timid display wasn't what the doctor order. Nor was it a performance you'd expect to see from Champions-elect. Instead, it was the epitome of a team juggling injuries and illness in a crucial period.
Deploying an experienced midfielder in James Milner, who had been suffering with illness in the build up to the game, on the right-hand side of defence, the club's fourth choice centre-back in Joel Matip and a midfield lacking two regular first-teamers in Jordan Henderson and Gini Wijnaldum, Liverpool naturally lacked their usual momentum.
Gone was the fluid creativity, providing a plethora of chances at the feet of the front-three, instead replaced by an inability to feed the ball in between the lines. Lacking guile and ingenuity, there were minimal chances to expose West Ham's defensive weaknesses while the backdrop of a strong defence, a reliable tool for Klopp this season, was also missing.
West Ham, to their credit, capitalised on such weaknesses, and it'll be a worry on the managers mind now the gap at the top has been diminished. With Joe Gomez undergoing surgery, the buck will fall on Dejan Lovren and Joel Matip to fill his shoes alongside Van Dijk while Trent Alexander-Arnold's return couldn't come soon enough.
Here's hoping those injuries get sorted soon.
Naby Keita and the increasing need for creativity
Ah Naby.
Liverpool fans had to wait such a long time to see their star man in Red, watching on as he lit up the Bundesliga with a perfect combination of vision and trickery, roaming forward at the heart of defences while possessing the quality to pick out a teammate when the chance arose.
However, such traits haven't been witnessed so far during his time in the Premier League. Bar the opening game of the season, Keita has struggled to rise to the plate and while there can be no doubting his quality, his form is now becoming a serious worry in the midst of a title charge. The midfielder has taken up the mantle in Oxlade-Chamberlain's absence as the main creative charge from deep, leaving Liverpool short in their transition from midfield to attack while his defensive fragilities were exposed in the London stadium, culminating in Antonio's equaliser.
I'm very much in the 'Keita's quality hasn't vanished overnight, he just needs time' column but Monday night's performance was the latest indication of how Klopp remains unable to get the best out of him. For now, maybe it's time Shaqiri took up the mantle.