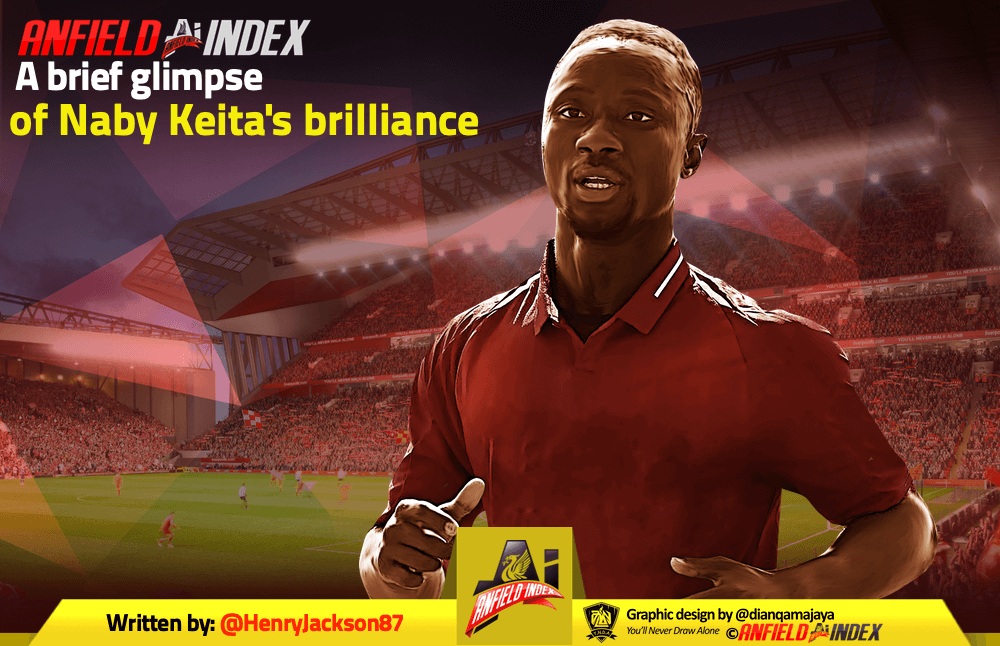 A brief glimpse of Naby Keita's brilliance
I despised football when the final whistle blew at West Ham.

More points dropped in the Premier League title race, but more worryingly a limp performance by Liverpool, who looked anything but a team trying to go five points clear at the top.
In any normal season, a draw at West Ham in February would be no great disaster, but with Man City hunting the Reds down in their own relentless fashion, it felt like a defeat on the penultimate weekend of the season.

This post-Dubai malaise has been an unpleasant surprise and the display was never good enough from the first minute to the last at the London Stadium.
On an evening where even the most ardently optimistic Liverpool fan would have struggled to find many positives, Naby Keita emerged to give us some hope that he may finally be shaking himself of an underwhelming first six months in red.
That's not say his first-half performance wasn't anything other than wretched, mind you. It really was.
It was hard to think of many things the 23-year-old did right in that spell, barring one typically flamboyant flick into the path of the on-rushing Andy Robertson.
Too many passes were either weighted poorly or misplaced, he looked lightweight up against a combative Hammers midfield and his pace seemed worrying lacking out of possession, compared to the ground-covering speedster we were promised was heading to Anfield.
Keita was also at fault for Michail Antonio's equaliser, of course, allowing himself to simultaneously switch off and be too easily obstructed by Mark Noble.
He flung his arms in the air in frustration as Antonio wheeled away in celebration, but he had nobody to blame but himself.
At half-time, there was unsurprising anger headed in the direction of the Guinean, who had produced another 45 minutes of disappointment.
He was arguably the weak-link in a team also containing Joel Matip and Adam Lallana, as well as James Milner struggling in a rare right-back role.
Jurgen Klopp hopefully told a few home truths at half-time, but Liverpool's second-half showing was equally uninspiring, from a lack of chances created to an infuriating absence of urgency.
But then there was Keita.
Now, I won't be describing his performance in the second 45 as some sort of work of genius, as some are doing their best to, but it was promising to say the least.
Keita was Liverpool's best player after the break, improving his all-round game immeasurably and starting to display the kind of arrogance and ability those not in love with the Bundesliga watched endlessly on YouTube in the 12 months leading up to his arrival.
Suddenly, there were trademark step-overs, silky dribbles and precise passes, while his off-the-ball work was also far better.
He was the one player who attempted to take the game by the scruff of the neck, and while not everything came off for him, there was a spark on show that has been far too rare this season.
As has been the story of Keita's campaign, a few nearly moments were so close to seeing him have a major say on a Reds victory, but they ultimately came and went.
His clever pass to Divock Origi in the dying seconds was wasted by the Belgian – imagine the confidence boost that would have given the midfielder, contributing to what would have been one of the most pivotal moments of 2018/19 so far.
By the time the final whistle was blown, Keita had enjoyed a 90 percent pass accuracy – something that wasn't achieved by playing it safe – and had completed six take-ons.
The out-of-sync front-three of Mohamed Salah, Sadio Mane and Roberto Firmino didn't manage that amount between them, going to show how positive Keita was as the minutes ticked by.
This was no earth-shattering night at the office from him by any means, with Keita powerless to prevent Klopp's side dropping valuable points, but it was a start.
It's Bournemouth up next for the Reds and the Liverpool manager has to start Keita again, with an element of belief surely taken from Monday evening.
He looks to have picked up some kind of momentum at long last, so relegating him back to the substitutes' bench would feel like undoing his hard work in east London.
With Jordan Henderson pushing to be fit after missing the draw with West Ham, bringing the skipper back in and leaving out Lallana looks a shrewd move.
It will allow Keita even more freedom to express himself further forward with Fabinho and Henderson occupying deeper roles, as he carries on his long search for his first-ever Liverpool goal.
If the former RB Leipzig favourite does begin proceedings at Anfield it may prove to be a false dawn, but that second-half display should have given supporters enough evidence to suggest he is about to come good.