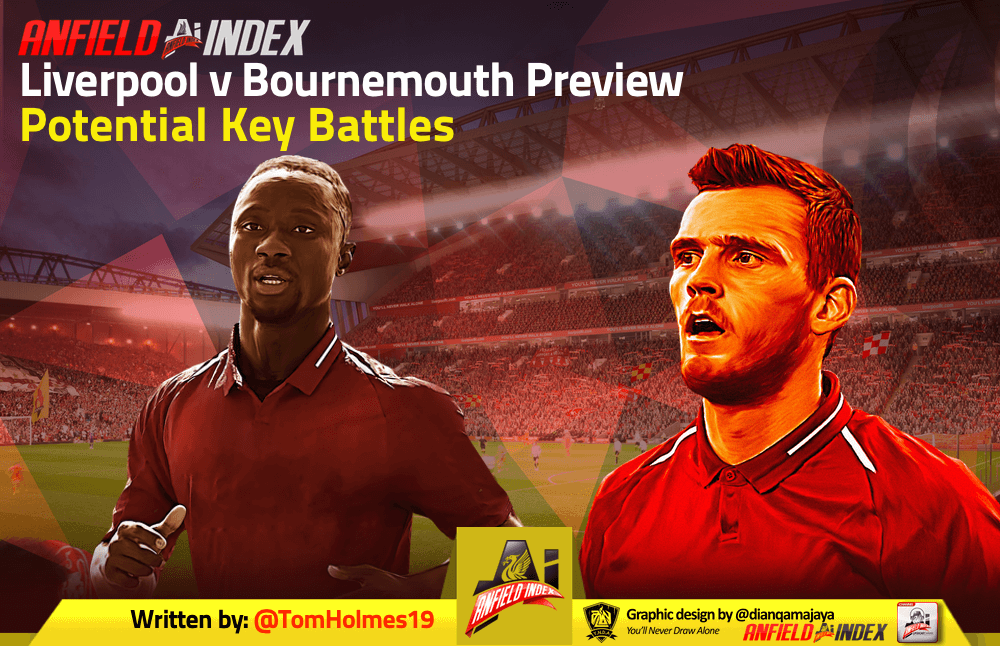 Liverpool vs Bournemouth Preview - Potential Key Battles
Liverpool host Bournemouth off the back of two poor performances and two poor results, that have seen their lead at the top of the Premier League cut to three points. Now they know that with City looking to use their game against Everton to move top of the league before the Reds get a chance to respond, it's vital that Liverpool return to form and fast.
But which battles in this game could prove vital to Liverpool's victory – or indeed where could the game fall apart for them?
Andy Robertson vs Junior Stanislas

Shorn of Brooks and Wilson, it's hard to predict exactly how Bournemouth will line up, or if they'll stick with a 4-4-2 at Anfield. Nevertheless, Stanislas has been playing off the right wing recently, and you would imagine he'll feature there against the Reds. He's not necessarily a key Bournemouth player, but he could be a vital counter-attacking outlet for them.
This match-up for me is more about Andy Robertson anyway. Robertson's form has been very shaky in the last few weeks, and part of that has been that teams have been able to defend solidly against him by having their wingers do a lot of grunt work. Whilst Michail Antonio scored against Liverpool, his defensive contribution was also massively important as he kept Robertson – Liverpool's second most creative player this season – out of the game in an attacking sense. Assuming Bournemouth aren't stupid enough to play a back five, whoever is tasked with attacking Robertson might be able to make the most of his patchy form, but they'll also have to watch out that he doesn't tear them apart going the other way.
Ryan Fraser vs Trent Alexander-Arnold
The optimist in me is saying that Trent will play and that he'll recover in time to maraud down the right-hand side of Liverpool's defence. But either way, as strangely has often been the case for Liverpool in the last few weeks, the most important attacking player for the opposition plays off the left flank. Whether Fraser does line up directly against Trent (or Milner) remains to be seen, but the simple fact is that whoever is picking him up will have a hell of a job on their hands.
Fraser is the most creative player in the Premier League this season, bar none, and Liverpool's right-channel has been suspect in the last few weeks, even if Milner hasn't been too bad playing there. Having Trent back there would be a huge boost for Liverpool, but if Milner does start, then that just increases the pressure on his team-mates to help him out in holding off Fraser, as they've struggled at times to do so lately.
Naby Keita vs Jefferson Lerma
Bournemouth have a solid central midfielder in Lerma, who will be one of the key individuals in terms of them being able to withstand Liverpool pressure, turnover possession and in keeping the ball once they have it in order to transition quickly. However, he does have two potential weaknesses to his game. His discipline is often poor, and he isn't the most press-resistant.
Enter Naby Keita – Liverpool's dribbling and pressing machine in central-midfield. Keita's game isn't where a lot of Liverpool fans want it to be yet, but his pressing game has shown real signs and he remains one of the best dribblers from midfield in world football. If there's a player that Keita can target to get the most out of this game, it could well be Lerma.
But on the other hand, if Lerma can shut Keita out of the game, then Liverpool could find themselves in a similarly stagnant position to where they've been in the last couple of games. Keita has been the subject of much discussion over the past few games, but he can only benefit from a run of games in the side and hopefully, Bournemouth is a good chance for him to continue to turn the corner.